Teen Soccer Player Saved by Good Samaritans in Northbrook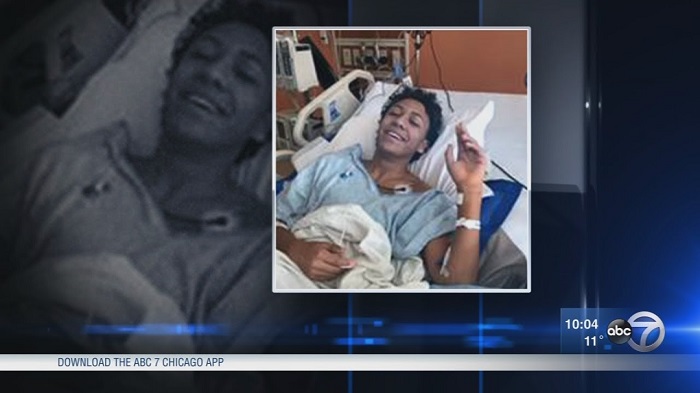 NORTHBROOK, Ill. (WLS) -- A 15-year-old boy who collapsed on field in north suburban Northbrook during a soccer game is recovering in a hospital thanks to the good Samaritans who rushed to his aid.
The entire incident was caught on camera. Doctors said quick thinking and a defibrillator saved Christopher Panchi's life.
"The stars were aligned for this boy, everything worked for this boy," said Dana Plotkin, Athletico Center general manager.
Sending a photo of a smile and a wave from the hospital, Panchi is doing much better than he was Saturday night when he suffered a cardiac arrest during a soccer match at the Athletico Center.
"The training just kicked in and time stopped," Plotkin said.
Dr. Rebecca Newman, a pediatrician from Lurie Children's Hospital, was on her way out when someone called for help.
"I initiated chest compressions, called 911, and most importantly called for the defibrillator," Newman said.
"I got the kit ready so we could do CPR," said operations director Tania Nightingale.
It was touch and go for several minutes while they performed CPR and waited for paramedics.
"We would get him and he would breathe once, then no pulse," Nightingale said. "We shocked him twice."
All employees at Athletico Center were recently trained in how to use the defibrillator.
"I remembered the training that we had, and this was life or death here," said Nightingale.
Paramedics say having a defibrillator is truly life saving.
"Today, because of that, you have a 15-year-old kid who is alive," said Alan Lermar, owner of Citywide CPR.
All 50 states have laws requiring AEDs, or defibrillators, be available in public places. Experts say the more people who know how to use them, the better.
---
Story Credit: abc7chicago.com/health/teen-soccer-player-saved-by-good-samaritans-in-northbrook/3020496/