Teen Of The Week: Cardiac Episode A Life Changer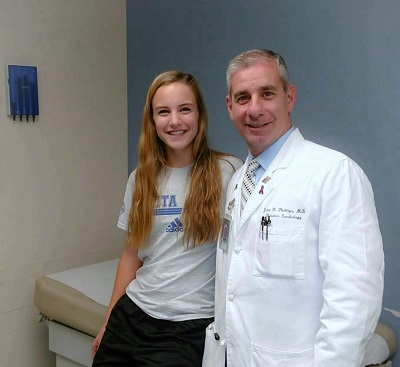 A frightening episode at the age of 12 could have been fatal for Kate Liston. Thankfully, Kate is now a Warren High School senior using her experience to help other students. When she was in the sixth grade, Liston had a cardiac episode due to an undiagnosed condition: Long QT syndrome. The most common symptom is fainting though there are often no indications that something is wrong, unless the person is given an electrocardiogram (EKG) to detect the irregular pattern. Gone unchecked, long QT can cause seizures and sudden death. Liston's own health scare prompted her to do whatever she could to make sure other students and fellow athletes had access to free EKG screenings and the ability to rule out or detect problems before they become life-threatening.
Question: What do you remember about your cardiac episode at age 12?
Answer: I remember not feeling well during a basketball game and next thing I knew I woke up laying on the floor while my uncle Brian, who was also my coach, was talking to me. I was so scared and I remember my teammates talking to me as I left the gym. The next thing I remember was being in the hospital.
Q: Your mom says you've been active in sports since the third grade — how did you feel when you were initially told you might not be able to play again?
A: I was devastated when I was told I would probably never be able to play sports again. Sports are what I grew up doing and I didn't know how I could live without them. The day my cardiologist gave us that news it just crushed me. However, I kept my faith throughout the whole journey, and I knew if I prayed about it, things would be okay.
Q: So how did Kate's Kause come about? Can you tell me a little bit about what you do with your organization?
A: I saw how my parents were after they got the news: shocked and scared because they had no idea that I had a heart condition. They were talking about all the 'what if's' and they were so thankful I got a second chance at life. I don't want anyone's parents to ever have to go through what mine did. Being terrified knowing I could have gone into cardiac arrest at any point. So I decided since God gave me a second chance at life I needed to help as many kids as I possibly could; that's why I started Kate's Kause. Kate's Kause is a nonprofit group that provides kids in the local and surrounding areas with free EKG screenings. An EKG is a simple test that can detect multiple heart conditions.
Q: I understand you were involved with BrAva before discovering your own health condition. What makes you want to give back to your community? What other causes are you passionate about?
A: I just love to help others. I've been like that for as long as I can remember. I was raised in a family that is service-minded. We are called to be the hands and feet of Jesus and community service is one way to do that. I am passionate about Kate's Kause, BrAva, and the American Heart Association.
Q: How do you handle your condition on a daily basis? What is your prognosis? What advice do you have for families who are dealing with something similar?
A: I wake up every morning and take my heart meds and I drink 1¢ to 2 gallons of water a day. Also I have to carry around an AED (automated external defibrillator) in my backpack, it goes everywhere I go. As long as I keep doing those things the rest of my life I'll be in great shape. My advice is never take anything or any day for granted. You never know when God's going to call you home, so live every day to the fullest, and enjoy every day you get to spend time doing the things you love with the people you love.
Q: Why is it important for parents to request an EKG as part of the regular school physical? How often should they be done?
A: It is important to have an EKG because that simple test can detect many life-threatening heart conditions. It is important to request this test be done because there may be no signs of an abnormal heart defect before someone has a fatal cardiac event. An EKG should be done on every child as a part of their yearly physical or well-check.
Q: Lastly, can you tell me about your plans to work with State Representative Jay Edwards to draft legislation?
A: My goal is to write a bill that would make it state mandated for every child to get an EKG as a part of their yearly checkup. There are too many lives lost because of undetected heart conditions. I believe a simple EKG could help prevent this.
Erin O'Neill conducted this interview. Teen of the Week is a weekly feature spotlighting area teens who are making a difference. To nominate a teen, email news@mariettatimes.com.
Kate Liston
≤ Age: 17
≤ School: Warren High School
≤ Year: Senior
≤ Family: Mother, Melissa; father, Brian; brother, Ty
≤ Athletics: Volleyball, basketball and track
≤ Community involvement: Kate's Kause free EKG screenings, student council blood drive, volunteer at Latrobe Street Mission
≤ Future plans: To attend college
---
Story Credit: http://www.mariettatimes.com/news/2017/09/teen-of-the-week-cardiac-episode-a-life-changer/