TEEN TRAGEDY Fitness Fanatic, 17, Collapsed and Died from Heart Condition While Training to Join the Army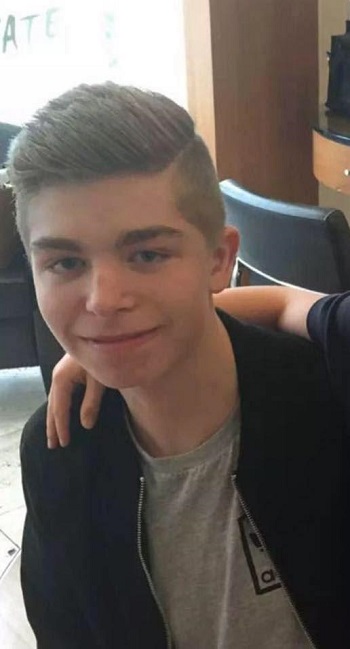 A FITNESS fanatic teenager tragically collapsed and died while he was out on a keep fit exercise ahead of him joining the Army.
Oliver McIvor, 17, suffered heart failure after he went on a run to help him prepare for life in the Duke of Lancaster Regiment.
The youngster, who had no history of cardiac problems, wanted to join the military as his father and late grandfather were both in the armed forces.
He had just undergone a successful medical, completed his induction and training and had even been given his regiment number.
The teenager was expected to join comrades at an Army barracks within days and was due to attend a family get together to celebrate being accepted.
But the teenager was found collapsed and unresponsive in a country lane near his home in the village of Sabden, near Burnley, Lancs by two female passersby.
He died in hospital with doctors saying his death was a ''sudden cardiac insufficiency'' most likely caused by an ''electrical abnormality.''
An inquest heard Oliver who was described as an ''inspiration'' by family and friends had undergone an electrocardiogram as part of his Army training which had appeared normal.
He was said to be excited to follow in the footsteps of his father Vincent McIvor, who had completed 25 years with the Army rising to the rank of lance corporal, and his late grandfather Terry. Both men were thought to have served in Northern Ireland.
The tragedy occurred on the afternoon of January 7 last year just hours before Oliver was due to join his family for a celebration of his achievement.
Recording a verdict of death by natural causes coroner Richard Taylor said: "At 3pm Oliver left home to go for a run. He was a fit young man training for an Army career. At 4pm he was found collapsed by two ladies.
"Emergency services were called and he was taken to Royal Blackburn Hospital where he died. He had no underlying medical conditions of note and received a full medical for his army career but that didn't flag up any medical issues. he died from a cardiac insufficiency."
Home office pathologist, Dr Philip Lumb said: "I received access to Oliver's GP notes which showed no significant medical history.
''I also received his notes from the Ministry of Defence as he had an examination on the 15th of November 2016.
"This examination involved and electrocardiogram but everything appeared normal. I was informed of an event in September 2016 where he received a blow to the head but this had no relevance to the cause of death.
"Upon external examination there were very minor injuries consistent with a sudden collapse. There were no injuries which pointed to an assault or road traffic accident.
"Internally, Oliver's lungs contained excess fluid which indicates a cardiac failure. I instructed a brain expert who could not find any condition within the brain that would have contributed to cardiac failure.
"I also instructed a cardiac expert who found the heart to be healthy. There are a group of conditions which can cause electrical abnormality and this can cause young and fit men to suddenly collapse and suffer heart failure.
"I believe the cause of death in Oliver's case is one of acute cardiac inefficiency of an unknown natural cause. This is most likely caused by an electrical abnormality which could not be detected."
In a statement Oliver's aunt, Jenna Hayman said: "We were preparing to go for a meal on Saturday evening to celebrate Oliver's achievement. He had worked so hard for this and he was on top of the world. No-one can believe what has happened.
"He was only young but Oliver was a well-known and popular person. I never knew him not to have a smile on his face and he never failed to make people laugh. He was the sort of person who lit up a room when he walked in.
"He was only young but Oliver was a well known and popular person. I never knew him not to have a smile on his face and he never failed to make people laugh. He used to have people in tears of laughter he was that funny.
"He was the sort of person who lit up a room when he walked in. He had a lot of friends and he could fit in with anyone. The community is in shock"
Oliver attended Shuttleworth College in Burnley and a Just Giving page set up by Miss Hayman to help pay for funeral costs raised over £5,000.
She added: "No one is ever prepared for the loss of anyone and we were certainly not prepared for such devastation this has brought. No parents should ever have to say goodbye to their children.
"This young man was just weeks away from joining the armed forces and had a massive future ahead of him.''
His cousin Bobby Carter, 18, said: "He constantly had a smile on his face. He was my best mate and my cousin. Oliver would make everyone happy as soon as he walked into a room.
"He was inspirational to us all because he loved to keep fit and healthy and look after himself. We could not believe this happened, it was a massive shock. I was very close to him, we were like brothers.''
Oliver leaves brothers and sisters Romilly, Charlie, Rhianne, Megan, Fearne, Ellie, Gabriel, his mother Tracey Barnett, stepdad Matt Barnett and dad Vincent McIvor. At his funeral he was carried into his local church in a coffin draped with the Union Flag while flowers spelled out his name.
Canon Mark Jones of Padiham Church said: "He was a young man with so much potential. He was recently accepted for training with the Army and had received his number. He was so much looking forward to joining the Duke of Lancaster regiment.
"Many teens go through a phase of being a bit remote and embarrassed by their family but Oliver was not like that. He was a loving, caring, affectionate member of the family. He was always pleasant and polite. He was a blessing as a son, brother and grandson."
---
Story Credit: https://www.thesun.co.uk/news/5680700/fitness-fanatic-17-collapsed-and-died-from-heart-condition-while-training-to-join-the-army/