Teaching Kids To Restart A Heart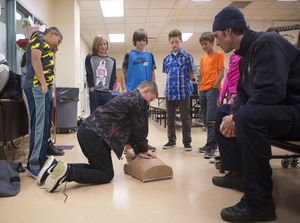 Would you know how to react if someone dropped to the floor in cardiac arrest right in front of you?
Fifth-grader Zack Smith does. And on Friday, he taught over 30 other fifth- graders a hands-only cardiopulmonary resuscitation class with the support of firefighters and paramedics.
Zack's dad is Dr. Will Smith, an ER doctor at St. John's Medical Center and the medical director of Jackson Hole Fire/EMS. In recent years Zack has taken a keen interest in what his dad does on the job.
"I liked what my dad did and wanted to do what he did," Zack said.
He has since become BLS certified, which means basic life support, and wants to continue the path as a career.
Smith said Zack will look through his gear bags for extra equipment.
"Anything I don't want, he'll take," Smith said. "He's been making his own first-aid kit."
Zack's mom, Janice Smith, said Zack has taken a "really intense interest in anything his dad does."
"Anything his dad does and more is what he wants to do," she said. "He definitely has a passion for it."
Zack's classmates eagerly watched Zack and others walk through the basics: first, call 911. Second, push hard and fast.
"It definitely helps young kids to know these skills," said Austin Sessions, a firefighter/EMT at Firehouse 6 on Moose-Wilson Road. "If they need to, they can even talk an adult through the steps in an emergency."
Hands-only CPR training has been found to be the most effective for bystanders to perform while they wait for professional medical help to arrive. There's usually enough oxygen in the blood during a cardiac arrest that breathing into the victim's mouth isn't necessary — it's better to focus on pumping.
Students learned that pushing on a dummy's chest at 100 times a minute — the number of beats per minute a healthy heart should beat — is tiring. They'd switch off between chest compressions, ideally, as quickly as possible.
"This will help you if this really happens," said Brian Carr, captain of Firehouse 1. "It'll be exciting and scary."
The kids in Carr's group chimed back: Exciting? Really?
"Well," Carr said. "Maybe just scary."
Carr said that while Fire/EMS has worked with schools in the past, "this itself hasn't happened before."
Many organizations and a lot of coordination went into Zack's efforts. Principal Bo Miller said he didn't think it would be possible to pull it all off, but Zack did just that. The timing was perfect: EMS Week was May 21 through 27, and one goal was to encourage local public safety personnel across the country to teach bystander CPR trainings.
Kevin Grange, a firefighter and paramedic for Jackson Hole Fire/EMS, was pleased with the class and its potential to help the community. He said that everyone was "really inspired by Zack."
He told the crowd that "our community is safer now that 30 more people know how to save a life."
In Zack's spare time he and a few friends get together and run through scenario simulations and medical drills with fake automated external defibrillators. AEDs are a portable device that can be used to send an electric shock to the heart to try to restore a normal rhythm in case of a sudden cardiac arrest.
Zack calls them the Rafter J Support Unit, or RJSI.
"We just created it for fun," he said.
Zack said he was happy with how the introduction to CPR went and plans to teach a refresher course to his classmates once they make it to eighth grade.
"I think overall it was good," he said. "I think they had fun."
---
Story Credit: http://www.jhnewsandguide.com/news/features/teaching-kids-to-restart-a-heart/article_c2aace38-2999-577b-bdd9-bc93aaa7cd1c.html