Their Teacher's Lips Turned Blue. These Students Saved Her Life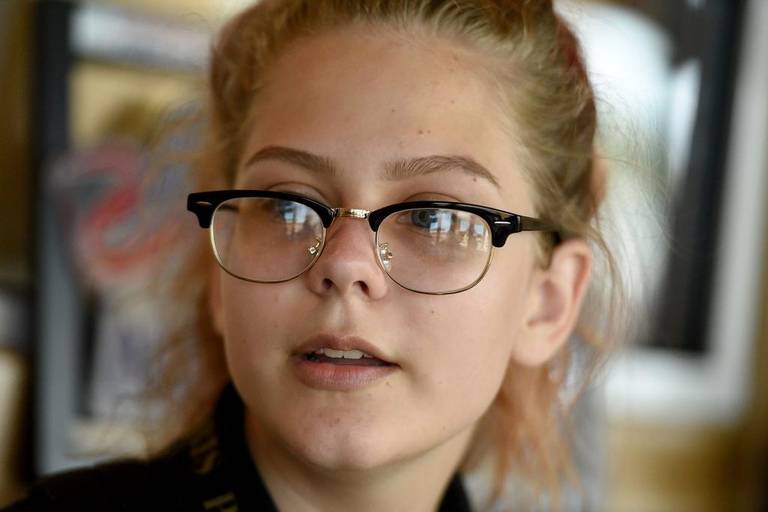 Palmetto - A Manatee County teacher is alive after a group of high school students, staff members and teachers came together to save her life after she stopped breathing in the middle of class.
Soula Hill, a substitute teacher at Manatee School for the Arts, went on a field trip with her Health Career Explorations class. The class returned around 2 p.m. Monday, about 30 minutes before the end of the school day, and a group of students lingered behind in the classroom for a few moments.
But then something went wrong.
Hill started having trouble breathing.
"She started to wheeze and I was like, 'Oh my God' this is real," said 14-year-old Katherine Hughes, who is in the ninth grade.
One student rushed over to the classroom next door, where Steve Marshall was teaching his Florida History class.
"The student busted into the room and said that the teacher needed help," Marshall recounted. "I found her sitting in her chair, struggling to breathe, and I tried holding her up so she wouldn't fall. And then I realized she stopped breathing altogether."
Marshall told Katherine to call 911.
She complied immediately and frantically looked around for a phone when Jose Tavor, a 17-year-old junior, tossed her his cell phone.
Marshall then instructed one student to run across the hall to get a teacher and another to contact the front desk.
Then, he and the remaining group of students lowered Hill to the floor.
"She wasn't breathing. Her heart wasn't beating, there was no pulse," Marshall said. "So then my CPR training kicked in and I immediately started doing CPR."
All the while, Katherine remained on the phone with 911 and told operators everything that was happening as it unfolded to make sure they were doing everything right. She also described how Hill's lips were turning blue.
Marshall said she remained calm and collected the entire time, even as her teacher was on the floor not breathing.
"I was really scared but I had to make a decision. I couldn't let her die," Katherine said. "And, honestly, it was all a blur. It was like cruise control. I didn't really know what I was doing. ... I was just 'doing.'"
But that "just doing" helped save Hill's life.
Rienzy Lopez, a support staff member at the school, is friends with the 911 operator with whom Hughes spoke during the call.
"Everyone was so impressed with how Katherine handled it," Lopez said. "She (the operator) told me, 'That student is my hero, that student made her live. She did everything to make her live.'"
Hill was discharged from the hospital on Thursday and says she is doing OK, considering.
"Grateful is putting it mildly," Hill said on Friday.
"That school has been a family to me and I could not be more blessed. Those kids, and Dr. Marshall, they are amazing. There is nowhere like MSA. I am just so grateful."
---
Story Credit: http://www.bradenton.com/news/local/community/article200617684.html