Father says Lewis Central Grad and TCU QB Max Duggan Sidelined by Heart Condition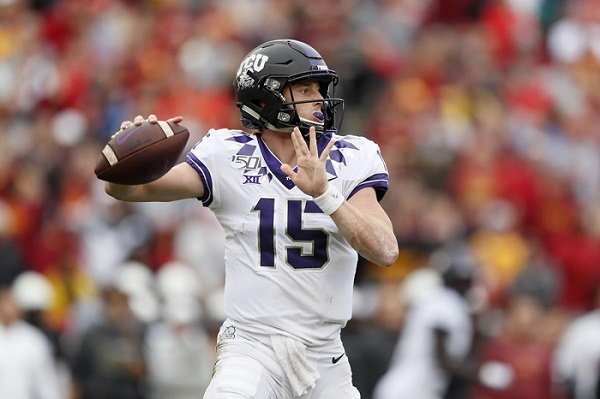 Max Duggan, the former Lewis Central quarterback and Gatorade state player of the Year who was about to enter his sophomore season as the starting quarterback at TCU, will be out indefinitely as he recovers from a recently discovered health condition.
Jim Duggan, Max's father and high school coach, told The Daily Nonpareil the condition was discovered as his son went through standard team health measures as he prepared for the 2020 season.
"He was going through team protocol where he had an EKG (electrocardiogram), and they discovered this heart abnormality," Jim Duggan said. "They treated it, and now he's recovering."
Max Duggan's condition is not related to the COVID-19 virus, and there's no current timeline for his return.
Justin Kammrad, the current Lewis Central football coach who served as Max Duggan's prep quarterback coach, keeps in contact with Max during the offseason. He spoke to the former L.C. signal-caller, and he said Duggan was doing well given the difficult circumstances.
"He's always in good, positive spirits, and in talking with him, there's no question that he'll be back," Kammrad said. "It's just a matter of a timeline when he'll be back. Once he passes all the stuff he needs to do to get back to football-related activities, it's the same mentality Max has always had. He's a competitor, and if there's a setback, he's going to get after it a little bit and make the most of the opportunity."
TCU coach Gary Patterson made the announcement regarding Duggan's health on a Thursday conference call with local beat reporters. He said it's a condition that Duggan has had all his life, but it wasn't discovered until recently.
"Because of all the things we had in place, Max has a condition that he's had his whole life and we caught it," Patterson told the Fort Worth Star-Telegram. "Right now he's in a good place and hopefully he'll be getting back some time during the season.
"Right now we'll be going forward with the rest of the quarterbacks. It's a thing he was born with and I'm just glad we found it; I can say that."
Duggan played in all 12 games for the Horned Frogs during his true freshman season in 2019, making 10 starts. He set TCU true freshman records with 2,077 yards and 15 touchdown passes. He was also second on the team with 555 rushing yards and six scores. TCU finished the year with a 5-7 record.
Kammrad told Duggan to focus on getting healthy in the immediate future.
"The biggest thing I told him was just to be smart," Kammrad said. "I know he wants to get back. Just continue to stay positive, and take the time that they've recommended for him to take, then get back there going as fast as you can.
"There's nothing else you really need to tell him. He's a kid who gets it and understands it. He just wants to compete and be back out there. Telling him to slow down is not in his mindset."
---
Story Credit: https://nonpareilonline.com/sports/college/exclusive-father-says-lewis-central-grad-and-tcu-qb-max-duggan-sidelined-by-heart-condition/article_952bd106-e3c9-11ea-b68f-07b9567f01f3.html#tracking-source=home-top-story?utm_medium=social&utm_source=twitter_nonpareilonline
---
Click here to SUBSCRIBE to our newsletters.
For as little as $1 per week, you can support preventative heart screenings and save a life! It only takes a minute to donate. Help us save a child's life today. Thank you. -The SafeBeat Team