Tantasqua Student Donates AED To School, Device Saved Her Life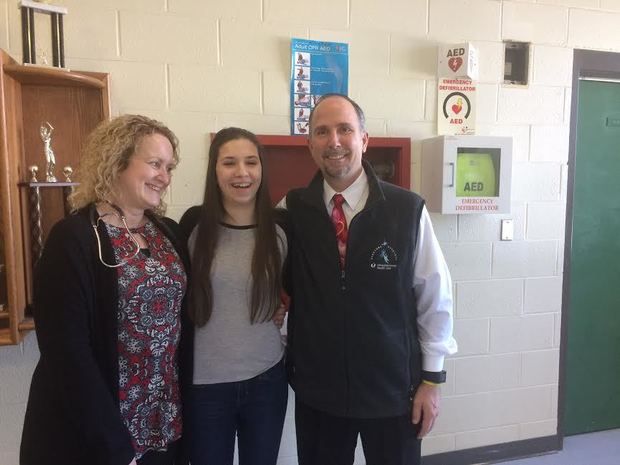 STURBRIDGE - Two years ago in February, Kathryn Henry was walking to her next class at Tantasqua Regional Junior High School when she collapsed in the stairwell.
"Basically I just blacked out," Kathryn, a 16-year-old Tantasqua Regional High School sophomore from Palmer, recalled recently.
Due to the quick actions of school nurse Jackie Berube and math teacher Keith Ventimiglia, who were able to use an automated external defibrillator nearby, Kathryn was revived after going into cardiac arrest.
On Valentine's Day, Kathryn paid it forward by giving Tantasqua another AED, courtesy of Chelmsford-based ZOLL Medical Corp., a defibrillator manufacturer, so that more lives can be saved, just as hers was.
ZOLL donated it to Kathryn to give to the school that saved her life.
The incident uncovered a previously hidden medical condition for Kathryn - a heart condition called hypertrophic cardiomyopathy, a common cause of cardiac arrest in young people. It occurs if heart muscle cells enlarge and cause walls of the ventricles to thicken, which may block blood flow.
"It's not as rare as you would think. She was lucky. Most kids who have cardiac arrest don't survive," said Kathryn's mother, Dawn M. Henry.
Today Kathryn is healthy. She plays basketball and is thinking about a future career as a doctor, possibly a cardiologist. She wants to study at Harvard.
She has an implanted cardiac defibrillator, which can deliver a shock to her heart if she needs it. The incident prompted her family to get tested for the same condition, which is genetic, and her father and 13-year-old sister discovered they also have it. Kathryn's father, an avid outdoorsman, was given an implanted device, and her sister will get one when she gets older.
Kathryn was lucky because she went into cardiac arrest with an AED nearby.
Berube remembers the day clearly.
"I was in the nurse's office and they said someone fainted. I found her on the stairs ... We did lose her heart rate and breathing," said Berube, who performed CPR and was able to shock her using the AED.
"It was a very scary thing," Berube said. "All I could think was, 'I hope she doesn't die.'"
The AED was key to reviving Kathryn, Berube said.
"It shows the importance of having an AED because if it wasn't there she wouldn't have made it," Berube said. "If the AED had not been as close to us, she would not have had a very good chance."
In January, state law went into effect requiring all Massachusetts schools to have an AED on the premises and at any school-sponsored athletic event by July 1, 2018. The AED Kathryn donated will be used for field trips and sporting events, Berube said.
Ventimiglia, who also works as a paramedic for the city of Worcester, had Kathryn as a student when the incident happened.
"The importance of having these machines ready and able, I don't think it can ever be totally appreciated," Ventimiglia said. "The first time seeing Kathryn walk back into my classroom after that event and just picking up where she left off ... You can't put a price on that."
After the incident with Kathryn, her mother said Tantasqua officials also decided to make the school "CPR Smart." This year, all seventh- and eighth-graders are learning CPR, and how to use an AED, Ventimiglia said.
ZOLL Medical Corp. is supporting the legislation by holding a monthly drawing to award an AED to a school each month until the law goes into effect.
To be eligible for the drawing, one employee from each interested school may submit an application at www.zoll.com/malaw. Only one entry per interested school is allowed.
Out-of-hospital survival from sudden cardiac arrest is less than 10 percent; timing is critical to survival. If a victim does not receive CPR and early defibrillation from an AED, chances of survival decrease 10 percent with each passing minute, according to information from ZOLL.
"Passage of this act is an important victory to ensure that more young lives are not tragically lost due to the lack of AEDs and trained staff at local schools," A. Ernest Whiton, president of ZOLL Resuscitation, said in a statement. "AEDs greatly enhance survival rates from sudden cardiac arrest and are simple enough for non-medical personnel to operate."
---
Story Credit: http://www.masslive.com/living/index.ssf/2017/05/tantasqua_student_donates_aed_to_school_lifesaving_device_revived_her_two_years_ago.html