Sudden Cardiac Arrest Claims Thousands Of Lives; Knowing What To Do Can Help Save Lives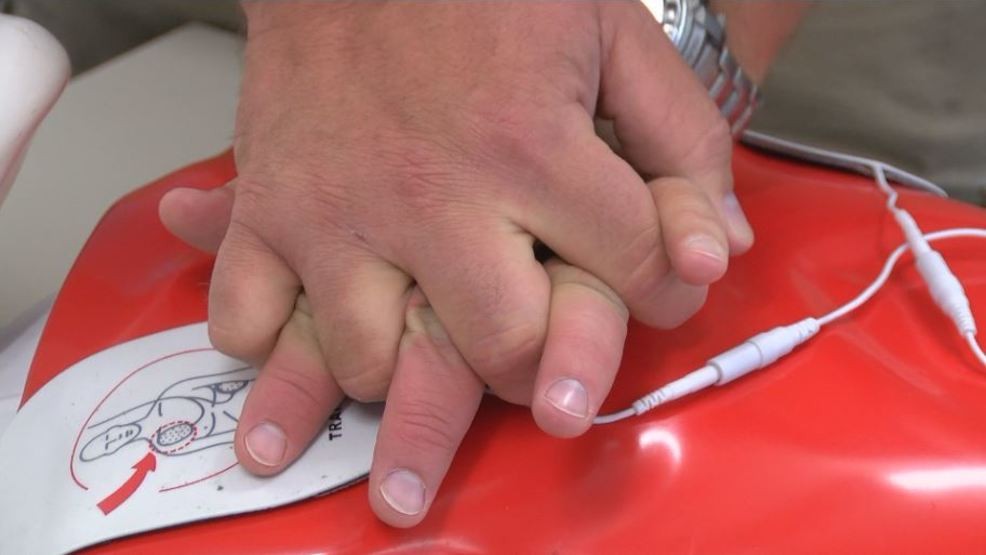 TRI-CITIES, Wash. – Many people who suffer sudden cardiac arrest die before getting to a hospital, so every second counts.
It's National CPR/AED Awareness Week and the American Red Cross, Northwest Region, urges everyone to get trained on how to perform Cardiopulmonary Resuscitation (CPR) and how to use an Automated External Defibrillator (AED) so they can help during an emergency.
"Sudden cardiac arrest claims the lives of thousands of people in this country every year," said Steven Greimann, Interim CEO Northwest Region. "National CPR/AED Awareness Week is the perfect time for people to get trained and help increase a sudden cardiac arrest victim's chance of survival."
For every minute without defibrillation, a sudden cardiac arrest victim's chance of surviving drops. It is critical for as many people as possible to be trained to perform CPR and know how to use an AED until advanced help arrives.
"It can be intimidating," said Jake Mokler, EMT and First Aid Instructor at Columbia Safety. "There's always the initial shock of seeing someone on the ground and knowing what to do and when."
Mokler said majority of the time cardiac arrest happens at home.
"It can happen anytime and anywhere," he explained. "So the more people we get educated for the First Aid/CPR that know what to do and at least get started until medical help arrives is very important."
He said Hands-Only CPR is a basic lifesaving skill everyone should know.
Adult "Hands-Only" CPR steps:
Tap and shout: "Are you okay?"
Shout for help. Send someone to call 911 and get an AED.
Look for no breathing or only gasping.
Push hard and fast. Give 30 compressions ( give 100-120 compressions per minute)
Repeat sets of 30 compressions
When the AED arrives, turn it on and follow the prompts.
"Find the center of the chest, keep your arms locked, and count out loud," Mokler explained as he demonstrated proper chest compressions.
When an Automated External Defibrillator or AED is on site, Mokler said it's easy as 1-2-3.
"So we're going to press step one," Mokler said, as he pointed to the device.
"Apply pads to patient's bare chest," the device promptly sounded.
From there, the AED will walk you through every step of where to apply to the chest and if a shock is needed.
After shocking the patient, Mokler said to continue CPR until advanced medical help arrives.
He hopes by sharing this message it could save a life.
Pasco Fire Department will be teaching "Hands-Only C-P-R" on July 4 at the TRAC Center.
Ben Shearer with Pasco Fire said other communities that have started big community CPR programs and training, have seen a huge impact to the outcomes of sudden cardiac arrest victims.
Some communities have seen as much as 30 percent increase in people surviving a Cardiac arrest when CPR is initiated with in the first minute. CPR combined with AED procedures is even more effective.
"We encourage everyone to come by our booth and take 15 minutes to learn "Hands-Only CPR," Shearer said. "The life you save could be someone from your family."
Plus, there are CPR and AED trainings coming up this week, and throughout the month at Columbia Safety in Kennewick. Both English and Spanish classes available.
If you're interested in getting trained, contact Columbia Safety office at (509) 820-3883 or visit their website www. ColubmiaSafety.net.
---
Story Credit: http://keprtv.com/news/local/sudden-cardiac-arrest-claims-thousands-of-lives-knowing-what-to-do-can-help-save-lives