Suburban Footballer Kadel Key Alive And Kicking After On-Field Cardiac Arrest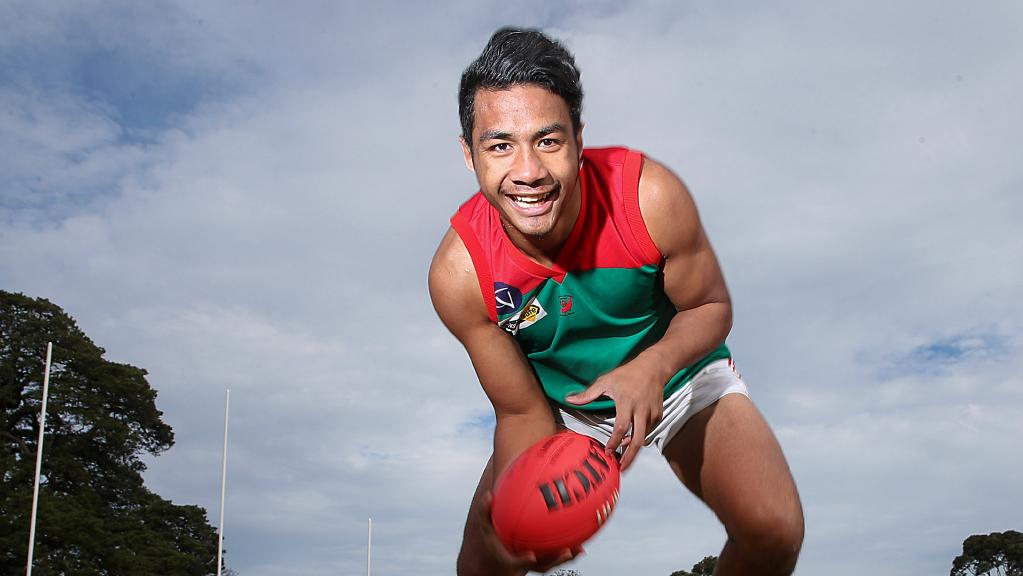 KADEL Key had lined up to smother a set shot during a suburban footy game when the lights went out.
The 18-year-old had been standing ready as an ­opponent kicked for goal.
The ball slammed into his face so hard he lost his bearings and stumbled on his feet.
That's all he remembers — then his heart stopped.
"It was a freak thing,'' he said. "I guess it got me in just the right spot.''
An anaesthetist, who had been walking his dog, ran to help as players and officials from Pines Football Club battled to keep Key alive.
The half forward had gone into full cardiac arrest in the dying minutes of the second quarter.
Club president Jeff Svigos said when the Samoan-born player didn't get up, onlookers realised the situation last month was grave.
"We saw him stagger and I didn't initially think anything of it,'' he said.
"Seeing him on his back with his shirt ripped open, and a defib being used, was distressing for everybody.
"We were desperately searching for a response.
"I think a lot of us just felt completely out of our depth.''
Svigos said ringing Key's parents, as paramedics arrived, had been just as daunting.
"Everything was a bit of a blur,'' Svigos said.
"I told his father he was being prepped for the ambulance ... I didn't want to say the paramedics were working on him.''
Key's heart got the jump-start it needed and he regained consciousness as he was being rushed to The Alfred.
"It was a bit scary,'' he said.
"I didn't really understand what was going on.''
But a brush with death wouldn't stop this avid sportsman from competing.
Only a few days after he was admitted to hospital, Key wasn't just back on his feet — he was boarding a plane to Fiji for an international track and field competition.
"The doctors weren't real keen on my heading over but mum said it was up to me,'' he said. Key placed fifth in the javelin competition and was even roped in for high jump, placing seventh.
"I didn't tell anybody that I had been in hospital or what had happened,'' he said.
Just last week, the keen ­musician returned to the footy club to play.
"Some of the players and officials were a bit iffy about me playing, but I think they are OK with it now," he said.
Key admitted the team was on a bit of a losing streak, but ultimately it didn't matter.
"I'm just happy to be able to play,'' he said.
"It's great to hang out with the boys and I guess I am pretty grateful to still be able to run out.''
Svigos said Key's return to action had buoyed the Frankston club.
"He's a great kid and it's a hell of a relief to be honest,'' he said.
Svigos said knowing there were defibrillators at the clubrooms, which had given the young star a fighting chance, was a "relief".
Defibrillators are available to football clubs as part of a St John Ambulance and state government initiative.
---
Story Credit: http://www.heraldsun.com.au/news/victoria/suburban-footballer-kadel-key-alive-and-kicking-after-onfield-cardiac-arrest/news-story/e63be295fa234c44d25b774fd0bdaf33