Student Who Collapsed at Liberty HS Returns to Meet Staff Who Saved Him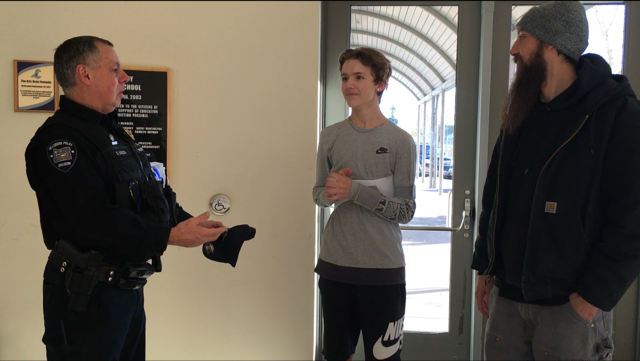 HILLSBORO, OR (KPTV) - It was an emotional reunion at Liberty High School in Hillsboro Tuesday, as 14-year-old Quillen Franklin returned to the school for the first time since collapsing in cardiac arrest just over two weeks ago.
It was November 20 when the freshman athlete – who has played sports since 5th grade football – suddenly collapsed while playing basketball during lunch.
School Resource Officer Emory Souza was one of the first people by his side.
"He was gone," Souza told FOX 12. "No pulse, what I considered to be his last breaths, he was blue."
Souza began CPR while a school nurse got an AED to shock Franklin's heart back into rhythm. He was rushed to the hospital with what his family would later learn was sudden cardiac arrest.
He went into surgery and was placed in a medically-induced coma while he began to recover. He was just released from the hospital on Sunday – alive, in large part, to the people who acted quickly to save his life that day.
"I'm just glad to see you. I really am," Officer Souza told Franklin as he and his father, Chris, walked into the school lobby Tuesday afternoon.
"I'm thankful for Mr. Souza and all the staff that was there for me and stuff. I didn't think anything like that would ever happen," Franklin told FOX 12.
As part of an impromptu ceremony, Officer Souza presented them with a $500 check from the Hillsboro Police Association to offset medical bills and help the family get through the holidays. The money comes from a benevolence fund through the police union.
But that wasn't all; Officer Souza also presented Franklin with his own personal medallion representing St. Michael, the patron saint of law enforcement.
"We all have to believe in something I think, and we both had that guardian angel looking out for us that day. He helped me and he also helped Quillen, so I gave my medal to Quillen," Souza said through tears.
"Thank you from the bottom of our hearts," Franklin's father, Chris, said. "He might not have been here if it wasn't for you. Officer Souza especially, Nurse Angelica, thank you for your quick actions. You saved my boy and I'm forever grateful for you guys."
His family says Frankling has a condition called Long QT Syndrome, which is a congenital heart defect. Family members are undergoing genetic testing in hopes of discovering its cause and potential future risks.
The 14-year-old hasn't officially returned to school just yet, he just stopped in Tuesday to greet people and pick up some homework. The teen is still healing from surgery and the implantation of a defibrillator, and plans to return to school full-time after the Christmas break.
Franklin is expected to make a full recovery.
---
Story Credit: http://www.kptv.com/story/37001731/student-who-collapsed-at-liberty-hs-returns-to-meet-staff-who-saved-him