Student-Athlete Whose Heart Stopped Returning to Court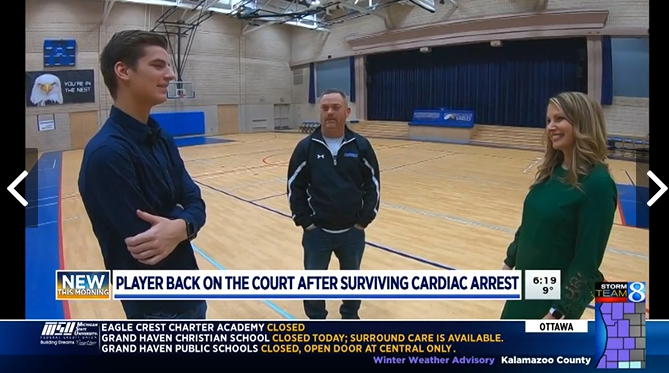 FRUITPORT TOWNSHIP, Mich. (WOOD) — Luke Anhalt's friends and family could very easily be grieving his death instead of celebrating his continued accomplishments at Calvary Christian School near Fruitport.
The difference came down to an AED in his high school gym and a basketball coach who acted quickly.
Everything changed for Anhalt on Dec. 13 during a light team practice. He missed a free throw so, as part of practice rules, he had to run down the court and back. He made it back to the free throw line before he collapsed.
"I saw him out of the corner of my eye," explained Jeff Zehr, the head coach for boys basketball at Calvary. "I didn't think a ton of it at first. Then I called his name. I was down shaking him and trying to talk to him and suddenly I said, 'Get the AED.'"
Two players, including the coach's son, ran to get the automated external defibrillators, one from the wall of the gym nearby and the other from down the hallway. Zehr opened the closest one, placed the pads on Anhalt's chest and followed the machine's orders.
"I can tell you I didn't have to read a thing, you just look at the diagrams. It starts to then immediately tell you what to do, like 'Don't touch the patient.' At one point, it finally said to administer a shock and this red button was flashing," Zehr said, describing of the moment he knew he had to push the button.
Anhalt, a starter, a healthy, active 17-year-old who Zehr has known most of his life, was laying on the floor not breathing. His heart had stopped.
The AED started it again.
WHAT HAPPENED?
Zehr did chest compressions until the ambulance got there, which was within a few minutes.
Later, while Anhalt recovered at the hospital, doctors tried to figure out why he had gone into cardiac arrest. They didn't find anything wrong with his heart's muscles or arteries and ultimately decided it was the fault of an electrical misfire. They don't think it will happen again, but just in case they implanted a defibrillator in Anhalt's back.
"Every night when I fall asleep, I feel like I'm sleeping on a book, but it's comforting," he said.
His defibrillator records his heart activity and he sends the report to his doctors each week.
He was shooting a free throw just before his heart stopped, and that's about the most active thing he has been allowed to do since. In the meantime, his team has struggled without him and he's been itching to hit the hardwood.
An appointment this week ended with doctors giving Anhalt permission to ease back into the game, so he'll join his team for their homecoming game Friday night. He surprised his teammates with the news at practice Wednesday.
As for stepping back out to compete on to the court where he collapsed, Anhalt has mixed feelings.
"It's interesting because I feel so good and I just want to play so bad, but I can't really imagine what it'll be like. The initial step is going to be hard, but then once I get out there (I think) I'm gonna be like, 'OK, let's do this,'" he said.
A LESSON IN AEDS
Anhalt and his family have learned a lot about cardiac arrest since that day in December.
For instance, that only one out of every 10 sudden cardiac arrest patients will survive, and that is largely due to assistance from an AED. They have made it their mission to share their story so that other people understand how important it is to have access to a defibrillator.
Zehr was previously an athletic trainer and is currently a chiropractor, so he's had medical training, but the experience with Anhalt taught him something new that he thinks it's important to share. He says he hesitated before administering the AED because of a reflex Anhalt exhibited that Zehr had never seen before. Medics later told him that it was something called agonal breathing. They don't typically teach it in basic CPR classes. It's when a patient takes a reflexive inhale, but it's involuntary.
"For a second you think they're coming to and you don't need to do CPR. Many bystanders make the same mistake I was about to make in assuming that meant he was coming to and would do nothing," Zehr said.
His message is to use the AED and trust what it tells you, because it will measure and detect any problems, eliminating the guesswork.
---
Story Credit: https://www.woodtv.com/news/muskegon-county/student-athlete-whose-heart-stopped-returning-to-court/1724613282
---
Since you're here, we have a small favor to ask. Requests from schools and districts for our screening services are growing, which means that the need for funds to cover the cost of those services is also growing. We want to make our services available to those who request it and beyond, so you can see why we need your help. Safebeat heart screenings take a lot of time, money, and hard work to produce but we do it because we understand the value of a child's life, PRICELESS!
If everyone who reads this likes it and helps fund it, our future would be more secure. For as little as $1, you can support Safebeat and it only takes a minute. Make a contribution. -The SafeBeat Team