Stephen Dudley Died Of Heart Arrhythmia, Recommendations Made: Coroner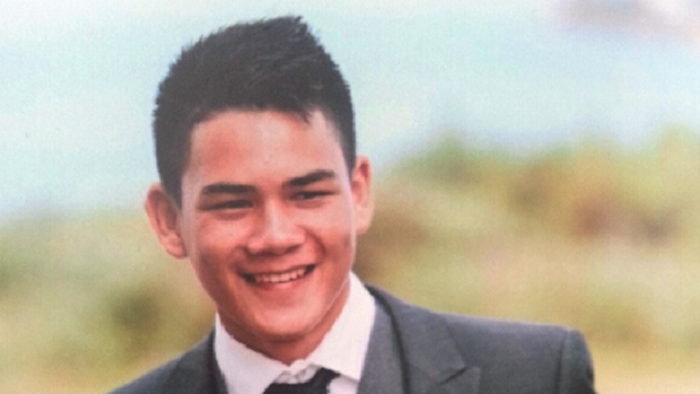 A West Auckland high school has been cleared of blame in a student's death, as the Coroner releases his official findings.
The report will likely bring little closure for the parents of Stephen Eruwera Dudley, after they slammed the school for having a "culture of violence".
They are now calling for police to reopen an investigation into the death of their 15-year-old son and charge his two attackers with manslaughter, according to lawyer Nikki Pender, who represented the Dudley family at the inquest.
"What the family would like is for a review with a view to laying a manslaughter charge. I think there's a very strong argument," she said.
"You can't argue there's double jeopardy, because neither boy has ever faced trial for manslaughter."
Stephen died on June 6, 2013, following a brawl on school grounds after rugby practice.
Father Brent Dudley said at the Coroner's inquest he was "gutted" by the way the family had been treated, and claimed he and his wife had been kept in the dark by the school and police.
"We lost our son while he was in your care, and I think you guys could have put a bit more bloody effort into it," he said.
However in his report, released on Thursday, Coroner Gordon Matenga acknowledged the school already had a zero-tolerance policy on violence, and rejected any suggestion the school may be to blame.
"The evidence does not support this allegation from Mr Dudley," he wrote.
The Coroner found Stephen died of cardiac arrest and suffered from previously undiagnosed heart conditions.
He said the cause of death "was cardiac arrhythmia due to stress associated with a physical assault in the context of cardiac sarcoid involving the cardiac conduction system".
The Coroner said the school had already introduced additional anti-violence, anti-bullying and personal development programmes, and further recommendations were unnecessary.
"There is no evidence to support the suggestion that further programmes are likely to reduce the chances of further deaths occurring in similar circumstances," he said.
The Coroner did recommend that the school in question develop a programme for Year 9 students to learn how to perform CPR and use an automated external defibrillator (AED) as part of their basic first aid training.
He also recommended that the Ministry of Education develop guidelines for schools around purchasing AEDs, including appropriate training for staff and students.
The Coroner rejected a request that the parents of Stephen's attackers be forced to make a donation to the school, and said he had "no power to make such a recommendation".
FATAL BRAWL
Stephen Dudley collapsed and died after brawling with two brothers after rugby practice.
Earlier that afternoon he'd scuffled with a fellow student, and he was called back to fight with him after their coach had left the grounds.
The 17-year-old brother of the other student also began attacking Stephen in what he claimed was defence of his sibling.
"I was worried about my brother because he doesn't know how to fight and I was scared he would get hurt," he said at the inquest. "I wanted to defend my little brother."
The elder teen punched Stephen in the neck, after which he fell to the ground.
"I have never thrown a punch in anger before and didn't realise how hard I hit Stephen," he said.
"I thought I had knocked him out and I got scared."
Another student recalled how Stephen had "froth coming out of his mouth" and "veins bulging out on his neck".
An ambulance was eventually called, and students began performing CPR under direction of the emergency operator.
The Coroner heard there was delay of seven minutes and 30 seconds before CPR was commenced, which likely reduced the chances of survival.
Stephen was resuscitated several times, but was ultimately declared dead after arrival at Auckland Hospital.
CAUSE OF DEATH
Stephen's cause of death was officially listed as cardiac arrhythmia - an irregular heartbeat which occurs when electrical impulses in the heart aren't working properly.
"Stress associated with physical assault" was identified as a contributing factor in his death.
However an autopsy identified that Stephen also had "underlying vulnerability" due to lesions and inflammation around his heart.
Several medical professionals disagreed over the extent to which the physical altercation could be blamed for his death.
Police initially charged his two attackers with manslaughter, but withdrew the charges after receiving medical opinions.
The two brothers later pleaded guilty to assault and were both discharged without conviction.
SCHOOL RESPONDS
The name of the West Auckland high school Dudley attended is suppressed, and on Thursday its principal was unable to answer questions because he was overseas.
A communications adviser issued a statement in which the school acknowledged the Coroner's recommendations and said it had already sought to implement them.
"The...school again extends its sincere sympathy to the Dudley family," the statement said.
"In relation to the Coroner's findings, the principal is grateful that the school's strict policy of zero tolerance for violence at the school has been acknowledged.
"The school plans to implement the Coroner's suggestion that it add CPR and the use of AED (automated external defibrillator) training to its existing Year 9 first aid course."
Stephen Dudley's parents, Mona and Brent Dudley, declined to comment directly.
---
Story Credit: http://www.stuff.co.nz/auckland/92738766/stephen-dudley-died-of-heart-arrhythmia-recommendations-made-coroner