St. Louis teen resuscitated after Heart attack at hoops practice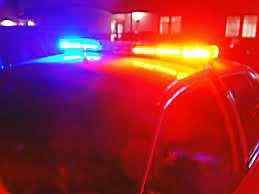 The training and quick thinking of many people along with well-outfitted first responders may have saved the live of a St. Louis High School student who had a heart attack during basketball practice last week.
Maverick Giles was practicing with teammates just before 7 p.m. on Dec. 9 when his heart went into arrest and he stopped breathing, St. Louis Police Chief Richard Ramereiz said in a press release Friday.
Basketball coach Dan Nealy immediately began CPR while assistant coach Jason Luneack called 911.
At the same time one of Giles' teammates called his father Richard Prestage, who happens to be Assistant Fire Chief for the St. Louis Area Fire & Rescue Department.
Prestage was only a block from the school having just dropped his son off for practice and when first responders arrived Nealy had handed CPR responsibilities to Prestage, Ramereiz said.
It took just moments for St. Louis police officers Matthew VanHall and Sarah Chamberlain to arrive with the defibrillator that is on-board each on-duty St. Louis patrol car, according to the release.
The (defibrillator) immediately advised for a shock to be administered," Ramereiz said.
With that first shock, Giles regained a pulse and began breathing on his own and was first taken to MidMichigan Medical Center – Gratiot and then transferred to the Helen Devos Children's Hospital in Grand Rapids.
Giles —who has no medical history of heart problems— underwent a procedure to have a defibrillator implanted and is still undergoing tests to determine the cause of the cardiac arrest.
He has since been released and his home with his family, Ramereiz said.
The St. Louis Police Department was assisted by St. Louis Area Fire and Rescue and Mobile Medical Response.
---
Story Credit: Morning Sun News at http://www.themorningsun.com/general-news/20161216/st-louis-teen-resuscitated-after-heart-attack-at-hoops-practice
By Lisa Yanick-Jonaitis, The Morning Sun
Lisa Yanick-Jonaitis is a photographer and community engagement editor. She is a 2000 graduate of CMU, the mother of two boys, is terrified of birds and close spaces, and loves wine, music and gossip. Reach the author at ljonaitis@michigannewspapers.com .