Spurs' LaMarcus Aldridge Out Indefinitely With Heart Condition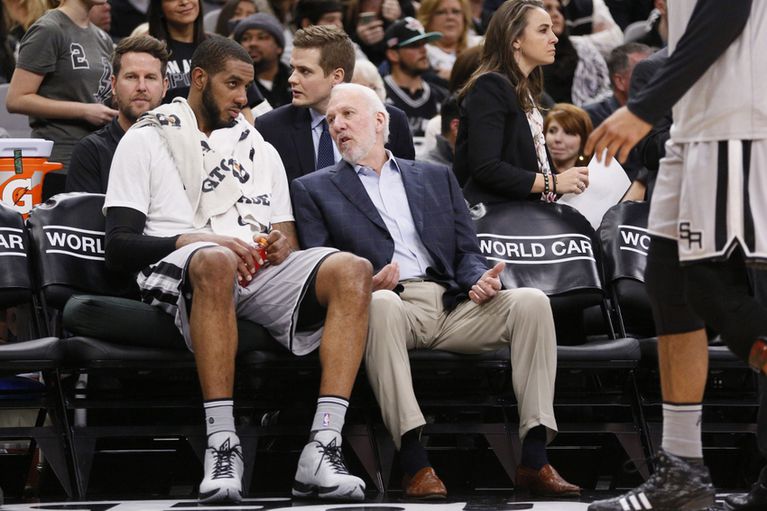 The San Antonio Spurs already knew they'd be without Kawhi Leonard (concussion protocol) against the Golden State Warriors on Saturday night. Just hours ahead of that Western Conference clash, the Spurs received more bad news — and this one's kind of scary.
The team announced on Saturday that forward LaMarcus Aldridge will be out indefinitely due to "an occurrence of a minor heart arrhythmia."
Aldridge was diagnosed with Wolff-Parkinson-White Syndrome in April 2007 while with the Portland Trail Blazers, a genetic condition he's carried since birth. "I was born with a heart condition," Aldridge said in a video in 2015. "As a kid I would get these little flutters … my heart would just start racing. I actually died at birth. My mom told me when I came out of the womb I wasn't breathing."
Wolff-Parkinson-White Syndrome is an abnormality in the heart where an extra electrical pathway causes arrhythmia, palpitations and possible cardiac arrest. Aldridge underwent treatment in 2011 after a recurrence of his condition and missed the first two months of the regular season.
As for the Spurs, they enter the weekend 1.5 games back of the Warriors for the best record in the NBA. Prior to the head injury Leonard suffered against the Oklahoma City Thunder earlier this week and the news of Aldridge's condition, many considered San Antonio the new favorite to win the Western Conference.
With Aldridge sidelined, that changes. Although the big man was maligned for his defense in Portland, he's become a crucial factor for the Spurs on both ends of the court since signing in the summer of 2015. If he's out for the rest of the regular season — which seems plausible given his history — San Antonio has little shot at securing the No. 1 seed. Without home-court advantage, the Spurs probably aren't going to beat the Warriors in the playoffs; Saturday night might be a different story, however, as Golden State is resting its four best non-KD players.
This likely marks the end of whatever remains of Leonard's MVP campaign, as well, since his case depended on San Antonio locking up the NBA's best record. Now, all that's left for the Spurs is to hope for the best.
---
Story Credit: http://www.foxsports.com/nba/story/lamarcus-aldridge-heart-condition-san-antonio-spurs-arrythmia-wolff-parkinson-white-031117