Spencer Homecoming King Thanks His 'Crew' After Cardiac Arrest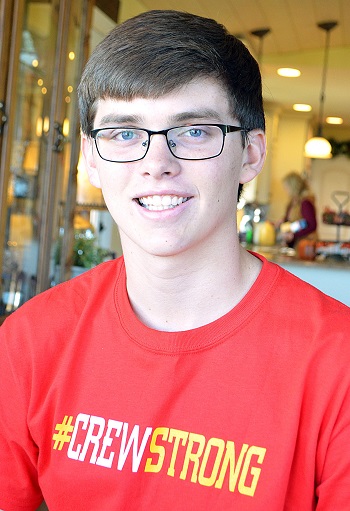 SPENCER, Iowa | Austin Crew, the Spencer High School homecoming king who collapsed and suffered cardiac arrest after a football game on Oct. 13, returned to school this week.
On Tuesday, the senior started the school day by making an announcement to the student body over the intercom.
"I wanted to thank everyone for their incredible support," Crew said. "People I don't even know have reached out to us since this happened and it's meant so much."
Crew, 17, serves as senior class president, National Honor Society president, a six-time speech all-stater, two-time choir all-stater and a leading competitor in doubles tennis for the Tigers. He's also the school's most avid Iowa State Cyclone fan.
"I have this tradition of wearing Cyclone stuff to school on Monday after a big win by the Cyclones," he said.
His sartorial Cyclone swag showed throughout Northwest Iowa last week as hundreds of students, Hawkeye and Cornhusker fans among them, donned ISU's cardinal and gold colors to show their support for Crew as he recovered in hospitals in Sioux Falls and Iowa City.
Following his collapse, his friends and bystanders quickly determined he wasn't breathing. They called 911 as trained onlookers assessed his condition and began CPR immediately. Members of the Storm Lake Police Department joined paramedics and an ambulance crew within three to four minutes.
Dale Kroll, a nurse anesthetist from Spencer, joined an OB nurse from Storm Lake and Jason Holt, a Spencer High School teacher, in conducting chest compressions until medical personnel arrived.
"Trey Sievers, one of Austin's buddies, called us at home," said Andrea Crew, referring to herself and husband Pete Crew, who were home in Spencer. "He told me that Austin had collapsed."
Another buddy, Sam Aalberts, a lifeguard, noticed Austin wasn't breathing and called 911.
"Jason Holt took the phone and talked me through everything paramedics were doing," said Andrea, who works as a physician's assistant in nearby Hartley, Iowa.
While she and Pete drove toward Storm Lake, Austin was taken to the Buena Vista County Regional Medical Center before being air-lifted to Sanford Children's Hospital in Sioux Falls. He remained there throughout the weekend before being flown with his mother to Stead Family Children's Hospital in Iowa City.
"I thought we were going to lose him on that Saturday in Sioux Falls," Andrea said. "And then, at that time, there was a prayer vigil being held (at Faith Lutheran Church in Spencer) and we could feel this overwhelming sense as this flood of prayer comes."
Andrea Crew said she was at times frustrated, angry, fearful and hopeful as their son struggled to breathe on his own, battling a collapsed lung among complications. At one point on Sunday evening, she leaned close to her son and instructed him to use the deeper, slower breathing exercises he learned in high school choir.
Though he doesn't remember his mother's advice, Austin took it and it helped him stabilize.
A significant turnaround occurred in Iowa City, where doctors determined Austin had left ventricular non-compaction cardiomyopathy, a condition where, as Austin developed in utero, his heart didn't compact into muscle properly.
In laymen's terms, Austin's muscle mass at the bottom of his heart remained spongy, or porous.
And while he's had this condition since birth, he never showed symptoms.
"Even through his EKG, this would not have been caught," Andrea said.
Rather, it showed itself in cardiac arrest, a rarity for an active, healthy high school student.
Doctors inserted an implantable cardioverter defibrillator through his upper left chest region. The device, which has a computer with a capacitor and battery, has a lead placed in the left ventricle and monitors Austin's heart rhythm constantly.
Austin stands by a "smart box" each evening as his daily heart data is transmitted to cardiologists in Iowa City. If his heart rate slows below 40, the device paces his heart. If it goes above 200, Austin will receive a shock to empty the electrical impulses from his heart, allowing the organ to restart.
"The shock may take him down or knock him to his knees," his mother said. "But that's OK, it's also saving his life."
As Austin recovered in Iowa City, his family donned Hawkeye gear, perhaps for the first time. Pete and Andrea, Iowa State graduates, joined their son, a future Iowa State Cyclone, in thanking medical pros at the University of Iowa for their lifesaving work.
In the meantime, dozens of Cyclones reached out to Austin and his family through social media. Monte Morris, the all-time assists leader at Iowa State, sent a message to his special fan, as did star wide receiver Allen Lazard. Coaches Matt Campbell and Steve Prohm sent autographed gifts, encouraging their young ISU supporter to get back on his feet.
Austin and his family returned home to Spencer over the weekend. On Sunday, Austin headed to Faith Lutheran Church in Spencer and stood up to deliver his thanks to the congregation for their prayerful support.
"We give the glory to God as He ultimately saved his life," Andrea said.
On Monday afternoon, Austin, who has a 4.0 grade-point average, attended three classes and a rehearsal for the high school's musical production of "Fiddler on the Roof," which takes place next weekend. Austin, who plays Perchik, made it through his solo on Monday.
His mother laughed and admitted, "I sat in the parking lot the whole time. I wasn't quite ready to let him go yet."
Spencer High School peers and members of the community have raised more than $7,000 for the family already, much of it through sales of "#Crewstrong" shirts in Iowa State colors. Nine members of Austin's fantasy football league are also offering their labor to bidders in hopes of raising more money for the Crews.
Austin, who has been taken aback by all the attention, said he now wants to focus on the high school and Spencer community at large. He wants the student body to be there for everyone, mirroring the way it has rallied for him.
"In a pretty yucky fall, this became bigger than something for him or us," Andrea Crew concluded. "People saw this goodness and wanted in on the train. That's driven all of us."
As he continues to recover, Austin Crew said he'll focus on his music, his academics and his fellow Tigers and Cyclones. He'll also register soon for an upcoming CPR class as he didn't take one offered when he was a freshman.
"I'd like to take CPR and get a lot of my friends and others to take it," he said.
Andrea noted that October is Sudden Cardiac Arrest Awareness Month. An estimated 395,000 people outside a hospital's care succumb to sudden cardiac arrest each year in the U.S. A significant number of those people could have been saved if a bystander knew the lifesaving procedure.
Austin Crew, his mother said, was lucky. Soon, he'll take the training in hopes that one day he, if called upon, can return the favor.
---
Story Credit: http://siouxcityjournal.com/news/spencer-homecoming-king-thanks-his-crew-after-cardiac-arrest/article_97f46a30-7cf5-5f57-bfb4-5cfd8bf56b54.html