Specialist Heart Centre Treatment Linked To Better Cardiac Arrest Survival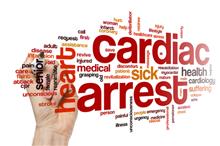 Direct admission to a specialist heart centre after a cardiac arrest is linked to higher chances of survival than being taken to the nearest general hospital, reveals research* published today in the European Heart Journal.
Distance needed to travel to reach the specialist centre didn't seem to influence risk of death one way or the other, the findings show, prompting the researchers to back the trend for a few high volume specialist centres to treat acute heart problems.
The researchers base their findings on national registry data from 41,186 patients who had had an "out-of-hospital cardiac arrest" between 2001 and 2013 in Denmark.
They wanted to see if there were any associations between risk of death and distance to specialist heart centres, performance of emergency coronary angiography (CAG) and percutaneous coronary intervention (PCI) within six hours of the emergency call, and level of care provided immediately after a cardiac arrest.
In all, 3,550 (9%) patients were still alive 30 days after the incident; 7,373 (29%) were admitted directly to an invasive heart centre; and 17,991 were admitted to a local hospital.
CAG was carried out on 1,785 (21%) patients who achieved a return of spontaneous circulation and PCI was performed on 1,262 (15%) after CAG.
Various factors were associated with a better chance of survival.
Sustaining the cardiac arrest in a densely populated area (above 2,000 people/km2) was linked to a 10% improvement in survival, as was cardiopulmonary resuscitation (CPR) by a bystander, while having the cardiac arrest when other people were around to witness it was linked to a 12% improvement.
Over the period of the study, the proportion of patients receiving CPR rose from 18% in 2001 to 60% in 2013.
The proportion of patients directly admitted to a specialist heart centre rose from 29% in 2001 to 45% in 2013, and prompt treatment at a specialist heart centre was associated with an 11% improvement in the chances of survival 30 days after the event, irrespective of the distance needed to travel to reach the centre.
CAG/PCI was linked to a 45% improvement in the chances of survival; and more than 90% of these procedures were performed within the first six hours of the call to emergency services.
Overall survival 30 days after a cardiac arrest increased significantly over time: 5% in 2001 to 12% in 2013, with the largest increase among patients who did not receive CPR from a bystander: 3% in 2001 and 10% in 2013.
"The explanation for these results may be improved emergency services skills and better in-hospital treatment. Importantly, our results indicate that the improvement in rates of [CPR] given by bystanders is not the only reason for improved survival following a cardiac arrest," said Dr Tranberg, lead author and cardiologist at Aarhus University Hospital, Denmark.
"We acknowledge that you should always be careful when generalising results to other countries with different emergency services, treatments available before arrival at hospital, medical culture, and so on," said Tranberg.
"However, we do think our results are applicable to other countries…Centralisation, with fewer high-volume invasive heart centres, is an essential prerequisite for advanced post-resuscitation care. Furthermore, uniform and aggressive use of acute coronary angiography and percutaneous coronary intervention in cardiac arrest patients may translate into an even higher survival rate in the future," she added.
---
* Tranberg T, Lippert FK, Christensen EF, et al. Distance to invasive heart centre, performance of acute coronary angiography, and angioplasty and associated outcome in out-of-hospital cardiac arrest: a nationwide study. Eur Heart J ehx104, published: 29 March 2017. DOI:10.1093/eurheartj/ehx104
---
Story Credit: http://www.onmedica.com/newsArticle.aspx?id=60ca4a53-0a06-44af-8634-9ffaed1a5a23