Songs You Should Sing While Performing CPR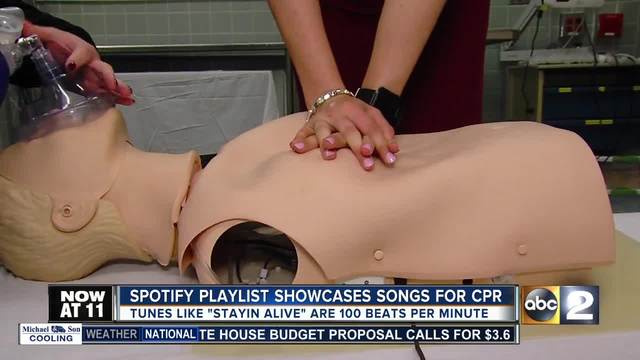 BALTIMORE, Md. - If you know the Star Wars theme song, you can potentially save a life.
CPR can up someone's chances of surviving cardiac arrest, but only if performed properly. Rate of compressions need to be between 100 and 120 beats per minute, which is the same tempo of a number of popular songs.
"Anything that's going to allow your mind just to focus on keeping that regular rhythm because in the heat of a moment when you're physically trying to save a life, your mind goes a thousand different places," said Katie Gordon, MSN, RN, CHSE, and simulation educator at the University of Maryland Medical Center's MASTRI Center.
Gordon helps doctors and nurses stay CPR certified by practicing with advanced dummies.
"They breathe, they speak, they have a heart rate. You can make them do a lot of amazing things like bleed and vomit and all those sorts of things," said Gordon.
They can even tell trainees when their pressure is off or pace is too slow.
The Spotify "Songs to do CPR to" playlist can also help with administering chest compressions at a steady pace. The playlist was developed by New York-Presbyterian Hospital. They selected more than 40 songs that are all 100 beats per minute, the recommended tempo for CPR.
The playlist includes songs like the Bee Gees' "Stayin' Alive" and "Dancing Queen" by ABBA.
From the classics to more contemporary, there are songs for every taste giving almost everyone something to sing in their head during a critical moment.
Hanson's hit song "MMMbop" or Cyndi Lauper's "Girls Just Want to Have Fun" could be the tune to keep a heart beating.
"Me and my husband, my husband's a trauma nurse, we are Star Wars people so we use the Star Wars [Imperial March]," Gordon said.
The American Heart Association (AHA) estimates that cardiac arrest kills one person every two minutes. Chest compressions save lives, but proper cadence is required.
"So what's really the most important is not going really fast, it's going at a regular pace so that as you're pressing that heart, it's a muscle, it's like an engine, and it's just pushing that blood out," Gordon said.
Everyone should remember the three C's of CPR: check, call, and compress. Check for a pulse and signs of breathing, and have someone call 9-1-1 while you start performing compressions.
Dr. Kerry Murphy is another simulation educator at the UMMC MASTRI Center. She teaches CPR for humans and animals.
"I actually died when I was out running one day and somebody found me and did CPR and saved my life. So, it's very important," said Murphy, DVM.
The person who immediately saved Murphy wasn't a doctor.
"Just somebody walking their dog in the park, who happened to be trained in CPR" she said.
Murphy collapsed 14 years ago. Her heart stopping was the first symptom of a more serious condition that later resulted in a heart transplant.
"It can be someone young and healthy like I was. It can be your grandparent, it's oftentimes someone you know. But it's a pretty amazing thing to be able to save somebody's life," Dr. Murphy said.
Most cardiac arrests happen in homes or private settings. Without CPR, 92 percent of those people die before making it to the hospital, the AHA estimates.
"It's so important to initiate CPR early because when you are not circulating oxygen it causes brain death," Murphy said.
According to the AHA, hands-only CPR can double or even triple a cardiac arrest victim's chance of survival. It only take 60 seconds to learn hands-only CPR. There are also a number of places locally where you can get CPR certified as well as CPR certified for pets.
The AHA still recommends CPR with compressions and breaths for infants and children and victims of drowning, drug overdose, or people who collapse due to a breathing issue.
To check out the New-York Presbyterian Spotify playlist, click here.
---
Story Credit: http://www.abc2news.com/news/health/songs-you-should-sing-while-performing-cpr