Should More Be Done to Screen Young Athletes for Heart Problems?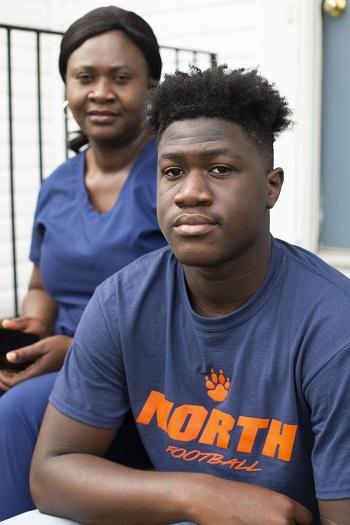 FREDERICKSBURG — As the medical reports of North Stafford High football prospects roll in each summer, Wolverines head coach Joe Mangano inevitably sees two or three red flags that warrant further evaluation beyond a routine physical.
Mangano was well-prepared for doctors to dig deeper into Ambrose Asiedu, a 6-foot-2, 230-pound freshman earlier this summer.
Ambrose is the younger brother of Nana Asiedu, a 6-foot-5, 270-pound former North Stafford offensive tackle.
Nana Asiedu was diagnosed with hypertrophic cardiomyopathy in June after an MRI at Penn State, where he signed a national letter of intent to play college football. His college career was over before it started.
Ambrose was viewed as high-risk for HCM — the leading cause of death in young athletes — but after an MRI, he was cleared to play.
While Ambrose begins his career and his brother's playing journey comes to an end, their mother, Mercy Sawyerr, has pondered if the routine physical required by the Virginia High School League is enough to catch potentially catastrophic heart issues.
"Kids are playing sports, not showing any symptoms and they're just going, going, going," Sawyerr said. "Only God knows what would've happened if they hadn't found that in time with Nana."
Former Orange County High School standout Darius Minor died on the practice field at Maine University on July 25. Minor's death was the result of acute aortic dissection with cardiac tamponade, with hypertensive cardiovascular disease as a contributing factor, according to Mark Belserene of the Maine medical examiner's office.
Orange head coach Jesse Lohr said Minor showed no signs of heart issues while starring for the Hornets from 2014-18, and none of his physicals showed cause for concern.
"He played all kinds of different activities here and he never showed any signs of anything like this," Lohr said. "He played soccer, and that requires as much endurance as any sport. He was a sprinter on the winter track team. He played some basketball. He played football for four years … We never saw anything like this."
'You've got to be vigilant'
The standard VHSL physical checks an athlete's blood pressure, vision, heart and lungs. It also makes sure there are no major muscle or joint problems, and for men, there's a hernia exam.
Physicians ask athletes if they experience chest pain, shortness of breath or dizziness. They also inquire if the player has any history of passing out or if anyone in their family has died unexpectedly.
"Those are the basic things," said Dr. Rick Lewis, a cardiologist at Mary Washington Hospital. "This population is pretty healthy. They're young, and if they're going out for sports, they're pretty active. You usually don't expect too many problems. It's like looking for a needle in a haystack. You've got to be vigilant, but know that most of the kids are going to be fine and healthy."
Lewis said that when doctors examine the heart during a physical, they listen for murmurs. He said that, in a quiet room with a skilled physician, HCM can be picked up with a stethoscope.
However, he added there are variants of HCM in which the heart muscle that causes the problem doesn't interfere with blood flow and the murmur goes undetected. That would have to be picked up by an EKG.
Lewis said requiring EKGs for high school athletes isn't cost-effective.
"The problem with EKGs is they can be normal because the kid may have an athlete's heart which is a benign condition," Lewis said. "That would set up a whole cascade of testing. You're talking about doing EKGs on lots of people that don't need it and echocardiograms on lots of people that don't need it."
Hypertrophic cardiomyopathy affects about 1 in 500 adults, according to the Journal of Family Practice. Some people never exhibit any symptoms or suffer any ill effects.
Nana Asiedu was red-flagged for heart murmurs after his sophomore year physical, but was cleared and allowed to play football and basketball the next three years.
He missed the 2017 football season opener because of dehydration. But Mangano said the Wolverines feel "fortunate" that was the extent of his issues at North Stafford.
VHSL spokesman Mike McCall said the office is aware of what happened to Asiedu and Minor, but officials have not thought about requiring more than the routine physical for athletes.
The American Heart Association doesn't recommend EKGs for sports physicals, but European guidelines do.
"The standard physical will remain," McCall said. "As far as those other types of tests that detect those heart ailments, it's going to be on families to make those decisions."
Costs of additional screening
Mangano believes the logistics of requiring more than the routine physical for athletes may be too complicated.
He noted that participation for boys and girls across numerous sports begins in sixth grade. Mangano said cost is a concern, too. A sports physical typically costs between $15-$25. If athletes were forced to add additional screenings, such as an EKG, the expense would spike.
"It's hard enough for a lot of these kids to get a regular physical now," Mangano said. "Does this mean paying hundreds of dollars for a physical that's more in-depth? I'd hate to say there's money and logistics involved in kids' lives, but there are a lot of moving parts here."
Mangano said bringing more awareness to the coaches and trainers may be a more practical solution.
The veteran coach said since Asiedu's condition was revealed, he's kept a closer eye on the exertion of his players, particularly those that are heavier. Lohr has done the same. He said Minor's death "definitely grabbed our attention when it took place."
"The natural instinct is to look yourself in the mirror and see what you're doing," Lohr said. "We haven't cautiously backed off of anything, but we try to be smarter about what is going on."
Lewis said that while some incidents occur without warning, there should be as many people trained to do CPR as possible. He also said defibrillators should be readily available. He noted that Fredericksburg is designated a heart-safe city because of the percentage of people who know CPR.
"We can't expect screenings to solve all of our medical problems," Lewis said. "But awareness of sudden cardiac death and teaching as many as we can about CPR, which is now very simple, should help."
'They saved my life'
Penn State allowed Nana Asiedu to remain on scholarship. He said he doesn't feel any physical effects from HCM during normal activity.
He visited the Nittany Lions last spring for a physical, which included an EKG that detected issues. He was summoned back for more testing and an MRI was recommended. That's when the promising prospect, who held 30 scholarship offers from major colleges, knew his career was over.
"Sometimes I'm sad I can't be out there to play, but it's also a blessing because they saved my life," Asiedu said. "The opportunity I have right now to stay on scholarship, stay a part of the program and get my education is a blessing."
Asiedu isn't alone as a college athlete with HCM. He's bonded with Penn State freshman Jordan Miner, who was also diagnosed with HCM before he could see the field as a cornerback. The Nittany Lions are honoring Miner's scholarship, as well.
"We're going through the same thing and we can help each other get through certain situations," Asiedu said. "When you get down on yourself, you have somebody to lean on."
Sawyerr said she's grateful the Penn State coaches have continued to look out for her son and that he's still under the program's medical care.
Sawyerr encourages parents of young athletes to get more in-depth testing before allowing their children to participate in sports.
With Ambrose Asiedu, an EKG was mostly clear, but doctors expressed concern about his left ventricle. An MRI was recommended because of his older brother's condition.
"When we did the MRI, they said, 'It's showing nothing. Everything is clear,'" Sawyerr said. "I said, 'That's what God can do.' They cleared Ambrose for any sport he wants to play. I thank God for that."
---
Story Credit: https://www.dailyprogress.com/news/local/should-more-be-done-to-screen-young-athletes-for-heart/article_847f8122-b3bf-11e8-9062-3b2793c1f3d0.html
---
Since you're here, we have a small favor to ask. Requests from schools and districts for our screening services are growing, which means that the need for funds to cover the cost of those services is also growing. We want to make our services available to those who request it and beyond, so you can see why we need your help. Safebeat heart screenings take a lot of time, money, and hard work to produce but we do it because we understand the value of a child's life, PRICELESS!
If everyone who reads this likes it and helps fund it, our future would be more secure. For as little as $1, you can support Safebeat and it only takes a minute. Make a contribution. -The SafeBeat Team