Severe Chest Pain, Indicator to Sudden Death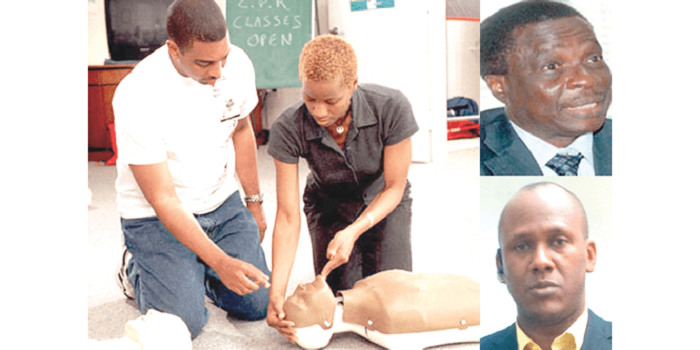 A story of apparently healthy persons who suddenly collapses and dies is now a common feature in the news. Such was the story of the late Mr. Olayinka Sonaike, the chairman, Estate Surveyors and Valuers Registration Board of Nigeria. He died while delivering his speech at an event at the headquarters of the Independent Corrupt Practices and Other Related Offences Commission (ICPC) in Abuja on Tuesday, December 11, 2017.
The deceased who was 74 years old, was one of the resource persons invited by the ICPC to speak at a one-day colloquium of business management organisations. He was about to make his presentation when he slumped and efforts to revive him failed.
Similarly, the Clerk of the House Committee on Agricultural Production and Services, Mohammed Shuaibu slumped while walking down the National Assembly staircase at about 12:00 noon on Monday, March 13, 2017. He was rushed to the National Assembly clinic where he died, according to reports.
The late Shuaibu had arrived Abuja from Zaria for a committee meeting, but died some minutes before the meeting commenced. The death of another prominent lawyer Barrister Solomon Uzoigwe in Onitsha also occurred in the same manner.
According to reports, the shocking incident occurred on Wednesday, January 24, when the deceased slumped and died in the premises of Onitsha High Court in Umuchu town, Aguata Local Government Area of Anambra State where the late Uzoigwe had gone to defend a land matter. The most recent of such deaths which has left many Nigerians wondering what could be amiss, was that of the late Deji Tinubu in January, 2018.
According to the Lagos State Commissioner for Information, Kehinde Bamigbetan, the late Tinubu, the former chairman of Lagos State Sports Commission, slumped while playing five-a-side match with fellow participants at the ongoing retreat of members of the state executive council and permanent secretaries at the Jubilee Chalets, Epe in January 25. He was 52 years old.
There is no doubt that these reported sudden deaths would be a tip of the iceberg. If the deaths reported in the media are those of prominent Nigerians, the number of unreported sudden deaths involving the poor and less privileged in rural far-to-reach areas can best be imagined. What this means is that many more of such deaths would have gone unreported, prompting the question: ''What is making some Nigerians that were not sick to die suddenly?"
A Cardiovascular Heart Health Physician, Dr. Kingsley Kola Akinroye with expertise, in the prevention of heart disease, classified most deaths that happened in this manner as sudden heart death.
According to him, a sudden heart death occurs within one hour in an individual that is apparently healthy.
The World Health Organisation (WHO) estimates that globally, almost three million people die every year from sudden heart death. A lot of the studies in the United States (US) shows that more than 300,000 people die annually from sudden heart death but in terms of percentage, "we have less than that happening in the Asian region and very low happen in Africa," he said.
Presently, data on sudden heart death in Africa is very scanty; Akinroye said most of these deaths were related to blood flow to the heart, which is called ischemic heart disease.
"The other causes of sudden deaths are non-ischemic, which are not related to the blood vessels of the heart, the common ones being problems with the muscles of the heart, which is called cardiomyopathy.
"In the African region, available documents in literature on sudden heart deaths involve athletes including footballers."
Also, among those whose sudden heart deaths are recorded include people living with hypertension and those with heart muscle problems. Electrical activities of the heart have also been known to cause sudden heart death in some Nigerians, but documentation on this were still very rare, Akinroye added.
The cardiovascular heart health physician said heart muscle disease is more of the problem in Africa, while the blood vessel disease is common in the western world including America and Europe. Nevertheless, he noted that blood vessel disease is now coming up in the African region.
Six per cent of Africa's adult population with blood vessel disease (coronary heart disease) five years ago, has risen to 11 per cent presently because of western diet and unhealthy lifestyle in terms of poor physical activity, uncontrolled blood pressure, and blood sugar, sedentary lifestyle, all of which contribute to rising diseases of the blood vessels and the heart muscles.
Akinroye said, ''You must recognise that in Nigeria, hypertension, which is the rise in blood pressure is our heart disease.
''With regard to heart rhythm problem, when the heart vessel disease occurs they can also affect the rhythm of the heart as well. So, the rhythm of the heart can also be the cause of sudden death in the population.''
Hence, he listed some of the causes sudden heart death as heart muscle disease, coronary disease (blood vessel) and heart rhythm problems.
On his part, a Consultant Cardiologist, Dr. Chinedu Eluogu attributed rising sudden deaths in the society to several factors of which them is the increase in the prevalence of some conditions that cause sudden death.
He attributed the common causes of sudden death to cardiac causes. Medical conditions that increase the risk of Nigerians to sudden heart deaths include hypertension, diabetes, smoking, alcoholism, dietary indiscretion, obesity, among others.
Eluogu said, "These conditions have increased among Nigerians presently and that, in turn has increased the prevalence of sudden cardiac death."
Also, the consultant cardiologist said poor detection of these medical conditions has contributed to why sudden cardiac death is prevalent.
He said, "These problems are not detected on time," adding, "If there is primary detection of these conditions, some sudden cardiac deaths can be prevented."
While admitting that the case of everyone that slums and died suddenly was not necessarily a sudden cardiac death, Eluogu asserted that most of them were heart related.
---
Story Credit: https://newtelegraphonline.com/2018/02/severe-chest-pain-indicator-sudden-death/