Ready, Set, Go: How Cardiac Screenings for Student Athletes are Saving Lives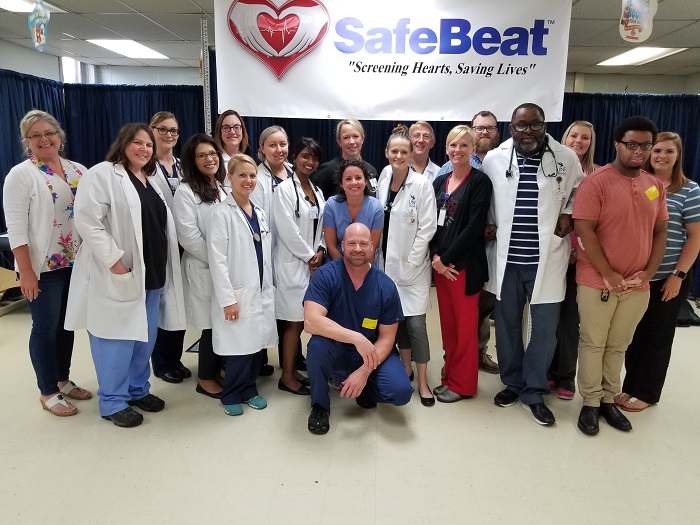 As a high school sophomore in southern Georgia, this student was a star of the football and track teams. When he heard of the opportunity to get a preventative heart screening at his high school, he willingly signed up – not thinking that anything would come of it.
During the electrocardiogram (EKG), the medical team found that he had left ventricular hypertrophy (LVH) – an enlargement and thickening of the heart's main pumping chamber walls. This abnormality can often develop in response to chronic high blood pressure.
However, an EKG cannot completely quantify the severity of LVH, so the team referred him for further testing. After an echocardiogram was performed, the star athlete soon received the dreaded news: he had a cardiac tumor.
LVH is one of the most common abnormalities that can lead to sudden cardiac arrest. If not for the preventative heart screening, the cardiac tumor may have gone undetected. Fortunately, he is doing well today.
While this teenager's story is startling, it's not uncommon. Approximately 7,000 children between the ages of six and 18 die from sudden cardiac arrest every year in the United States.[1] In fact, it's a leading cause of death among student athletes.
An organization called SafeBeat is at work to combat these numbers by offering preventative heart screenings for middle and high school students at no charge. Equipped with a MAC 5500HD ECG system from GE Healthcare, the SafeBeat team travels to public schools across Florida and Georgia scanning as many as 200 kids at each school. To date, the program has reached more than 62,900 kids. Each screening includes an individual medical history, bi-lateral blood pressure, body mass index, and EKG – with the goal of catching any underlying cardiac conditions as early as possible.
Wendy Bruno's son, Greg, sadly passed away from Sudden Cardiac Arrest at the age of 18, "My son, Greg was a seemingly healthy 18-year-old; he had just been cleared by his pediatrician during his physical, and died 33 days later of sudden cardiac arrest. I wish I was given the option to have him screened."
"I urge everyone to get a heart screening for their children or themselves. At least then, if something is found, you can have choices on what course to take for your life and well-being. Maybe a screening would have given us a clue that Greg had an enlarged heart, and we could have him with us today," Wendy says.
The SafeBeat team engages local volunteer licensed technicians, nurses, EMS to help perform the preventative heart screenings. The screenings are then over-read by a board-certified pediatric cardiologist. Based on the screening results, the students are put into one of three categories: "cleared" with no follow up needed, "cleared- referred" with recommended follow-up, or "benched" with a recommendation that the child is pulled from strenuous physical activities and completes recommended follow-up before being cleared. At the most recent SafeBeat event, more than 30 kids were referred to pediatricians for follow-up and two were benched for cardiology follow-up with a pediatric cardiologist.
"In most cases, children do not exhibit symptoms of a heart problem, so the heart screening, which includes an EKG, is a preventative measure to help detect a condition before it becomes an emergency," says Sheldon Hill, executive director of SafeBeat.
"We partner with local hospitals and medical professionals to help ensure that every active child has access to a preventative heart screening. We also ensure that any child in need of follow-up testing or treatment will be taken care of through our collaborative medical partners no matter the level of insurance that a child may have – even those who may not have health insurance at all."
SafeBeat was founded by Jane Vining, who lost her son to sudden cardiac arrest in 2008. The organization hopes to expand its operations across the country.
"While our program screens mostly registered student athletes, we really want to reach all active children," adds Sheldon. "Because all children are athletes – whether they're number one on the sports team or playing a game of tag at the playground.
---
Story Credit: http://newsroom.gehealthcare.com/ready-set-go-cardiac-screenings-student-athletes-saving-lives-safebeat/