S.C. Basketball Player Revived from Cardiac Arrest During Game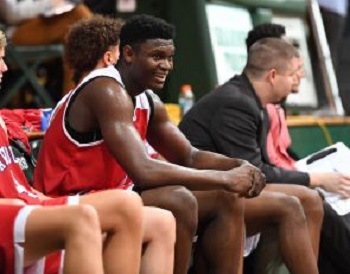 A Hanna (North Anderson, S.C.) basketball player collapsed and apparently went into cardiac arrest at a game Monday evening but was revived by an athletic trainer who used a defibrillator, according to school officials.
The quick response by trainer Caleb Pate and two others likely saved the life of 16-year-old Clayton Pendergrass, said John Cann, Hanna's athletic director.
"The team we had there — it was a miracle," Cann said.
"We all say God had his hand in them being there."
The incident unfolded at about 7 p.m. in the second quarter of a scrimmage between Hanna and Palmetto High School at the Hanna basketball court, District 5 officials said.
Pendergrass, a 6-foot-2 sophomore who had been playing in the game, approached Pate and complained of not feeling well.
"He (Pendergrass) sat down on the bench and collapsed and fell backwards," Cann said.
It appeared that Pendergrass' heart had stopped.
"From everything I understand, he had gone into full cardiac arrest and stopped breathing," said John Crosby, with PlaySafe, which employs the athletic trainers in Anderson.
Pate, the trainer, immediately began CPR on Pendergrass.
An off-duty AnMed nurse attending the game also assisted with CPR.
Pate ran to get a defibrillator and, as the crowd looked on, shocked the student twice.
"Caleb hooked him up on the AED (Automatic External Defibrillator) to restart his heart," Crosby said. "The AED automatically detects the heart rate and rhythm and whether it's necessary to shock."
School officials had called an ambulance but before it arrived, an Oconee County fire chief who was on his way home brought some breathing equipment, Cann said.
Pate, the nurse and fire chief are local heroes, Cann said.
"They saved his life," Cann said. "It was incredible."
Pendergrass was taken to AnMed hospital and later to Greenville Memorial Hospital, Cann said.
Greenville Memorial staff on Tuesday afternoon said that Pendergrass was in good condition.
"He was stable and talking and everything appeared to be OK," Cann said. "We're just thankful he's OK. He's an outstanding young man. It was a shock to see that take place but everything worked like it was supposed to. I'm very proud of how my staff reacted."
Cann said Pendergrass did not have previous health problems.
"He had never had an issue," Cann said. "He played football and basketball for us last year. His whole family is extremely athletic. He's a healthy 16-year-old kid, a fine young man."
---
Story Credit: http://usatodayhss.com/2017/clayton-pendergrass-revived-from-cardiac-arrest-during-game