Saving Lives With Technology, Coordination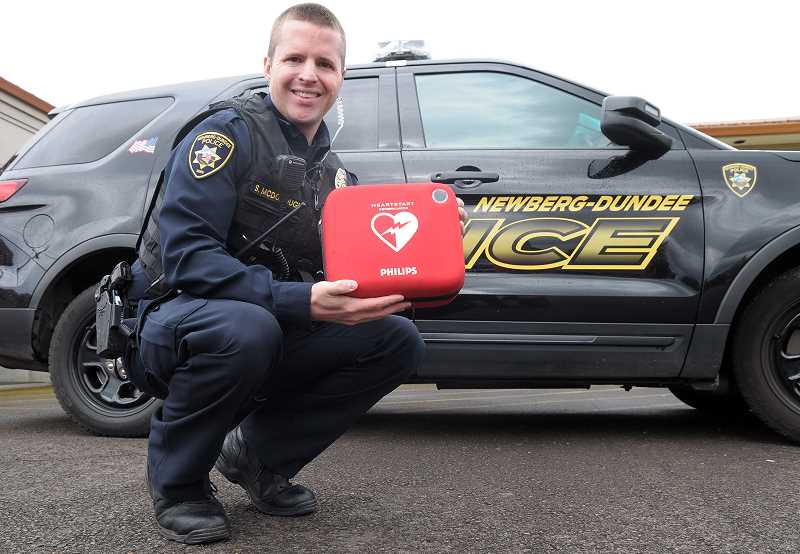 It's no secret that Americans have become much less active in the past couple of decades. Couple that with diets rich in salt and fat and the result is an uptick in diabetes, heart disease and cardiac arrests.
Well, there's a movement afoot in Newberg and elsewhere to help those people, and those who suffer from genetic heart conditions, get a second chance on life if they've suffered what is for all intents and purposes a heart attack. It's the deployment of automated external defibrillators (AEDs), a device that shocks the heart of someone who has experienced cardiac arrest, buying them valuable time until emergency responders can arrive.
For now the effort is centered around two Newberg agencies — the Newberg-Dundee Police Department and Chehalem Park and Recreation District — and one outside agency that includes Newberg in its territory, Tualatin Valley Fire & Rescue.
Anyone who has watched a medical drama on television has seen a doctor or nurse apply paddles to a patient's chest and shock them back to life. The AED uses the same concept, only in a portable version that works slightly differently. Here's how: sticky pads with sensors called electrodes are attached to the chest of the person suffering cardiac arrest. The electrodes send information about the victim's heart rhythm to a computer within the AED. The computer then analyzes the heart rhythm to determine whether an electric shock is needed; if so, an electric current is delivered to the heart through the victim's chest wall. The shock interrupts the chaotic rhythm and allows it to return to normal.
NDPD Chief Brian Casey said the department has been acquiring AEDs for the past four years and now 12 of the department's 14 patrol cars — including canine and traffic vehicles — are equipped with the devices, which run about $500 each. The short-term goal, Casey said, is to outfit the department's four detective cars with AEDs as well.
"The police have the potential to be first on scene for calls such as a cardiac arrest and having an AED available can make the difference in survivability," Casey said.
All 35 sworn officers in the department are trained and certified to use the devices and have done so about a half-dozen times since the program's inception, Casey said, adding that several lives have been saved but he couldn't confirm how many because sometimes the officers are successful in reviving an individual only to have him or her die later at the hospital.
The CPRD has deployed seven AEDs into the community, said Kat Rickert, a spokeswoman for the district. The devices, which are roughly the size of a loaf of bread, are deployed at Chehalem Glenn Golf Course, the Chehalem Cultural Center, Jaquith and Crater parks, the Chehalem Senior Center, CPRD headquarters and one at the Chehalem Cultural Center, installed in conjunction with TVF&R.
"The first one to go in was at the aquatic center," she said. "The CCC was the most recent. The rest have come in at various times over the past decade."
The district doesn't have any plans to increase that number, Rickert said, nor to place them in other locations.
TVF&R has deployed AEDs throughout its coverage area, which encompasses dozens of communities and hundreds of square miles, and recently began a program where off-duty personnel began keeping AEDs in their personal vehicles. The agency then began using a smart phone app called PulsePoint to put those AEDs to good use. TVF&R reported this week that there 17 of its personnel living in Newberg are "verified responders," meaning they have the AEDS and are trained to use them.
The app sends a text-like notification to users within one-quarter mile of an emergency after dispatchers send out the initial request for response to public safety agencies.
When TVF&R firefighter Scott White received his portable unit, he said he was excited to have the technology on-hand.
"I can have it in my car and at home," he said. "I can help my neighbors if they experience cardiac arrest, which also makes this technology part of being a good neighbor. Medical science and technology are crossing paths and I think this will make a substantial difference in how many lives are saved."
In fact, it is a TVF&R firefighter who owns the distinction of being the first person in the nation to use the app to save somebody. "He happened to be working out at his gym when he was alerted that someone nearby needed CPR," said Cassanadra Ulven, a spokesman for the agency.
Even with the program, TVF&R officials are working to broaden the number of citizen responders using PulsePoint to "saturate" the area with people able to provide life-saving assistance to those suffering from a sudden heart attack. In Newberg, this has included CPR training at a local middle school and George Fox University.
"For us to have citizens within Newberg and Dundee able to help us in saving lives is so important and why we were willing to invest in this app," said TVF&R representative Stefan Myers.
---
Story Credit: http://pamplinmedia.com/nbg/142-news/359177-239333-saving-lives-with-technology-coordination