Save A Life!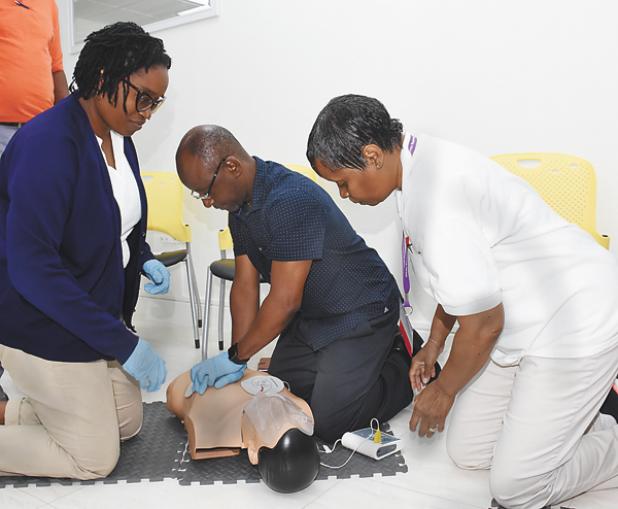 BARBADIANS OF all walks of life are being encouraged to pursue training in Cardiopulmonary Resuscitation (CPR) and the use of automated external defibrillators.
The Sudden Cardiac Arrest Project (SCAP) has been rolled out by Regal Development Solutions, which has embarked on a series of training exercises to share knowledge with as many persons as possible in these lifesaving techniques.
According to Medical Director of he Sandy Crest Medical Centre Dr. David Byer: "In our lives, private and public sector, we've noticed that over the last few years we have had a number of persons going into Sudden Cardiac Arrest from all walks of life… There was one common thread… The folk who were around when they collapsed, there wasn't a whole lot done in terms of CPR in an effort to save their lives."
The emergency physician reminded that the timeline from cardiac arrest to death is less than ten minutes. "So we need someone there to do the right thing until the actual responders arrive."
Dr. Byer was speaking at the beginning of two four-hour training workshops held in the Sandy Crest complex yesterday morning bringing together a cross-section of persons including officials from the tourism sector and the National Cultural Foundation.
As Crop Over kicks into full swing, the doctor recalled the tragic loss of beloved bandleader Renee Ratcliffe last Kadooment Day, the physician suggested that bandleaders and promoters should be encouraged to engage in this type of training and invest in this equipment to ensure revellers are safe on the road and at events.
Byer stressed that while administering CPR might not have saved those persons who collapsed, it generally gives persons the best possible chance to survive should they have a sudden cardiac arrest episode.
Byer noted that there is a movement worldwide to use these techniques to limit morbidity and mortality, adding that there are several places in Barbados carrying AEDs like local gyms, but stressed that more of these devices are required in public places, and with them training is needed. He revealed that there are plans to take this knowledge to schools, community and sporting groups.
Yesterday the project was facilitated by visiting team from the American Red Cross who reiterated that "CPR saves lives". Donna Taylor a certified Red Cross Instructor who explained that the training workshop would include recognising the signs of an emergency, early CPR and early defibrillation.
Culture Minister Stephen Lashley also refreshed his CPR skills yesterday, saying it is necessary to lead by example. While commending Dr. Byer and his team, he noted that emergencies can happen at any time particularly during mass crowd events during the Crop Over season.
"I would certainly appeal to many of our bandleaders.... perhaps if the bandleader cannot be a part of it, to identify someone who could be a part of this programme.
"Once you know how to do CPR correctly you wouldn't panic. Many people panic because they are not sure of what they are doing. You have somebody lying on the ground, they are unconscious you don't know what to do and sometimes you forget."
Lashley said this type of training should be extended to the wider community, with at least one person per family being trained per household.
Sales representative for Caribbean Health Solutions Inc. Greg Gooding noted that the AEDs are compact, easy to transport and light weight and are designed for use in the real world by non-medically trained persons. They are available through short term event rental, payment plans and lease arrangements. (JH)
---
Story Credit: https://www.barbadosadvocate.com/news/save-life