Safety on the Ball Field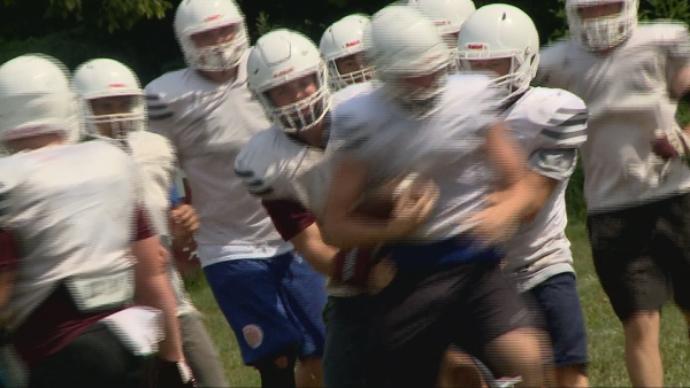 HUNTINGTON, W.Va. (WSAZ) -- Safety on the ball field is a top priority for parents when their children head out for practice or a game. But safety goes beyond a secure helmet or making sure your child is hydrated. It also means being prepared should the unthinkable happen and a player collapses on the field.
Thankfully, there are life-saving devices available, but WSAZ discovered these devices, called Automatic External Defibrillators (AEDs) are not required to be on standby at all fields.
Many don't think about having an AED unless they are in an emergency, and if there isn't one close by, it may very well have a tragic outcome. It happened to the Ray family in Lincoln County in April. It was the first day of soccer practice and eight-year-old Caleb was very excited.
"It was a normal day," said Caleb's mom, Kristy. "I have video of him practicing as goalie 10 minutes before his heart stopped."
Caleb collapsed on the field. Despite CPR and other efforts to save his life, he died in his dad's arms. No AED was around, and had there been, Caleb may still be alive.
During our investigation, WSAZ found it's not uncommon for a youth sports field in West Virginia to be without this life-saving device because there's no law requiring them. However, state and school officials say leagues and school districts have adopted their own policies.
Laws get more hands-on in Ohio under Lindsay's Law which requires coaches, parents, and players to to be educated on sudden cardiac arrest. SCA kills 2,000 children a year and two-thirds happen on the ball field.
But despite that statistic, and the regulation requiring education, there is still no law requiring AEDs on the field.
Kentucky is the only state in our region that requires AEDs to be nearby for sports practices and games. The law passed in 2009 after the families of teenagers who died playing football pushed for legislation.
"Anytime there's anything suspected with some sort of cardiac issue, it's really important to have an AED close by," said Ashland Athletic Trainer Emily Lorenzen. "Anything that's going on here, the AED is never more than a few seconds away which is really important in saving lives."
Lorenzen's job is not just to respond to an ankle injury or make sure the players are hydrated. She also looks for players showing signs of exhaustion, heat stroke, and cardiac arrest. That includes looking through each player's sports physical and picking out who is even more at risk for SCA. However, we learned not all physicals include in-depth heart checks. Parents need to request them or set up appointments with a cardiologist, especially if there is a family history of heart disease.
"We get all the physicals and we comb through them before the season starts and identify those red flag factors of who may have a natural high heart rate, who may have an abnormal EKG," Lorenzen said.
The fact that AEDs aren't a requirement on every field across the country is surprising to Lorenzen.
"I'm not sure why it's not, but hopefully by raising awareness, that's something that can happen quickly," she said. "It's definitely something that should be in formal writing in legislature for all states."
"Some of the warning signs could be a child complaining of shortness of breath, chest pain while they are exerting themselves, feeling like they're going to pass out," said Dr. Michele Friday, a cardiologist at Our Lady of Bellefonte Hospital.
Quick response is key to saving lives, says Dr. Friday. She adds awareness about knowing what a cardiac arrest looks like is important because they often look like something not as serious.
"What happens is a child is playing a sport and suddenly collapses on the field and often times bystanders think the wind has been knocked out of the child," Dr. Friday said. "Every minute that something isn't done to this child having sudden cardiac arrest, the chances of actually surviving are quiet low."
Even children not at high risk of heart disease are at risk because of a condition called Commotio cordis. It's a disruption of the heart rhythm after a hit to the chest at "a critical time that the heart is beating at a vulnerable cycle," described Dr. Friday.
In the months since Caleb's death, his mom is working to save lives of youth sports players. That's because SCA can happen to anyone, anywhere, at anytime. She says without AEDs, they are usually fatal when they don't have to be.
"I knew he was going to change something," Ray said. "I knew he was going to help people. I knew that was his destiny. I didn't know it was going to be after he passed away, but if this is what it has to be, this is what it has to be."
Kristy started the Live Like Caleb Foundation that raises money to buy defibrillators for area teams.
---
Story Credit: http://www.wsaz.com/content/news/WSAZ-Investigates-Safety-on-the-Ball-Field-490760741.html
---
Since you're here, we have a small favor to ask. Requests from schools and districts for our screening services are growing, which means that the need for funds to cover the cost of those services is also growing. We want to make our services available to those who request it and beyond, so you can see why we need your help. Safebeat heart screenings take a lot of time, money, and hard work to produce but we do it because we understand the value of a child's life, PRICELESS!
If everyone who reads this likes it and helps fund it, our future would be more secure. For as little as $1, you can support Safebeat and it only takes a minute. Make a contribution. -The SafeBeat Team