Heart Condition Ends Russell's UF Career Before it Starts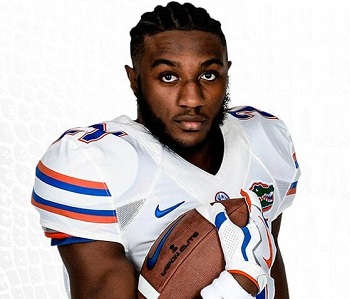 True freshman defensive back Randy Russell's promising Florida career has ended before it even had a chance to start.
The school announced Thursday that UF's medical staff discovered an abnormality in Russell's cardiac workup this week that will prohibit him from participating in athletics.
"During the course of the UAA's incoming pre-participation physical, the Gators' medical staff discovered an abnormality in Randy Russell's cardiac workup," senior associate athletics director Steve McClain said in a UAA statement. "Unfortunately, this condition will prohibit him from participating in athletics."
Russell is a three-star safety from Miami Carol City who signed with the Gators on Dec. 20, the first day of the new early signing period. He is an early enrollee who was expected to compete for playing time in the secondary.
"As tragic as this is for Randy and his family to hear this news, this discovery is life-saving for him," UF coach Dan Mullen said. "We will be fully supportive in any way we can for Randy and his family. He will continue to be a part of the Gator football family and we will assist him in his academic pursuits at the University of Florida."
Russell said on Twitter that he was diagnosed with hypertrophic cardiomyopathy, a disease in which the heart muscle becomes abnormally thick. The thickened heart muscle can make it harder for the heart to pump blood.
Russell shared his feelings on Twitter:
"Today I was diagnosed with hypertrophic cardiomyopathy, a heart condition that prevents me from continuing with the hopes of playing college football and becoming a professional football player. It is extremely hard to believe that after going through the process of early graduation and consistently physically preparing myself for the next level, today, that all comes to an end. This is the last thing I expected to hear and I would not wish this upon my worst enemy. To everyone reading this I encourage you to appreciate the finer things in life. Continue to walk by faith and not by sight. Just when you feel like things can't get any worse remember that someone has experienced worse. Remain grateful and aware of the possibility that everything you've been blessed with can be taken away from you faster than it was given to you. …  My love for this school has not changed and my degree will be earned. I had hoped that I would be three and out on my way to the NFL. I now understand that I have to make an adjustment but my goals, my destiny, and my determination prevails." Randy Russell Jr. Go Gators.
Russell is the second UF true freshman in a little over a month who has had to give up football due to a heart condition. James Robinson, a four-star wide receiver from Lakeland, saw his football career come to an end in early December due to a heart abnormality that was discovered before the start of the season.
Robinson reached out to Russell on Twitter, saying, "I know how you feel bro. I was just in your shoes, getting told you can't play football anymore is hell but you know what benefits you still have. Use them to your best advantage bro and stayed prayed up."
---
Story Credit: http://www.gatorsports.com/2018/01/heart-condition-ends-russells-uf-career-starts/