Russell's Heart Inspires Gators Football Team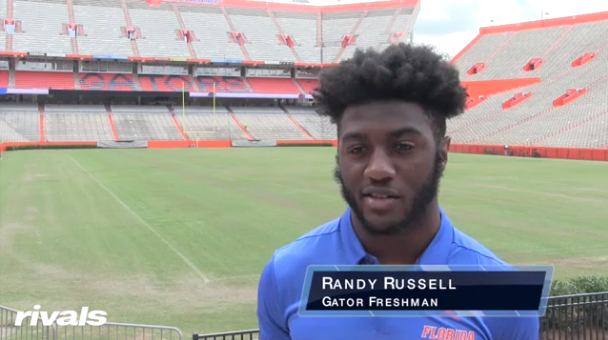 GAINESVILLE, Fla.- Randy Russell did not imagine his college football career would end before it even started.
"Sometimes I ask myself how did I get to this point," said Russell. "A year ago I had 50 offers to go to any school that I want and now I can't play football."
Russell signed with Florida last December hoping to have a leg up on the competition by participating in spring camp.
But the standard medical exam all freshmen football players undergo showed a potential problem with his heart and the South Florida native needed to have more tests performed.
Russell was not too worried, since he has been healthy his whole life. That changed when he walked into Dan Mullen's office back in mid-January.
"My mom came out without me knowing. I walked in and I see her crying," recounted Russell. "From that moment on, my heart literally stopped, and I just cried with her."
Russell was diagnosed with hypertrophic cardiomyopathy.
"I have an enlarged heart," explained Russell.
Also known as HCM, this heart condition makes it hard for the heart to pump blood since the heart muscle is abnormally thick. This can cause shortness of breath, reduce athletic performance, but an even bigger concern, sudden cardiac death.
"My doctors told me I could play 30 years and nothing would never happen to me but there is the possibility that something may happen."
The risk was too great and Russell needed to hang up his cleats.
"I was literally down for a good month," said Russell. "I was at a point where I just really wanted to give up."
However, Russell received hope from not only those close to him but also Dan Mullen and Florida.
"Football was taken away from him but football wasn't my promise to him or his mom," said Mullen. "My commitment to him hasn't changed."
Russell was allowed to stay on scholarship and was encouraged to remain as involved with the team as he wanted.
"He is still part of the team; he is still part of the program and nothing has changed for him." explained Mullen.
"I am just thankful for the coaches just to have me here," said Russell.
Russell decided he wanted to remain close to the sport. Although he would not describe himself as a student coach, he does attend meetings and practices and helps his fellow teammates.
"I'm just here to help. I'm just another player," explained Russell. "I just can't play right now."
"He is one of those guys that he isn't doing something for him, he is going to make sure someone else is good," said Brian Edwards.
"I just try to help them out with anything I feel like they need to work on," said Russell.
"He is a winner," said Mullen. "Those are the type of guys that are leaders of your program."
"It sucks not being out there with them but as long as I can help and just be around and coach team up a little bit it's been good."
Russell is also using his time to explore other options for his future that takes him away from Ben Hill Griffin Stadium. He has shown some interest in majoring in criminal justice, however, he has recently decided to use his time in pursuit of medicine.
"I've been interning at the hospital during the summer and the spring, thats been keeping me busy," said Russell. "Keeping my mind off football.
In recent months, Russell has shadowed Dr. Nicholas Cassisi at UF's Shand's Hospital.
"Being able to visualize and see the patients and being able to talk to them is a different type of learning," added Russell.
"I like the way he took his situation and he is trying to help others," said Edwards.
"Throughout everything he stayed positive," added safety Donovan Stiner. It takes a strong person to do that and thats why I really admire Randy."
"I think it shows his true character and his true colors come out when your faced with unbelievable adversity as a young person - how you handle it and how you go attack it."
Seven months after his diagnosis, and Russell has yet to give up on the hope that he might return to the field once again.
"As I look back I feel like those events made me stronger," said Russell. "I kept faith and I never gave up on myself. People will say that this is it for you, me personally, I still to this day feel like I will be back again. I just kept my faith and thats what keeps me going everyday."
---
Story Credit: https://florida.rivals.com/news/russell-remains-hopeful-of-a-future-with-football
---
Since you're here, we have a small favor to ask. Requests from schools and districts for our screening services are growing, which means that the need for funds to cover the cost of those services is also growing. We want to make our services available to those who request it and beyond, so you can see why we need your help. Safebeat heart screenings take a lot of time, money, and hard work to produce but we do it because we understand the value of a child's life, PRICELESS!
If everyone who reads this likes it and helps fund it, our future would be more secure. For as little as $1, you can support Safebeat and it only takes a minute. Make a contribution. -The SafeBeat Team