Rules Seek To Educate Parents, Young Athletes On Sudden Cardiac Arrest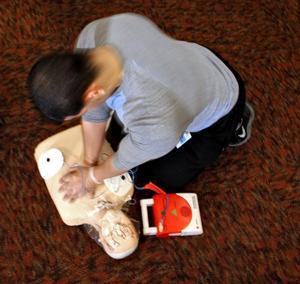 It's a parent's worst nightmare: to watch from the stands as your otherwise-healthy child collapses on the athletic field and does not get back up.
Sudden cardiac arrest happens rarely, but a new state law seeks to plant its possibility in the minds of young athletes, their parents and coaches so they can spring into action if they witness it.
"You have five minutes," said Dr. Naomi Kertesz, director of of Electrophysiology and Pacing at Nationwide Children's Hospital in Columbus. "If you're not getting adequate blood flow to the brain, you're not going to have a good outcome."
For one of a variety of causes — a long-undiagnosed heart condition or a problem that popped up the day before — the heart stops beating effectively. The victim hits the ground. Blood stops flowing to the brain and other organs. Barring some intervention, people die within minutes.
Under Lindsay's Law, which took effect this year, young athletes and their parents are required to watch an educational video about the causes and warning signs of cardiac arrest and sign off on paperwork that they understand.
The training requirements apply to coaches, athletes under age 19 involved in school athletics and youth sports organizations, and their parents. The 16 1/2-minute video can be found on YouTube.
Lindsay's Law is named after Lindsay Davis, Miss Ohio U.S. International 2011 who had to give up ballet when she collapsed as a teenager from a previously hidden heart condition. She worked with Cliff Hite, a Republican state senator from Findlay and himself a former coach, to introduce the bill in 2016.
The law places more stringent rules on participation. If a youngster passes out before, during or after a practice or game, he or she must be taken out of the practice and cannot return until cleared in writing by a health-care professional. Athletes also have to be checked out by a doctor if a member of the immediate family has experienced sudden cardiac arrest.
A 2013 paper published in the Journal of the American College of Cardiology estimated from earlier studies that, among young athletes, the death rate from sudden cardiac arrest is between 2.3 and 4.4 cases per 100,000 annually. Males are much more likely to experience it than females.
The new law creates more paperwork and another hoop to jump through, but no one locally, at least not coaches and athletic directors, seems to be grousing about it.
"Any time additional safety measures are taken to protect the students, it's worthwhile," said Darin Meeker, athletic director of Olentangy Liberty High School.
He said the Olentangy coaches received their required extra training on sudden cardiac arrest in July, when the materials were released, and the district's 575 student athletes participating in the school's 11 fall sports are viewing the video and turning in the paperwork.
For years, Olentangy's trainers have kept automated external defibrillators next to every practice and game, in the off-chance they're needed, Meeker said.
Likewise, the coaches at Groveport Madison schools see Lindsay's Law as an extension of the CPR training they already do, said district spokesman Jeff Warner. And the parents have accepted the new requirements.
"We've not had any complaints," Warner said. "It's gone very smoothly, in talking to our (athletic director). He's not heard any negative feedback from parents who are frustrated or anything."
Dr. Kertesz said she hopes, for one thing, that Lindsay's Law might lead people to recognize what's happening in time to help.
"All the kids are back to two-a-days," she said. "Someone goes down on the field. Everybody's thinking he's dehydrated. Everyone starts running for a glass of water."
Sometimes the cause is a structural issue with the heart, present from birth; sometimes it's an electrical issue in the heart disrupting its rhythm that develops later in life. Sometimes it's situational: A player gets hit in the chest or develops myocarditis after catching a virus.
The condition is rare, said Kertesz, who appeared in the training video to explain its causes. "So is drowning, but do you let your kid go unsupervised into a body of water, without lifeguards around?" she said.
Kertesz also is the medical director of Project ADAM Ohio, a chapter of a national organization formed in 1999 after the sudden death of Wisconsin teen Adam Lemel on a basketball court. She would have liked to have seen a provision in Ohio law requiring automated external defibrillators — which give audible directions that nonmedical people can follow — in schools and community centers.
"CPR is great — if you do it effectively," Kertesz said. But unfortunately, people often don't push hard enough, she said. She said defibrillators, known as AED, have saved some of her patients months of difficult rehabilitation.
Her crusade has been to persuade local school officials to place multiple units, which she said cost about $1,000 each, near enough to the athletic facilities to not waste precious minutes getting them to the victim, and for every student to be comfortable using one.
"I'm so tired of seeing these children who are devastated (after cardiac arrest)," she said. "If they had just used an AED on them."
---
Story Credit: http://www.dispatch.com/news/20170811/rules-seek-to-educate-parents-young-athletes-on-sudden-cardiac-arrest