Putting All Of Her Heart Into Rugged Sports Before 'American Ninja Warrior' Tryout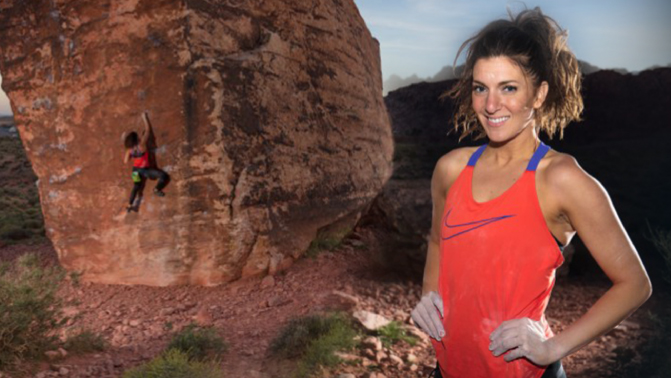 American Ninja Warrior, you've been warned: Molly Hemphill is coming after you again.
She's extremely fit, courageous and indomitable, a zealous rock climber eager to take on the NBC show's rugged obstacle course that few can conquer.
But Hemphill has conquered plenty already. She has a congenital heart defect.
"I think its really important to represent the heart disease community," said Hemphill, 32, who lives in Portland, Oregon. "A lot of times when you think about someone whose heart is damaged, you think about someone walking around with an oxygen tank. That might be the case for some people but it's not all of us."
And it's certainly not Molly Hemphill. Growing up, she loved sports, the outdoors and ballet. She remembers sometimes feeling heart palpitations and chest pain, but she and her doctors dismissed it as stress or overexertion. Then eight years ago, she took her young son to the doctor for a checkup.
In the exam room, she winced with chest pain, and the doctor turned his stethoscope to her.
"You've got a heart murmur," he told her.
A battery of cardiology tests finally found the problems: a pulmonary valve defect that caused an enlarged heart and electrical issues resulting in tachycardia, an elevated heart rate. That, and a subsequent removal of a cancerous thyroid, left her weak, fearful and facing a heart valve replacement a few years down the road.
"Maybe it's easier for us heart patients to live a sedentary life," Hemphill said. "We think as long as we preserve ourselves and we're super careful, maybe we'll get to live a long life. I decided to put my foot down and said, 'You know what? My time is going to happen whether I'm sitting on a couch or getting out there. I'd rather get out there.'"
She began hiking, then running, then discovered a passion for climbing rocks. "I've pushed myself to strengthen my heart," Hemphill said. "I think a lot of people can do self-healing through fitness. Being outdoors and loving nature saved my life and gave me a second chance."
She pushed herself. Her doctor would say she could run three miles and she would run five.  "What can I do now?" she asked. Finally, her doctor said, "OK, no limits. Go test yourself."
"That's the greatest doctor's appointment you can have," she said.
Aaron Schoenkerman, M.D., a Vancouver, Washington, cardiologist who treats Hemphill, said that managing the thyroid problems and heart arrhythmias through medication made the valve defect less ominous.
"That really allowed her to move forward," he said. "She learned she's a lot stronger and has a lot more stamina than she thought before."
The impetus to challenge American Ninja Warrior, she said, came from her son Gerrick, who's now 9. A couple of years ago they were watching the show "and he said, 'That's so cool. I want you to do that.' I laughed and said, 'I can't even do a pull-up,' and he said, 'Why do you have excuses?'
"I said, 'Wow. Why do I have excuses? Let's see if I can do it.'"
Hemphill, who works in information technology at Nike's Oregon headquarters, upped her workouts and got in the best shape of her life. In January, she submitted an audition video showcasing her skills and making the case how meaningful it would be for people with heart disease to see one of their own on the show.
The response was a chance to travel to the Los Angeles studio on her own as a walk-on – with only the slimmest chance of competing.
"So, I decided I'll go for the next season," she said. "I'm going to get stronger, I'm going to push myself harder and there won't be any question about whether I'm able to do this."
That's where things stand now. In the meantime, Hemphill took up bouldering, a sport where competitors negotiate incredibly difficult climbing walls without a rope, but with a padded floor.
She has created a website, www.heartsforadventure.org, to share her story and encourage others, and she plans to take that passion offline and outdoors by organizing meetups in the Portland area.
"I want to reach out to heart patients and take them rock climbing or even just on a walk," she said. "These things typically start with a safety blanket, and that's me. I want to build people up and empower them to do these things on their own –- as long as they have their doctor's permission."
Her own heart still has structural and electrical issues. She also still suffers episodes of irregular heartbeats. But her lifestyle choices and fierce determination have paid off.
"All the cardio has vastly improved my lung function," Hemphill said. "And parts of my heart are actually functioning better.  I've strengthened myself holistically to the point that my heart doesn't need a new valve in the foreseeable future, if ever."
---
Story Credit: http://news.heart.org/putting-all-of-her-heart-into-rugged-sports-before-american-ninja-warrior-tryout/