Preventing Sudden Death from Cardiac Arrest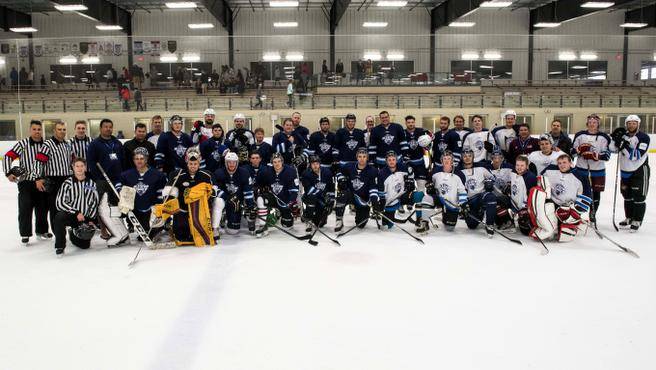 In August 2013, 16-year-old Jordan Boyd passed away after collapsing on the ice at the Acadie-Bathurst Titan hockey training camp. It was later determined that Jordan had an undiagnosed heart condition known as Arrhythmogenic Right Ventricular Cardiomyopathy, or ARVC.
As the anniversary of Jordan's passing approached, his family decided to host a hockey tournament in his honour, hoping to also raise funds and awareness for ARVC. Public interest in the event quickly spiked after NHL celebrities, such as Brad Marchand, spearheaded the event. As a result, the first annual Jordan Boyd Celebrity Hockey Challenge raised $100,000. Since then, the yearly event has continued to grow and to date, the tournaments have generated more than $560,000 net in support of inherited heart disease research at the QEII.
"We had no idea that Jordan's story could impact and motivate so many people to fundraise for such a good cause," says Greg Dobson, Jordan's brother.
Dr. Martin Gardner with the QEII's Inherited Heart Disease Clinic is particularly pleased by the increased public awareness the tournament continues to generate. Because Nova Scotia has the second highest incidence of ARVC in the country, and because the disease is so stealthy in nature, Dr. Gardner insists that knowledge and vigilance are critical.
"It's genetic, so if it's found in a family member, all the family members need to be checked," he says.
Jordan's family was no exception.
"We uncovered that I had the gene and my mom has the condition as well," Greg says.
For Dr. Gardner, the funding provided by the tournament has allowed the clinic to hire additional staff, participate in regional and national studies and it has provided the funds for genetic counsellors and research nurses to travel and share best practices regarding ARVC.
"One of our staff spent six months at the Mayo Clinic learning more about ARVC with one of the world's leading experts," Dr. Gardner says. "That was a huge advancement for our clinic."
This synergy has led to several key insights into the diagnosis, treatment and care of ARVC, particularly in the past four years.
"New imaging techniques like MRI have really advanced our ability to make a diagnosis," Dr. Gardner explains. "Genetic testing has increased to the point where we know more genes responsible for ARVC. In terms of management, we've learned that regular exertion is fine, but high levels of exercise should be avoided."
The Canadian National ARVC registry, hosted at the QEII, is the largest in Canada and also holds tremendous potential.
"We have about 500 patients and family members in the registry now from across the country," Dr. Gardner says. "We're not at the stage where we can look at the information we've collected yet, but we hope that the registry will tell us the risk factors for heart rhythm problems and sudden death, and we can then act upon that."
According to Dr. Gardner, the more people make themselves available for care and research, the more effective detection and treatment will become.
"Our biggest hope is to identify people who are at risk for sudden death, who we would put forward for treatment and who doesn't require it," he says. "That's an answer we don't have at present that we really hope for."
As for Jordan's family, they are encouraged by the enduring and varied impact that Jordan's legacy continues to provide.
"Usually, you learn about something like this when it's too late," Greg notes. "So, the amount of help that we've been able to generate through fundraising dollars and awareness through the events is just incredible. If we can find ways to detect and anticipate it, then that's one small step that would be a big impact for us."
---
Story Credit: http://thechronicleherald.ca/qe2times/your-qeii/1512186-preventing-sudden-death-from-cardiac-arrest