Portable Defibrillators Called 'Mikeys' Are Saving Young Lives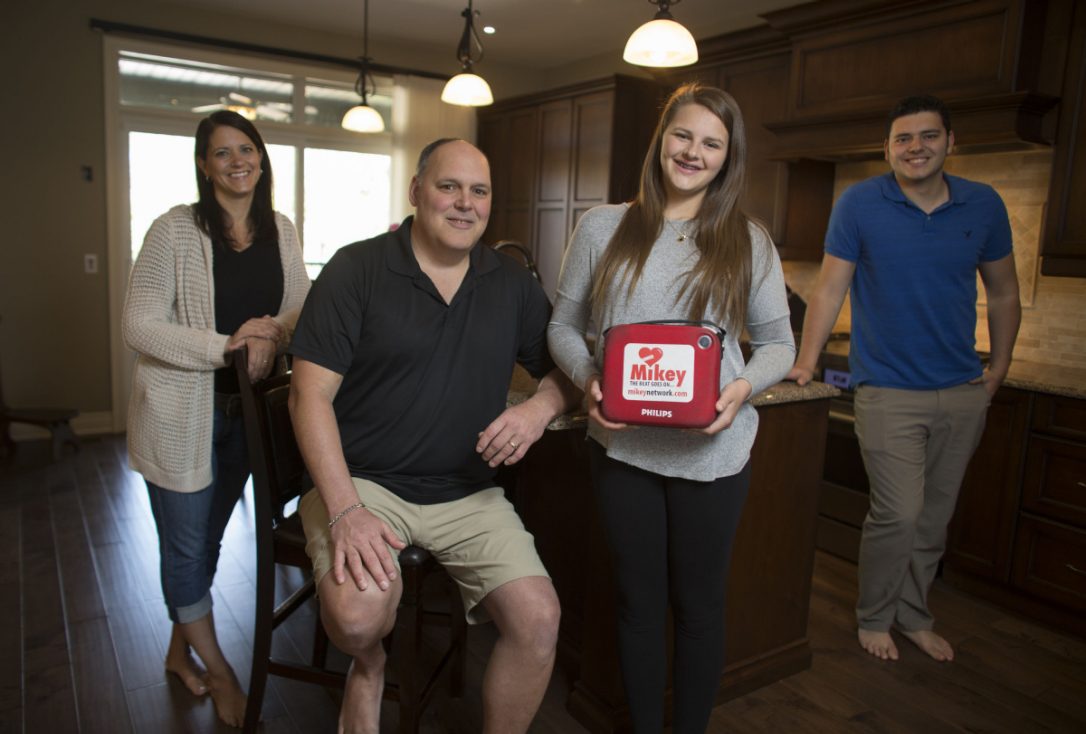 When Emily Herbert was diagnosed at age 5 with Brugada syndrome — a lifelong condition that increases the risk of sudden cardiac arrest — her parents were afraid to let her out of reach.
They'd need to scale back family trips and chaperone all of Emily's outings, they thought.
"It was totally frightening," says her dad, Tim Herbert, who also has Brugada syndrome, a genetic condition, and has an implanted defibrillator in his chest. "We had no idea what to expect other than to not want to let her out of our eyesight. As most children grow up, they're looking for flexibility and freedom away from mom and dad."
But soon after the diagnosis, doctors at the Hospital for Sick Children connected Emily and her parents to the Mikey Network kids program. Since 2006, the initiative has paired more than 200 kids like Emily with portable defibrillators called "Mikeys," named after Mike Salem, a man who died from cardiac arrest on a golf course without access to a defibrillator in 2002.
Now 14 and in high school, Emily has carried her Mikey — which she named "Roxy" — with her for almost nine years. Her parents hope she'll have a wireless defibrillator implanted before she goes away for university in a few years. This Saturday, Emily will participate in the Walk of Life on "Team Mikey" at the Ontario Science Centre and E.T. Seton Park, an event to raise money for the Cardiac Health Foundation of Canada.
For hundreds of people with conditions like Emily's, the Mikey Network is doing the job that provincial governments haven't — putting defibrillators in public spaces.
Mikeys have saved the lives of some 36 people, according to the network, seven of whom were under the age of 20. Each minute defibrillation is delayed, the chance of surviving sudden cardiac arrest decreases up to 10 per cent, according to Toronto Paramedic Services. So far, the network has installed more than 2,000 "Mikeys" in public spaces such as schools, offices, arenas and community centres across the country.
"Defibrillators should be placed like (fire) extinguishers — everywhere," says Eva Naumovski, president of the Mikey Network. There's a misconception that the defibrillators are only needed by seniors with aging hearts, she says, but those who least expect it can be affected by cardiac arrest — including hundreds of young people like Emily, many of whom may not even know they have a heart condition.
"Some of these kids unfortunately die because there isn't a unit available in a public place," Naumovski says.
Once nervous to be on her own, Emily is as ready as any teenager to exert her freedom and independence.
"I'm really comfortable being out with my friends. I couldn't really imagine not having my defibrillator," she says. "I think of it as like wearing a seatbelt in the car. I've never had to use it, but I wear it just in case."
Mikeys provide rescuers with instructions through voice prompts. If the device detects life-threatening heart rhythms, electric shocks can provide a life-saving jolt. Emily's friends all know about her Mikey, something her mom, Leanne Herbert, makes sure is the case.
"We think it's really important that when Emily has the defibrillator, that people are aware of it so they know how to use it as well and know what to do if she does go unconscious," she says. "We automatically assume it's her heart, call 911 and grab her defibrillator."
"(The Mikey has) given Emily the freedom to go places where there might not be AEDs (Automated External Defibrillators) available," Leanne says. "There are a lot more available now, but if we go up to a cottage there aren't AEDs on every lake. So she has hers with her."
Thanks to her Mikey "seatbelt," Emily knows she has the protection she needs if her heart rate rises and she goes unconscious.
For this Saturday's walk, she has raised enough money — about $2,000 — to share some of that comfort with someone else. She will present a Mikey defibrillator to another child in need during a ceremony at the walk.
"It was a really big change in my life when I received my Mikey," she says, "so I'm really excited to change their life too."
---
Story Credit: https://www.thestar.com/life/2017/05/25/portable-defibrillators-called-mikeys-are-saving-young-lives.html