Plum Sophomore Little Sidelined by Heart Condition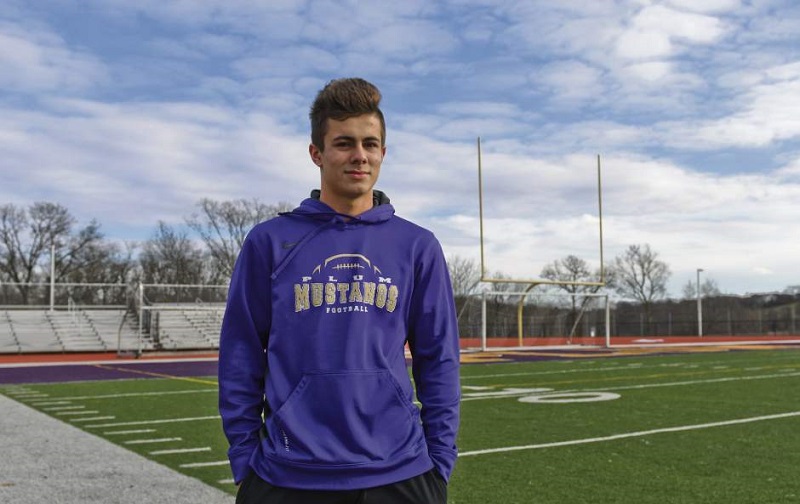 A poster is taped to the ceiling above Anthony Little's bed, where he can see it every day when he wakes.
The gift from former Plum football player Antonio Marasco displays a football player with the words three words "Never, never quit," a simple message that carries even more meaning these days for Little.
Little, a Plum sophomore, still is getting used to the short-circuiting of a promising football and wrestling career after getting diagnosed last month with hypertrophic cardiomyopathy, a heart condition that can cause sudden cardiac arrest.
"It's been a long month for me, just taking it all in," Little said. "The diagnosis was kind of hard to deal with at first. It took a while to get used to the idea of having to change my lifestyle. I haven't exactly come to peace with it yet, but I know I will eventually because I'm going to have to start changing the way I do things and start living a different way. If that's what I've got to do to live a long life, that's what I'll do."
Hypertrophic cardiomyopathy, or HCM, is distinguished by abnormal thickening of the heart muscle. The condition, found in about one of 500 people, often runs in families through a gene mutation, and the abnormal thickening often can become evident during adolescence.
Dr. Brian Feingold, medical director of Heart Failure and Transplantation Programs at Children's Hospital of Pittsburgh of UPMC, said HCM is fairly common but can present without symptoms.
In fact, sometimes the first symptom is cardiac arrest. HCM is the most common causes of sudden cardiac death of in otherwise apparently healthy individuals, Feingold said. That includes young athletes like Little.
"Because it may not have symptoms of it but it carries a risk of sudden death, it's really important to know that it exists and then to treat the patient," Feingold said.
An athlete from 5 years old, Little played quarterback for the Plum football team and wrestled. He competed in 13-mile Spartan Races, played AAU baseball and woke at 5 a.m. over the summer to run the mile to the East Suburban YMCA, where he trained for football by lifting weights, sprinting and playing basketball.
He earned honorable mention all-conference honors in Class 5A's Big East after passing for 489 yards and six touchdowns and rushing for 168 yards and another score this fall.
"He's always been a doer that excelled at doing things," said his father, Joe Little.
Which made it ironic, perhaps, that the chain reaction that led to Little's diagnosis began with him doing nothing physical.
During a break between football and wrestling season in late October — a two-week break mandated by his parents — Little was playing video games and watching television in his bedroom on the lower level of his family home. As he later prepared to come upstairs, he passed out and hit his head.
"I just remember being on the ground and kind of shaking," he said. "It was weird. I didn't know exactly what happened."
A trip to Forbes Regional Hospital showed something "odd" on Anthony's EKG, Joe Little said. Anthony's pediatrician also mentioned the strangeness of the EKG the next day, and a trip to Children's Hospital led to another EKG, and finally an echocardiogram, which revealed the HCM.
Although Little felt something might be coming as he heard the diagnosis, learning his condition would keep him from high-effort athletic activities like football and wrestling still hit him hard.
"I left the room, closed the door, went outside," said Little, adding he cried after hearing the news. "I just thought about what I've got to do. I thought about my teammates and how I'm going to tell them about this. I thought about how I'm going to miss playing with them and everything like that."
Although heart muscles can thicken through other means, such as weightlifting, Little's thickened muscle was abnormal and showed scarring, Feingold said. That scarring doesn't happen through weighlifting.
Little and his family took another trip to the Cleveland Clinic — after another episode where he passed out at home before a scheduled stress test — and the diagnosis was confirmed.
"At the end of the day, it's still hard for me as a father to think he can't do the things he loves to do," Joe Little said. "However, I can't ignore the fact that we were given a gift. ... Maybe nothing would have happened next football season or the season after that. Maybe he gets into college. At some point, going at the level he was going, I don't want to say something was definitely going to happen, but the risks (were there)."
For now, Anthony is on a three-month "de-training" period before a follow-up appointment in Cleveland will let him know what his future training endeavors can entail. His workouts are restricted, and he is drinking a lot of water.
Although he admits it's hard to sit around and even harder to think about a future without high-level sports, Little is making other plans. He is helping the Plum wrestling team this season and plans to remain involved with the football team, potentially as something of a student assistant coach.
"I think Anthony and his family have done a great job with this," Feingold said. "This is often pretty heavy or pretty devastating news to deliver to somebody that they have this diagnosis. Not because it means you're going to be very sick or even die — in fact, most patients with a diagnosis actually live a pretty normal lifespan and don't have symptoms, but you can be at risk for both sudden death and have symptoms. More importantly, it can become very difficult to deal with, as you can imagine for somebody like Anthony who a lot of his identity is through his sports participation.
" ... I give them a ton of credit for being able to work through that."
Part of Little's strength comes from the response he received after revealing his diagnosis on Twitter: an outpouring of support from teammates, coaches and opponents.
"It was great to know I have so many people that care about what's happening," he said.
Little hopes his story can have an impact on others. Signs of heart conditions, including HCM, can appear in checkups as small as a routine athletic physical. With how common HCM is, Little thinks it's important for people to learn as much as they can about their health.
"It's definitely a tragedy when kids don't know, and events happen on fields and during practices," he said. "Now that I know what I have, it seems everybody should get some sort of checking — not just a regular physical where they say OK, you're good, you can get out. They should at least do some heart tests to see where people are at. Because if I hadn't passed out, I probably still would have never known. There's maybe other kids out there playing in the WPIAL, and they may not know they have it."
---
Story Credit: http://triblive.com/sports/hssports/football/13075011-74/plum-sophomore-little-sidelined-by-heart-condition