Playing with Heart: How N.J. Teen Went From Death's Door Back to Football Field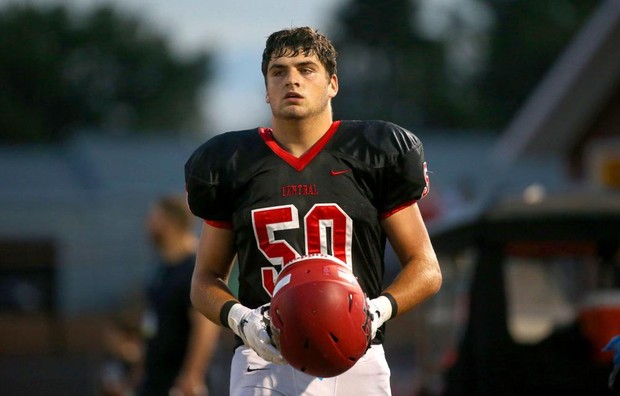 Suddenly, Nick Zahos stopped breathing.
His eyes rolled back in his head.
His face turned red and sweaty.
His throat gurgled as he struggled for air.
Moments earlier on that mid-November afternoon, Nick had been sprawled on the cushy sectional couch in his family's living room in Whitehouse Station, watching his beloved Pittsburgh Steelers face the Dallas Cowboys. He was the picture of health: A 6-foot-1, 215-pound football and lacrosse star at Hunterdon Central High School, capable of bench-pressing 245 pounds and running a mile in less than eight minutes.
But now, Nick, 17, was unconscious, lying motionless on the couch.
His older brother, Tommy Zahos, snapped into action. Tommy had been a standout middle linebacker at Hunterdon Central two years earlier, the guy in the center who made sense of all the chaos.
Tommy, 19, lifted his brother off the couch and onto the ground. Their father dialed 911. Then, Tommy began CPR, straddling Nick and delivering chest compressions and rescue breaths.
Precious time ticked away as police and paramedics raced to the house.
Two minutes. … Three minutes. … Five minutes. …
Tommy kept working, counting compressions in his head.
Standing nearby, Nick and Tommy's parents, Tom and Sandy Zahos, watched in horror.
One of their sons was dying.
And their other son was trying desperately to save his life.
'THE ONE PUSHING NICK'
As kids, Tommy Zahos never took it easy on Nick, his younger brother by two years. If it was baseball, Tommy would hurl fastballs down the middle, hoping to scare and intimidate Nick. If it was backyard football and their father was quarterback, Tommy would blanket Nick and never let him catch a pass.
"Tommy was the bully brother, but in a good way, trying to get the most out of his brother," Tom Zahos said. "He was always the one pushing Nick."
It was a no-frills brotherly relationship, light on tender moments. Both brothers were quiet and even-keeled, not the type to empty their hearts on the table.
Nick came to realize Tommy's relentless pressure made him work harder to be successful. He wanted desperately just to beat his older brother at something, to be better than him at something.
Tommy moved on to high school first at Hunterdon Central, emerging as one of the football's team best defensive players, wearing jersey No. 50. Tom Bill, the team's defensive coordinator, lauded Tommy's ability to stay calm with the pressure turned highest.
"You knew what you were going to get from Tommy: Steady, steady," Bill said. "He was the guy always able to keep his you-know-what together."
Nick would watch his brother play, marveling over how much effort he put into every snap.
His parents could see the awe in his eyes: Nick wanted to be just like Tommy.
'THIS IS NOT HAPPENING'
Tommy kept driving compressions into Nick's chest, firm and deep. He felt the bristly sensation from Nick's scraggily beard as he delivered rescue breaths.
The Steelers game hummed from the 55-inch TV in the background. A 911 operator gave directions over speaker phone. Sandy Zahos sobbed and Tom Zahos tried to calm her.
Tommy blocked it out. He planned to join the military and pursue a career in special operations, and he had trained for the moment, whether he knew it or not. His senior year of high school, he took a wilderness, CPR and first aid class that taught him the skills he now used on Nick.
"I'm not the average person in stressful situations," Tommy said. "I wasn't really worried; I just knew that I had to do something, so I did." Readington Township police arrived about five minutes after the 911 call went out, Tom Zahos said. Tommy handed over care of Nick, and officers lifted his shirt and attached panels from an automated external defibrillator onto his chest.
The machine delivered an electrical shock, then another two minutes and 25 seconds later.
For a stretch of 28 seconds in between, Nick flat-lined, according to the AED's internal report.
"I was seeing Nick in a casket at that point," Tom Zahos said. "I kept thinking, 'He's in the best shape of his life. This is not happening.'"
Paramedics soon joined the scene, loading Nick onto a gurney and continuing to work on reviving him. They delivered Nick into an ambulance, then headed for nearby Solberg Airport. Around this time, Nick started to regain consciousness, he said. The first thing he remembered: The grinding sound of a helicopter's rotor as he was flown to Robert Wood Johnson University Hospital in New Brunswick.
The minutes after waking up were like being in the Twilight Zone, Nick said. One day earlier he had taken part in the Hunterdon Central football team's playoff loss to Piscataway. He already had been thinking about next season, his senior year, and getting farther in the postseason. Now, he was in a hospital room with a nurse asking if he knew about the crisis that had just happened.
Less than an hour later, Nick's parents and brother reunited with him at the hospital. "He was talking to us like this never happened," Tom Zahos said.
He remembered watching the Steelers game, then nothing. He felt fine, other than his chest was sore from Tommy's compressions.
This much was certain at that point:
Nick had, for reasons unknown to anyone involved thus far, suffered sudden cardiac arrest.
And Tommy had saved his life.
'UNBELIEVABLY BRAVE'
The days after Nick's episode were a series of tests, and everything came back negative. He moved to the Gagnon Cardiovascular Institute at Morristown Medical Center for even more analysis, but doctors remained baffled over what had caused Nick's heart to stop. Even so, they told him he likely needed an implantable cardiac device — and he would most likely never play competitive contact sports again. It was the first of many times he would be delivered the crushing news.
Nick erupted into tears.
"To me, football is almost oxygen," he said.
On Feb. 27, Nick and his family flew to Minnesota to consult with renowned genetic cardiologist Michael Ackerman of the Mayo Clinic. Ackerman tested for all of the known heart conditions capable of causing sudden cardiac arrest. When everything came back normal, Ackerman diagnosed Nick with the default designation idiopathic ventricular fibrillation, which means that while he suffered sudden cardiac arrest, they don't know why it happened.
In 2016, about 350,000 people nationwide suffered out-of-hospital cardiac arrest as Nick did; only about 12 percent of them survived, according to the American Heart Association. Many of the original 350,000 were elderly patients, Ackerman said, and younger patients have a better survival rate, although little data exists in the area.
But there was some good news: Ackerman was open to allowing Nick to play sports again. Maybe even football.
Two decades ago, the concept would have been out of the question. But over the past 17 years, specialists such as Ackerman have intensively studied and worked with young patients who had suffered sudden cardiac arrest or had implantable cardiac devices, and along the way they began advocating to allow patients, their families and physicians to make collaborative decisions about returning to sports.
"In my practice, I try to get a gauge with an athlete and his parents — is that sport optional, or is that sport oxygen?" Ackerman said. "For the family and the athlete where it's utterly optional, we don't try to keep them in their sport. But there are many where that sport is oxygen to them."
That was Nick. And Tommy made it clear he believed his brother was capable of bucking the odds and returning to football.
"I knew if he wanted to play, he could," Tommy said. "It's like, 'Nobody else knows you, Nick. You know you best and you can push yourself further than anybody else can.'"
Faced with options, Nick and his parents decided to have surgery on April 12 to implant an ICD. Ackerman would insert the device in a unique spot in his abdomen, tucked behind his rib cage on the right side of his body. The placement would provide a measure of protection for the device if Nick returned to contact sports.
The ICD is battery-powered and designed to last about 10 years, at which time a replacement battery generator is implanted. Nick's is connected to his heart by thin wires, and configured to fire and pace him if his heart drops below 31 beats per minute or shock him if his heart beats faster than 230.
Ackerman made it clear to Nick and his parents: While he has not seen an excessive sign of danger to the athletes who have returned to sports with implanted devices, it is not a zero-risk scenario. Also, the doctor could not quantify the additional risks of playing football due to a lack of long-term data on the subject, although they certainly were present.
"These families and athletes are unbelievably brave," Ackerman said. "They're dealing with their own awareness of mortality."
'ONE CHALLENGE AT A TIME'
A week after Nick's surgery, it was hard to imagine playing football again. Simply lifting his bulky frame out of bed was draining and painful. Picking up his backpack was a challenge. Taking deep breaths was excruciating. Walking a long hallway at school left him winded daily.
"I just took everything as one challenge at a time," Nick said. "Get out of bed, get downstairs, get in the shower, the normal routine. Just one thing at a time and you just push through it."
He kept hurdling the obstacles, looking to Tommy for inspiration.
"I had to find the middle ground because I don't have a device in me, I don't know what it's like," Tommy said. "But I still wanted to get him to push himself."
Nick's medical clearance to return to sports and conditioning came from both Ackerman and Hunterdon Central school physician Jack Kripsak.
"When they first asked me about [Nick playing again] I thought they all had three heads," Kripsak said. "But then once I talked to Dr. Ackerman and he explained the procedure and how it's tucked away and it's really safe in the upper abdomen, I said, 'Hey, okay. If you guys have had experience with this and it's gone well, then that's fine by me.'"
Nick's family signed the same preseason sports waiver as always, Tom Zahos said. And school strength coach Paul Kolody closely monitored Nick's progress.
After four weeks, Nick was lightly jogging. After eight weeks, he was lifting weights. After 12 weeks, he was cleared for contact.
"Nick, the kind of kid he is, he wanted to try to get back everything in two weeks," Hunterdon Central football coach Casey Ransone said. "We almost had to slow him down a little bit."
In late July, Nick and his family were vacationing in the Thousand Islands, N.Y. when his recovery was nearly derailed. Nick and Tommy were tubing from the back of a boat when a wave lifted them into the air and sent them crashing. Tommy came down hard, elbow-first, right on the spot where Nick's ICD was implanted.
Everyone in the boat gasped, but Nick was fine.
"I looked at it as, 'All right, that's what a hit feels like,'" Nick said. "Why should I be afraid of it in a football game or at practice?"
By the end of the summer, Nick had taken part in high school summer lacrosse games and was starting to feel like himself. He even lifted 275 pounds at the school's bench-a-thon fundraiser, more than anyone else.
One more challenge stood in his path: Getting back on the football field.
'I OWE HIM EVERYTHING'
The home locker room fell to a hush and the lights dimmed on Sept. 22, Nick's third game of the 2017 season. Bill, the Hunterdon Central defensive coordinator, surveyed his players' faces, then barked his signature pregame words:
"Helmets on! Snap 'em up!"
With that, the Hunterdon Central football players did as instructed, then roared and pounded lockers. Behind his facemask, tears welled in Nick's eyes, as they do before every game this season. As he was sitting in doctor's offices and hospitals the previous 10 months, he never thought he would hear that rallying cry from Bill again.
Of the roughly 24,000 teens playing high school football in New Jersey this season, Nick is believed to be the only one with an ICD. Doctors estimate he's one of just a handful of young men playing football with an implanted device on any level in the United States.
Nick takes the field each game playing knowing his heart could stop at any moment, that it's unknown how a massive hit to the abdomen could affect the device.
He's willing to risk it all for football, his oxygen.
"I'm just playing the game I love," Nick said. "I'm just not even focused on it."
The team filed out of the locker room, into the cool fall night, and headed for the field. Around the same time, Tommy walked into the stadium and made his way to the chain-link fence, right behind the Hunterdon Central bench.
As Nick took in the scene, he felt gratitude to many people for helping him get back on the field.
But no one more than Tommy.
"This guy saved my life," Nick said. "I just owe him everything."
Every other season, Nick wore jersey No. 43. Playing a new position this year, he needed to switch. He had dozens of options, but there was only one jersey number he wanted.
He chose jersey No. 50.
Tommy's old number.
Nick crept up the sidelines that Friday night, and the game announcer started his pregame introductions, beginning with team captains. The announcer called out his name.
"Nick Zahos, No. 50!"
He walked to midfield, arm-in-arm with the other captains.
The game soon started and the madness began — the band tooting their horns, the cheerleaders shouting, the players crashing into one another across the field.
Through it all, Tommy stayed focused against the fence, watching Nick in his old No. 50.
Keeping an eye on his younger brother, as always.
---
Story Credit: http://highschoolsports.nj.com/news/article/-2528057645431291301/playing-with-heart-how-nj-teen-went-from-deaths-door-back-to-football-field/