Players Must Learn Basics Of Cardiac Treatment To Save Lives, Says Football Agent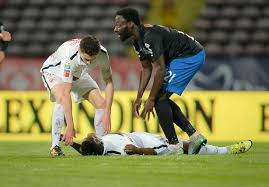 July 19 – The agent of a former Cameroon player who died last year after suffering heart problems is calling on FIFA to train all players and coaches in how to treat victims of sudden cardiac arrest.
Patrick Ekeng died in May 2016 playing for Dinamo Bucharest in Romania. The ambulance that treated him had no working defibrillator and the private company that transported him to hospital was suspended.
Since early June, two Ivorian footballers have also died of suspected heart issues – Cheick Tiote and Eugene Kouame – while tributes are still pouring in for Ajax midfielder Abdelhak Nouri who suffered permanent brain damage after collapsing during a recent pre-season friendly.
FIFA says victims of sudden cardiac arrest have "a success rate of 90% for resuscitation" if correctly treated within two minutes but Hasan Anil Eken, who used to represent Ekeng, says proper training could save lives.
Since his client died, at least nine other players – seven of whom were African – have lost their lives from heart-related issues.
"With this injury, every second is very important to save lives," Eken said in a dispatch to FIFA.
Football's world players' union FIFPro has long raised concerns about the level of first-aid treatment for players in certain countries and Eken, whose correspondence was quoted by the BBC, added: "Football players are the ones who are closest to (each other) – timing is important."
"The education to football professionals can be done twice a year to improve (their) confidence. Players should learn about first aid treatment – they should know what to do when these incidents happen."
"If there is a doctor, he should be the one to do it first. But what if not? Imagine training where no doctors are around and a team-mate starts to have SCA. Players will have two choices – either helping the player from what they have learnt or risking time to call a doctor."
---
Story Credit: http://www.insideworldfootball.com/2017/07/19/players-must-learn-basics-cardiac-treatment-save-lives-says-football-agent/