Reagan Basketball Player Still Unsure of What Caused Collapse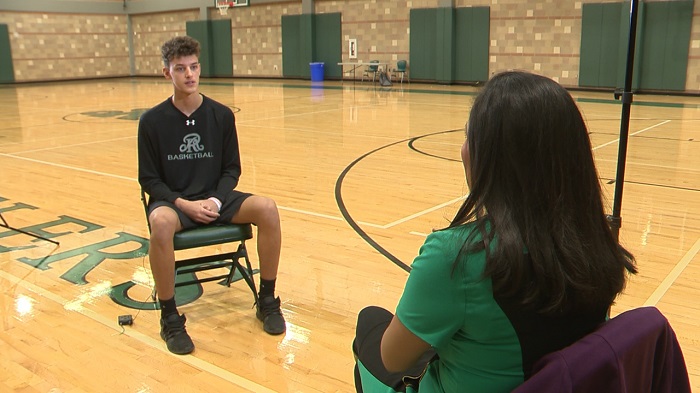 SAN ANTONIO - A Reagan High School basketball player is back to his normal life after going into sudden cardiac arrest while in gym class.
Kaeyel Moore turned 17 just days after the incident that nearly took his life.
Looking back, he said there was nothing strange or out of the ordinary and he felt fine.
"We were in the middle of drill, it was a warm-up drill and all of a sudden I got light headed and then everything just turned black," he said.
His teammates, coach and athletic trainer all jumped into action to get his heart pumping again.
"It was really scary," Moore said. "I woke up and I didn't understand what was going on. The coaches told me I had to get shocked with an AED."
Moore was rushed to a nearby hospital where he underwent numerous tests and surgery. But three weeks after the Jan. 9 incident, he said doctors are not 100 percent sure what's wrong.
Genetic testing, which could take up to 9 weeks, could confirm if he suffers from hypertrophic cardiomyopathy (HCM).
Moore has been playing basketball since he was in 6th grade. He's never had any problems keeping up on the court, until now.
Until doctors can figure out what is wrong with him, he will be sidelined but he's still very much a part of the team.
"I still get to watch them practice, I'm still in the environment of basketball and it makes me happy," Moore said.
Moore has dreams of playing professional basketball, but he's keeping other options open too.
According to the American Heart Association HCM is a common cause of sudden cardiac arrest in young people, including young athletes and can sometimes be hard to diagnose.
NEISD athletes are required to pass a physical and screenings before they can play, Moore was cleared to play.
He's grateful to those who helped bring him back to life. And says the experience has taught him to appreciate life.
"It makes me become a better person to live where I am right now," he said.
---
Story Credit: https://www.ksat.com/news/reagan-basketball-player-who-went-into-sudden-cardiac-arrest-still-unsure-of-what-caused-collapse