Pennsylvania teen suffers stroke during basketball game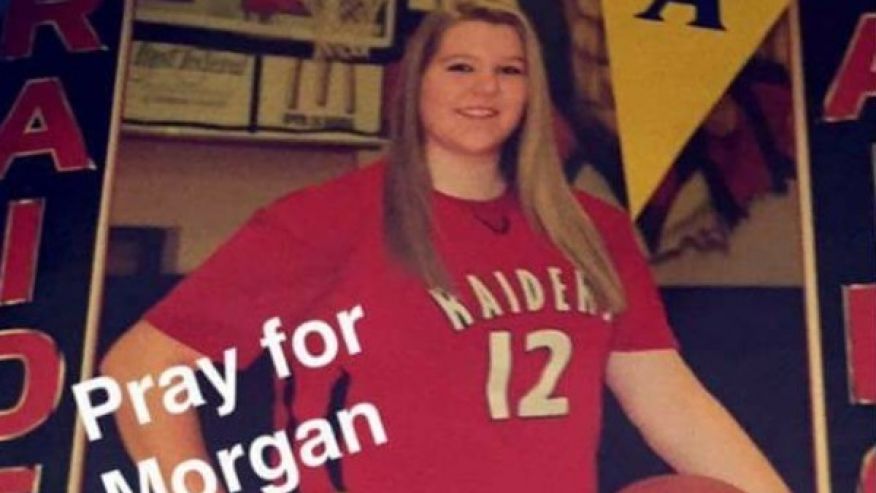 A 17-year-old high school senior collapsed during her team's basketball game in late January, and doctors say her recovery may take as long as a year. Supporters of the teen, who is a junior firefighter, held a fundraiser Sunday, two weeks after she suffered a stroke.
Morgan McDowell was playing in a basketball game for Waynesburg Central High School in Waynesburg, Penn., when she collapsed with six minutes left in the game. Her family initially thought something was wrong with her leg.
"She has knee problems. At first I thought it was her knee," Zach McDowell, Morgan's brother, told WPXI. "I come out of the bleachers and I was down there like that, down there by her side."
Morgan was taken to UPMC Presbyterian Hospital, where doctors removed a blood clot from the back of her head then a portion of her skull to relieve swelling in her brain. Doctors diagnosed the teen with Factor V Blood Disorder, a rare disorder in which there is a mutation of blood clotting factors that increases the chance of developing abnormal blood clots.
Morgan's mother, Karla McDowell, said her recovery will take anywhere from six months to a year.
"Every day she's improving," Karla told WPXI. "We can see something different every day. Her speech is getting better. She's actually walking with very little help. She's just amazing, an amazing kid."
On Sunday, community members gathered to fundraise for medical expenses, using the teen's firefighter boot to collect money. A GoFundMe has been started, with a goal of $20,000.
"It's going to be a great turnout for Morgan," Becca Lash, of the Morris Township Fire Department, told WPXI. "She definitely deserves it."
By: Ken Mashinchi