Overcoming Tragedy, Owen Toland Displays His Heart of Gold and Shines Athletically at Lincoln-Sudbury His Senior Year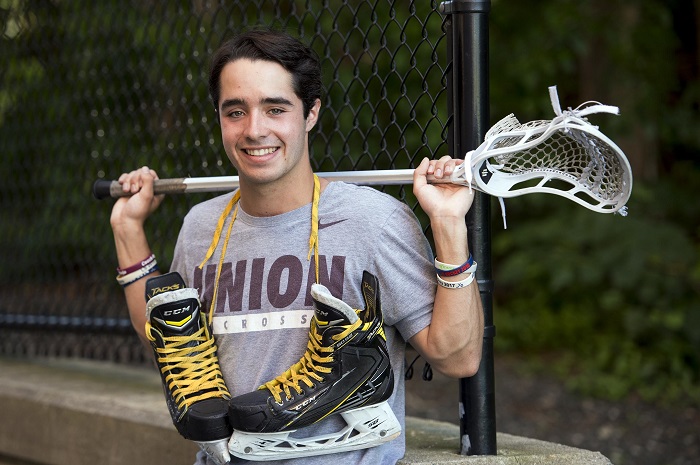 Following the sudden death of his father from a rare heart infection on Christmas Day of 2012, Owen Toland soon endured his own battle with a heart defect. It's an ongoing fight that forced the recent Lincoln-Sudbury graduate to take a backseat at times in life, just to secure a seat at the table moving forward.
SUDBURY — From heartbreak, to heart surgery, and back again.
Owen Toland has been through it all.
Following the sudden death of his father from a rare heart infection on Christmas Day in 2012, Toland soon endured his own battle with a heart defect. It's an ongoing fight that forced the recent Lincoln-Sudbury graduate to take a backseat at times in life, just to secure a seat at the table moving forward.
Yet somehow, some way, six years after tragedy, his path to recovery, where hospital visits and clouds of doubt were the norm, Toland came out clean on the other side.
With a few scars to show for it.
Sudden heartache
After John and Mary Toland finished putting Christmas gifts out in their Sudbury home on the night of Dec. 24, 2012, Mary was brushing her teeth in the couple's bathroom before finding her husband unresponsive in their bed.
Frantic moments later, Owen, the oldest of four children, was on the phone with the 911 dispatcher, trying to relay instructions to his mother.
"I couldn't focus on the talking," said Owen.
At 11:40 p.m. on Christmas Eve in 2012, John Toland went into cardiac arrest. At 12:35 a.m. on Christmas Day, he was pronounced dead at the age of 49 at Emerson Hospital in Concord due to a rare heart infection called sarcoidosis of the heart.
"You talk about adversity and tragedy, and I always say, 'When God closes a door, he opens a window,'" Mary said. "And I'm telling you, that window was opened so wide."
Can't catch a break
At the advice of doctors, Mary took her children, Helen (now, 13 years old), Andrew (15), Brendan (17) and Owen (18), to Boston Children's Hospital in the summer of 2013 to be tested for hereditary heart disease.
That's when Owen found out he was born with a congenital heart defect, a leaking bicuspid aortic valve.
The leaky valve wasn't too big of an issue at that point, and yearly appointments to check up on Owen's status became the plan.
A year later, Owen's condition remained unchanged. But in 2015, the leakage had gone from being minor to Owen having nearly 50 percent of his own blood leaking from the aortic valve back into the ventricle.
It was a predicament that needed fixing.
On Sept. 28, 2015, the beginning of Owen's sophomore year at L-S, doctors told the avid ice hockey and lacrosse player to stop playing sports.
Then before his scheduled open heart surgery, a routine blood test found Owen's calcium levels to be "ridiculously high" and a benign tumor was found on one of his parathyroid glands on his neck, forcing him to spend four days in the hospital.
"That happened right after he had been told he would have to have open heart surgery," said Mary.
So the surgery to repair his valve would have to wait two months.
Owen couldn't catch a break.
He had the operation to remove the thyroid on Nov. 5, 2015. Eight weeks later, on Jan. 4, 2016, after his blood calcium levels normalized, Owen underwent open heart surgery.
"I got kind of discouraged because nothing was really going my way," said Owen.
Unfortunately for him, that feeling wouldn't fully go away anytime soon.
A two-folded return
After a near six-month hiatus from hockey, and sports in general, Owen was cleared to resume athletic activities in February 2016.
On the final day of that month, the then sophomore scored a goal in the Warriors' 3-1 win over Stoneham in the Division 2 North sectional playoffs.
"When you needed something big, he was the guy to do it," said former L-S hockey coach Hal Gill, who helped Owen get ready by running private conditioning drills before the Warriors' early-morning practices in February of that year. "You say, 'No way he's going to come in and score a big goal' and he does it."
Owen was then a part of an L-S lacrosse team that won its second straight Division 1 state championship. Throughout the season, however, he battled fatigue.
"This poor kid," Mary said. "We went back [to the hospital] in May of 2016. They told us it was leaking a little bit more and then we went back in July and they told us at some point we'd have to have another surgery. ... I was living with this cloud of worry over my head at all times."
Another checkup in November 2016 illustrated that the leakage in Owen's heart was worsening but not significantly enough to warrant a second surgery or athletic restrictions.
At least not yet.
Yet, after breaking his left wrist in a playoff hockey game on Feb. 28, 2017, Owen, then a junior, experienced some heart-defect symptoms while at school in March.
"Eventually it happened," said Mary.
And for a second time, open heart surgery was on the docket.
"I think one of the worst things for Owen, and for me, was the second time going in we knew what to expect. It was a double-edged sword," Mary said. "You now know what's required. ... It was a hard thing for him to have to swallow because he knew he wasn't going to be able to play [lacrosse] his junior year.
"He's a lucky kid, too, though; he's gotten outstanding medical care, outstanding medical care."
Banded together
With his back toward the windows in the dining room of his Sudbury home, a few rays of sun splash on Owen's wrists, which are riddled with three bands on each arm. All but one of the wristbands is related to a memorial-type hockey or lacrosse tournament.
His hands move from being flat on the table, to interlocked above the surface and then clenched up towards his face.
These bands above his hands plaster the wrist he broke freshman year (right) and the wrist he broke his junior year (left), yet no major scar occupies either wrist.
What occupies the conversation when talking about hockey, however, isn't the broken wrists. It is one constant topic: Owen's father.
"There's a good picture of [our sixth-grade] team with the coaches, me and one of my good friends, and we're standing in the last row and between us is my dad as we won the middle school championship or whatever," Owen said. "So that's probably the last time he really coached me [at] the end of sixth grade. ... Even though he wasn't a coach sometimes some years, he was always around the rink."
Despite leaving the rink during a playoff game his junior season with a nasty broken wrist, Owen was hoping to be back in action at some point in the spring for lacrosse.
But after experiencing some symptoms, mainly extreme fatigue, in March 2017, it was evident another surgery was needed soon.
Owen was the one who gave the go-ahead.
"He told the doctor, 'I would like to get a new valve,'" said Mary.
Three weeks later, on April 11, 2017, Owen underwent a second open heart surgery.
On July 5, 2017, he was cleared to play sports, again.
"They kind of use him at [Boston] Children's [Hospital] as an example," Mary said. "To say this is an athlete and some of it was just his perception of himself that helped him to heal."
Not skipping a beat
Lincoln-Sudbury boys lacrosse coach Brian Vona thinks of Owen as a nephew – as a part of the family – a sentiment shared by many in the Sudbury and Lincoln communities.
"He's more than just a player to me, obviously," Vona said. "When someone's parent passes away, the community rallies and ours did, and you become much closer to people through those circumstances."
The circumstances around Owen's health were still something that needed monitoring after his second open heart surgery. So Vona made it an objective to see Owen play lacrosse last summer after he was cleared to resume physical activity.
"Then I got a chance to see him play full throttle in hockey," Vona said. "I had seen it already a little bit and I was used to it but he slid right in [with the lacrosse team during the spring] like he had been there for three years.
"He didn't skip a beat."
How ironic.
During his senior hockey season, Owen, an assistant captain, scored seven goals and had 16 assists. When it came to the spring and lacrosse, he accumulated 48 points in the regular season and finished with 57 points (35 goals, 22 assists) overall after the Warriors' two playoff games.
In a 16-2 rout of Central Catholic on June 9, Owen scored on a nifty left-handed jump shot to make it 4-0 in the first quarter of the Warriors' lone postseason victory before L-S lost in overtime to Acton-Boxboro in the Division 1 North semifinals. Yet, Owen's lacrosse career isn't over just yet as he's committed to play at Union College.
"I think if Owen had played for three years [at L-S] he would've probably been a high school All-American," Vona said. "He's tough, he's shifty, he's a good teammate ... he's a selfless player. He'd rather pass the ball than score. He's an absolute athlete."
"If you want something, he's the kid that will get it done," added Gill. "He's just a warrior, nothing stops him, and he's always looking ahead. It's something I really admire about him. His ability to say, 'I don't care and I'm going to keep going.'
"He's going to be successful at life and successful at Union [College]. He's an optimist and he's going to get the job done no matter what pushes back at him."
The pushback has been constant for Owen over the past six years.
The death of his father, two open heart surgeries, two broken wrists, and one thyroid surgery later, Owen somehow navigated it all.
With a few scars, both internal and external, to validate the journey.
"I'm looking forward in life and not the past anymore, I feel good right now," said Owen, whose last checkup went well in February as he'll go back for another health check before heading to college. "I'm just looking forward now and for good things to come. I'm excited for the future."
"Bad things happen sometimes," Mary said. "You don't want to be defined by the bad thing that happens to you, you want to be defined by how you respond to it. And I think with Owen, he didn't put his head down, he just marched on and through it.
"His dad would be so proud of him, his mother already is, but I think his dad would be as well."
He certainly would be.
A story of triumph and perseverance, in the wake of heartbreak.
---
Story Credit: http://sudbury.wickedlocal.com/sports/20180630/overcoming-tragedy-owen-toland-displays-his-heart-of-gold-and-shines-athletically-at-lincoln-sudbury-his-senior-year