Arkansas High School Nurse Revives Student After He Suffers Sudden Cardiac Death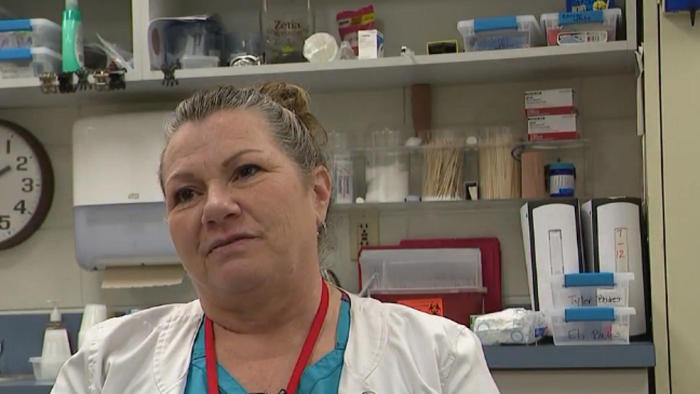 Little Rock (KATV) — A high school nurse in Arkansas is being called a hero after she saved a student's life.
Joey Coughlin, a 16-year-old sophomore at Rose Bud High School, was sitting in class last week when he suffered from sudden cardiac death, which occurs when the heart unexpectedly begins beating abnormally and causes a loss of blood flow.
"I died and the nurse brought me back to life," Coughlin said.
According to school nurse Jeanie Cook, Coughlin passed out after complaining of stomach and chest pain. Cook told KATV that's when several students alerted her to Coughlin's condition.
"I knew something wasn't right. I grabbed the AED," Cook said, referring to a medical device known as an automatic emergency defibrillator, "and my stethoscope and I went running over there."
Cook sprang into action and began performing CPR and using the AED on Coughlin while she waited for paramedics.
"We attached the AED, put the pads on him," Cook said. "We kept doing it and we didn't stop until it told us to stop."
Doctors at Arkansas Children's Hospital said Coughlin had suffered sudden cardiac death.
"They all need to be congratulated on the heroic effort they performed in the community," said Dr. Srikant Das, a pediatric cardiologist at the hospital.
As of Monday, Coughlin was still recovering in the hospital. He called Cook a hero and credited her with saving his life.
"Thank you, nurse Jeanie, for being my friend all these years and saving me my sophomore year," he said.
Coughlin is set to receive a pacemaker implant later this week.
Das says doctors at Arkansas Children's Hospital are working to improve awareness of sudden cardiac death and how to treat it.
---
Story Credit: http://katv.com/news/local/high-school-nurse-saves-student-after-he-suffers-from-sudden-cardiac-death