Mother Saves Son's Life On Watsonville Soccer Field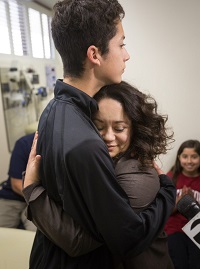 PALO ALTO — When Jose Agredano Jr. walked onto the soccer field in Watsonville to play his final junior varsity game of the season last week, the last thing he expected was a heart attack.
But after an errant ball struck the 16-year-old on the left side of the chest, he suffered an impact-induced cardiac arrest that could have cost him his life if not for his mother's quick thinking and focus during the incident.
Dr. Gina Agredano performed three minutes of CPR after her son stopped breathing — a technique that helped save his life before an on-site automated AED, an external defibrillator, shocked Jose's heart and revived the boy.
"He just stopped breathing, and that was when it was game on," said Gina. "I said to myself we were not going to die today."
On Feb. 16, Gina and her husband, Jose Sr., watched San Benito High School's junior varsity team finish out its undefeated season at Watsonville High. During a lull in the game, Gina heard her husband say, "Something is wrong with Jose." The couple ran from the top of the bleachers to the far side of the field where Jose had collapsed. Gina assessed the situation for 10 minutes as her son's breathing became labored and finally stopped. "That's when I swapped my mom hat for my doctor hat," she said. After the CPR and subsequent shock from the AED, Jose came back. The ordeal lasted 20 minutes, but Gina said it felt like forever.
Jose, speaking at Lucile Packard Children's Hospital Stanford on Friday, said that after the ball hit him he began walking, took two steps and collapsed. "The blood started going to my head, everything got blurry and I knew something wasn't right," he recalled.
Just before he blacked out, Jose said that he was thinking about his parents, and "how they were going to be affected by what's going to happen."
The sophomore, who plays midfield, said the experience has made him realize life is precious and that "it can't be taken for granted."
Dr. Kara Motonaga, who helped treat Jose at the hospital, said Jose was very lucky and that his mother undoubtedly saved her son's life by performing CPR immediately after he stopped breathing.
"Had it not been for the CPR and defibrillator, Jose would've died," she said.
Motonaga explained that Jose suffered what's known as commotio cordis—the type of cardiac arrest that happens when a projectile object hits the left side of chest between heartbeats. "An impact at the right time in the electrical cardiac cycle can create an abnormal heart rhythm that could be life threatening," she said. Returning the heart to a normal rhythm requires an electrical shock from a defibrillator within a few minutes.
Motonaga said that the survival rate for this type of cardiac arrest is roughly 50 percent, and that it's "probably one of the five leading causes of sudden death in athletes." She noted the importance of educating people how to recognize a cardiac event, and teaching them to initiate CPR as soon as possible.
"Every minute counts. Every minute you don't get CPR is a minute your brain and the rest of your body is deprived of oxygen," the doctor said.
At the hospital Friday, Jose underwent several treadmill stress tests on his way to full recovery — and another shot at soccer. Gina hugged him, and buried her face in her son's chest. "It feels wonderful that he's here," she sighed.
The Agredano family, who live in Hollister, hosted a "life party" for their son earlier in the week, and invited his entire soccer team — the boys all signed Jose's jersey from that fateful day. Jose said he wants to teach his teammates how to perform CPR.
Lynda Knight, director of the Stanford Children's Health Revive Initiative for Resuscitation Excellence, gave Jose and his 11-year-old sister Lauren two CPR kits from the American Heart Association and challenged them to train as many of their friends as they could. The Revive Initiative has trained thousands in the community in CPR.
Knight also stressed how fortunate it was that an AED was on site to shock Jose's heart. She hopes that "some day fire extinguishers and AEDs will be side by side in every building."
Jose himself just wants to get back out on the field. When he came to in the ambulance, he said,  "I was really happy to be alive, but kind of upset because I wanted to keep playing."
Though his mother would prefer he didn't. "We just want to wrap him up and not let him go outside, but that's unrealistic," she said. "But he loves soccer."
Jose wants to play soccer in college and it looks like he'll be able to. His follow-up tests are normal and the doctors don't anticipate long-term damage.
"His prognosis is extremely good," said Dr. Motonaga. "He should have a long and healthy life."
---
Story Credit: http://www.mercurynews.com/2017/02/24/mother-saves-sons-life-at-san-benito-high-school-soccer-field/