Mother of Keen Footballer, 14, Who Suddenly Died in His Sleep Reveals the Horrifying Moment She Found Her Son Dead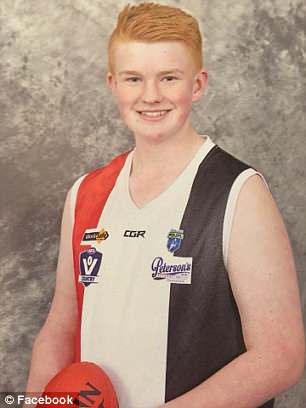 The mother of a teenager who died in his sleep from a rare heart condition has opened up about the awful moment she discovered him motionless in bed.
Tom Cairney, 14, died of hypertrophic cardiomyopathy, a genetic condition of the heart muscle that often shows no symptoms until it is too late.
His mother Jodie made the traumatic discovery last Saturday morning, and she told the Herald Sun she thought he was sleeping.
'I thought he was just sleeping in,' she told the publication.
She tried to wake her son up and called the ambulance, but there was nothing anyone could do.
Tom had died in his sleep, free from pain.
'I screamed and called Peter (her husband) in, and then it sunk in, I froze,' she told the publication.
'The only thing allowing me to sleep right now is the fact I know he didn't feel it happen.'
The keen AFL footballer wore the #22 Guernsey for the Devon Meadows Club, who have retired the number in his honour.
He was also a mad Richmond Tigers supporter, and his team's victory in the 2017 Grand Final was one of the best moments of his life.
Tom's aunty Leeanne Boyson posted a moving tribute on Facebook, praising his courage, generousity, kindness and bravery.
'My adored 14-year-old perfect nephew Tom left us and we will never be the same,' she said.
'Tom is an amazing young man, full of courage, generosity, kindness, strength and bravery - everything we encourage our young men to be.
'Tom you are loved so so so much, never ever ever forgotten, in our hearts, minds and every ounce of our being.'
She told Daily Mail Australia her sister Jodie, and Peter are 'completely devastated'.
---
Story Credit: http://www.dailymail.co.uk/news/article-5666907/I-thought-just-sleeping-Mother-teen-died-heart-condition-sleep.html