Monday Medical: Take A Class, Know How to Save A Life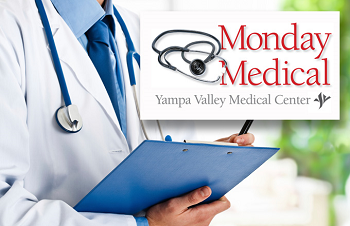 STEAMBOAT SPRINGS — Saving a life might be easier than you think, but it can take a little preparation.
That's why UCHealth Yampa Valley Medical Center offers Heartsaver CPR/AED and basic first aid classes. Classes are available throughout the year and are open to anyone in the community.
"The classes give people knowledge and confidence, and the material is easy to learn," said Melissa Uchitelle-Rogers, a registered nurse at Yampa Valley Medical Center who is also a class instructor. "If you take the class, you can potentially save a life."
According to the American Heart Association, 900 Americans die every day due to sudden cardiac arrest.
But effective CPR given by a bystander can more than double the chance of survival for a person experiencing cardiac arrest. And since 75 to 80 percent of out-of-hospital cardiac arrests happen at home, you just might be saving a loved one's life.
"If a family member is trained in CPR, that can really make a difference between life and death for their loved one," Uchitelle-Rogers said.
The classes are popular with a range of people: new babysitters, grandparents, river guides, hunting outfitters and people who just want to learn more. Classes are taught in English, Spanish and American Sign Language.
"Sometimes folks have had a friend who was hurt or had some type of cardiac issue, and they didn't know how to help," Uchitelle-Rogers said. "These classes give people the confidence to assist in a cardiac arrest or first aid situation."
The Heartsaver CPR/AED class teaches when to begin compressions, how fast and deep to compress, when to breathe and how often to deliver breaths, as well as how to turn on an automated external defibrillator and follow its commands.
The basic first aid class covers how to respond in the first few minutes of a medical emergency, and touches on issues such as choking, heart attack, stroke, bleeding, broken bones, sprains, bites and stings.
"Some people come into class feeling a little overwhelmed," Uchitelle-Rogers said. "Then they learn that it's just one step at a time, and we practice and practice and practice. I tell them, 'By the time you leave this class, you can do this in your sleep.'"
If you took a CPR or first aid class years ago, you may be surprised to learn that some methods have since been simplified. For instance, a "hands-only" CPR is now taught to non-healthcare providers, in which only chest compressions are given and breathing is not administered. "When someone comes back to me and says, 'My daughter was choking and I remembered what to do,' or 'I helped a team of people assist someone in the park,' it's just fantastic," Uchitelle-Rogers said.
To sign up for a HeartSaver CPR, AED and basic first aid class, visit uchealth.org/yvmc, scroll down to events and find a class that works for your schedule. To take both the CPR and first aid classes, the cost is $50 and the time commitment is six hours. Classes can be taken individually for $35 each and last three hours each.
---
Basic CPR, first aid tips
If you find yourself in an emergency, try these tips from Melissa Uchitelle-Rogers, a registered nurse and clinical educator at UCHealth Yampa Valley Medical Center.
Cardiac arrest: If someone is unresponsive after experiencing possible cardiac arrest, call 911, put your phone on speaker and place it near the person's head, then begin chest compressions. Place one hand on top of the other with the heel of the hand between the nipple line. Give compressions 2 inches deep in time to the tune "Stayin' Alive." If you are not a healthcare provider, administering breaths is not necessary.
Choking: Wrap your arms around the adult or child who is choking, put your fists halfway between the naval and the bottom of the breastbone, and pull in hard, as often as you need to, until the foreign object is expelled. If the person becomes unresponsive, administer CPR until help arrives. Never put your finger in someone's mouth, as you may push the foreign object in further.
---
Story Credit: https://www.steamboattoday.com/news/monday-medical-take-a-class-know-how-to-save-a-life/