Missouri Student Saved by Staff After Sudden Cardiac Arrest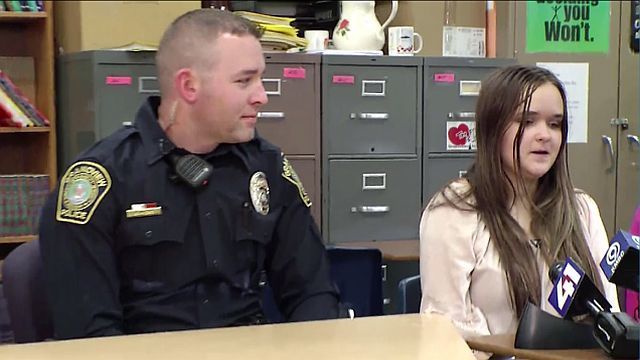 GRANDVIEW, Mo. -- Quick action saves the life of a northern Missouri high school student.  A police officer's body camera recorded the successful effort by a school counselor and the officer . She returned to school, and reunited with the pair who saved her.
It's not something you expect to see happen to a child but it does happen - and it did.
Thankfully, when a teenage girl went into cardiac arrest, the right people were around to save her life.
"No words can describe how thankful I am."  Thankful…to be alive…because just a couple of weeks ago…this was Bella McMahill after she collapsed in the hallway of Grandview High School.
Grandview police officer and school resource officer Brett Myers rushed to her side, along with the school nurse, Mary Rhodes.  Together the two, armed with the school's automatic external defibrillator, did CPR and delivered an electrical shock to Isabella's heart after it stopped beating.
"She had kind of taken  a little bit of a breath and that was the last one that came out of her - her face started turning blue real quick," remembers Myers.
You can see and hear the dramatic moments that must've seemed like forever, as captured on Officer Myers' bodycam.  Both Rhodes and Myers taking turns doing chest compressions.
"The only thing that was going through my mind was I wasn't going to let her die here at the school," Myers says.
And by the time paramedics arrived, she was back.
"There's no words that can express how happy I am- she's my only baby," says Bella's mom, Courtney McMahill.
Courtney says Officer Myers visited them in ICU at the hospital that night, and says she'll never be able to thank him and the nurse for what they've done.
"That they were there and that they had an AED machine and they knew how to use it properly and save my daughter."
Officer Myers was just recognized by the Grandview Police Department last month after he saved a baby who was choking.
(KCTV for CBS News)
---
Story Credit: http://www.ozarksfirst.com/news/missouri-student-saved-by-staff-after-sudden-cardiac-arrest/854211305