Memorial for Murray Middle School Student Draws Hundreds for Candlelight Tribute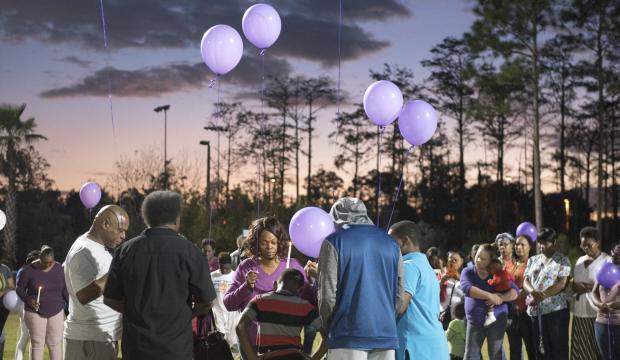 A late-fall evening sky, inky blue-purple in color, was suddenly pierced by orbs of lavender, violet and grape. Dozens of balloons were released at the same time, untethered from the hands that held them, up into the heavens above.
And then Erika Lowe, stumbling at first, found her footing. She fell — sobbing, finally — into the waiting arms of family and friends who held her up about 24 hours after tragically losing her 13-year-old daughter.
Paris Nykel Byrd, an eighth-grader at Murray Middle School, collapsed during basketball tryouts about 3 p.m. Tuesday afternoon. She was rushed to Flagler Hospital and later pronounced dead. Following an autopsy Wednesday, the District Medical Examiners Office's listed the preliminary cause of death to be congenital heart defect that can cause sudden cardiac death.
The teen's death stunned not only family, but friends, fellow students and the larger community, who turned out Wednesday evening for a candlelight vigil in her name at the Solomon Calhoun Community Center.
For Lowe, the girl's mother, the scene unfolding around was surreal.
Lowe wore a tunic in a magenta shade of purple — her daughter's favorite color — mingling in with the nearly 200 people who turned out for the impromptu memorial.
Lowe, a single mother who, besides Paris, was raising five other children, got a call at work Tuesday her daughter was found not breathing and unresponsive on the gym floor.
Vincent Byrd, Paris' father, said his daughter had always been active and athletic. She'd been a dancer, played basketball in elementary school. It didn't make sense.
"I'd show up at her games and all the other kids were so little," said Byrd of his daughter, who at 13 was already 5 feet, 10 inches. "And she'd be running across the floor with that ball."
That kind of zeal for life was how others close to Paris described her.
"She was very, very humorous and smart," said Aaliyah Byrd, Paris' 17-year-old sister. "She made you feel better just by being around her."
At Murray, Paris Byrd was an honor roll student and involved with the AVID program, which encourages academic success and positive peer support. She dreamed of becoming a lawyer.
The Rev. Donald Kelley, pastor of the family's parish at the Church of God in Christ on King Street, said the girl he knew was "just coming up — a young lady, but still a little girl."
Kelley recalled Paris praise dancing in church, singing and aspiring to be a musician. He gave her her first guitar.
Clayanna Duncan, one of Paris' best friends and a fellow eighth-grader at Murray, said the news hit students hard.
"The halls were too quiet. … It is hard to accept," Duncan said.
Counselors were made available to students at Murray throughout Wednesday and would be on hand as needed going forward.
Principal Tom Schwarm said in statement emailed to The Record: "Paris represented what is amazing about our children at Murray. A student who, despite life's difficult challenges and circumstances, demonstrated impeccable perseverance, hope and strength to achieve greatness. She displayed a unique combination of thoughtfulness, positivity and leadership that radiated from within and influenced all she encountered in her time with us."
Tara Poveda, whose daughter Yelitza Garcia knew Paris since kindergarten, considered the sweet, sometimes shy, teen a "third daughter."
Poveda launched a GoFundMe site (gofundme.com/god-has-gained-an-angel-paris-byrd) set up on the family's behalf today to help defray costs of Paris' memorial. As of Wednesday night, it had already reached nearly half its goal of $10,000.
Earlier in the night, Poveda's little girl presented her mother with a wispy bouquet of purple wildflowers she picked from the field at Calhoun.
"Aww, thank you — just perfect for Paris," Poveda told Jazmine, 7.
Poveda said she would hug both her daughters a little tighter that night.
---
Story Credit: http://staugustine.com/news/local-news/2017-12-07/memorial-murray-middle-school-student-draws-hundreds-candlelight-tribute