Matawan High School Basketball Player 'Slowly Recovering' after Sudden Cardiac Arrest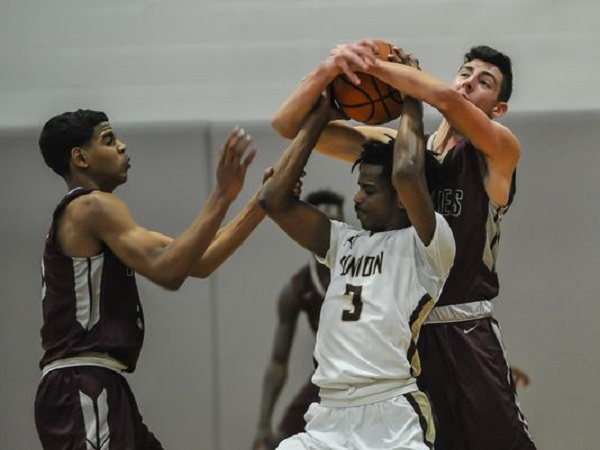 A fundraiser is underway for a Matawan High School basketball player who suffered sudden cardiac arrest during an AAU practice May 21.
Darrell Rogers, a 16-year-old sophomore who was the Huskies' starting point guard this past season, remains in intensive care at Robert Wood Johnson University Hospital in New Brunswick, according to two of his coaches.
"He is slowly recovering, emphasis on slowly," said Sean Sheppard, who trains and coaches Rogers and is close with his family, "He had some brain damage and minor kidney damage due to lack of oxygen. He has to go through therapy to see where he's at in terms of his recovery process."
Sheppard and Matawan High School boys basketball coach John Giraldo said the cause was determined to be hypertrophic cardiomyopathy, a genetic condition that is a common trigger of sudden cardiac arrest in young people, including young athletes. It's the same condition that caused the shocking death of Boston Celtics star Reggie Lewis at age 27 in 1993.
"With something like this it's hard to tell what the long-term effects are going to be," Giraldo said. "But I know he's going to fight and make sure whatever he has to do, he will do."
Sheppard and Giraldo said Rogers has been breathing on his own since May 25.
"He is alert to the sound of the voices of those who come into the pediatric ICU," Sheppard said.
According to multiple witnesses, Rogers collapsed as he went up for a layup during a practice at Matawan-Aberdeen Middle School. He was unresponsive until Sheppard and Chris Schuster, a fellow basketball coach, revived him through CPR. Emergency medical personnel arrived and called for a NorthSTAR medical helicopter, which rushed Rogers to Robert Wood Johnson.
This past season, the 6-foot-3 Rogers helped guide Matawan to a 20-6 record as the team's third-leading scorer.
"As a freshman he wasn't a varsity player, but he just developed," Giraldo said. "He's a basketball junkie, constantly working out, and he just kept getting better and better. At times he was our best player."
Giraldo also called Rogers "extremely coachable" and "one of those young men who, you can tell, he's been brought up the right way by mom and dad — a hard worker who does whatever you ask him to do."
To help defray the cost of Rogers' medical expenses, a GoFundMe.com campaign titled "Help Support the Rogers Family" was launched and already has garnered $14,000 in donations. To visit the GoFundMe page, click here.
An additional fundraiser takes place tonight at Court Jester Restaurant in Aberdeen from 6-10 p.m.
"Just mention that you are there in support of Darrell Rogers and part of whatever you spend goes to the family," Sheppard said.
---
Story Credit: https://www.app.com/story/sports/high-school/basketball/2018/05/31/matawan-high-basketball-player-slowly-recovering-after-cardiac-arrest/659131002/