Local Football Coaches Learn How To Keep Athletes Safe On The Field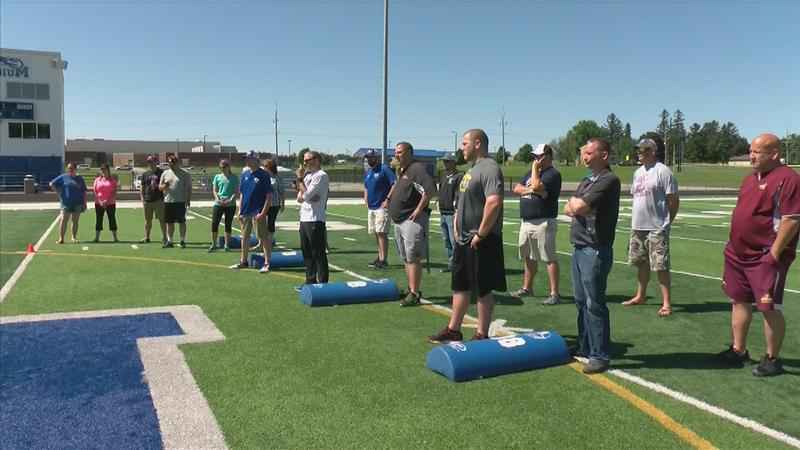 (ABC 6 News) -- Most athletes are told at one point or another to 'get their head in the game', but an increased amount of research regarding concussions in athletes may be changing what that saying means.
On the Kasson High School football field, the tables turned for a group of high school and youth football coaches who signed up for the 'Heads Up Safety Clinic'. The program is a part of an initiative by the USA Football Association that brings USA Football officials to teach coaches things like how to fit kids with proper equipment, how to play in heat and alternative player training techniques to reduce injury, particularly concussions.
Matt Gegenheimer is a USA Football Regional Trainer, he says "Education is the key. Making sure, whether you're a youth coach or a high school coach, there are a lot of risks associated with the game of football. You know, football is never going to be safe, but through current research and best practices we feel that we can make the game safer and through educating all these coaches we feel like we are making a difference."
The program is endorsed by the American Medical Society of Sports Medicine and includes a comprehensive training program to help coaches recognize and respond to things like concussions and the leading cause of death among youth athletes, sudden cardiac arrest.
Broc Threinen is one of the football coaches who took the program and he says he's happy to do his part in making sure that his athletes stay safe, "The sport itself offers so many opportunities and great life skills. You want them to be a part of it and you want them to feel safe that they are coming into our hands for a while and we are doing things right in the best interest of the kids."
According to current CDC reports, an average of 2.7 million concussions happens every year in the United States. Forty percent of which happen between the ages of fifteen and nineteen years old. Yet, each year only an estimated five percent are taken to a hospital.
Whether you are a coach, athlete or parent, USA Football officials say that it is important to understand the risks associated with concussions in athletes.
To learn more, click on the link: https://www.usafootball.com
---
Story Credit: http://www.kaaltv.com/sports/local-football-coaches-learn-how-to-keep-athletes-safe-on-the-field/4503867/