Little Naomi Off To Florida For Heart Op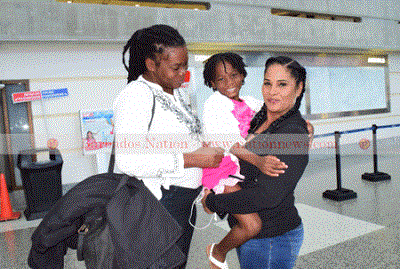 FIVE-YEAR-OLD Naomi Alleyne, who has an abnormally fast heartbeat, will be undergoing corrective surgery in Florida tomorrow.
Naomi, who was featured in THE NATION last year when her mother Daveda Chase pleaded for financial help for the potentially life-changing operation, is being seen by specialists at Wolfson Children's Hospital in Jacksonville.
Speaking at Grantley Adams International Airport on Thursday, minutes before she and her daughter boarded their flight, Chase said she went public out of fear after her daughter took seriously ill last June and was hospitalised.
"She has Wolff-Parkinson-White Syndrome which causes her an excessively fast heart rate," Chase said. Her daughter's heart beat should be about 160 but it could go as high as 299 beats per minute, the mother said. In addition, Naomi has asthma and sinusitis compounding her condition.
"We raised some funds in the public domain and I want to say thank you to all those who supported us and donated and assisted us in any way," Chase said.
At the airport to see them off was communications specialist at the Barbados Water Authority, Joy-Ann Haigh, who was instrumental in helping to fast-track the paperwork and access to funds from the state Medical Aid Scheme.
Haigh thanked Minister of Health John Boyce who responded swiftly to lend a helping hand. (MB)
---
Story Credit: http://www.nationnews.com/nationnews/news/92967/little-naomi-florida-heart-op