Life-Saving Starts Immediately With Cardiac Arrest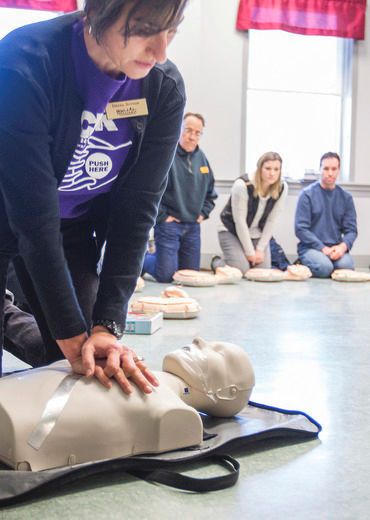 It's the kind of training that 14-year-old Malcolm Greenbury hopes he's never going to have to use.
But the high school student knows that CPR training is a valuable knowledge.
Greenbury was among a group of nearly 40 people, both young and older, performing compressions on mannequins during the life-saving training offered Saturday morning by Heart Niagara.
"If I ever saw my mom or dad lying on the floor, knowing how to save their life would make me feel very good," said Greenbury who was attending his fourth session.
"The schools I've been at, they (Heart Niagara) keep coming, and I've enjoyed the course because knowing how to save a life is pretty important."
Anita Fiorentino, a resuscitation specialist with Heart Niagara, led the training and stressed its importance.
"We're talking about emergency cardiac care here, and you don't have a big window of opportunity. Our concern is that brain function, the neurological function stops after several minutes."
She described a heart attack as a problem with the plumbing.
"If there's congestion in the arteries, the heart muscle will die if it doesn't receive oxygen which is in your blood stream.
"Cardiac arrest is when your heart begins to quiver like a bowl of jelly. When it quivers it's not pumping or contracting enough to create blood pressure which sends oxygen up from your lungs to your brain to keep your brain going.
"A heart attack can be two weeks, two days, two minutes, two seconds of displaying signs and symptoms," said Fiorentino.
Sweating profusely, changing breathing and changes in the colour of your skin are indicators.
Sometimes signs of sudden cardiac arrest may include fatigue, fainting, blackouts, dizziness, shortness of breath, palpitations or vomiting, but it often occurs with no warning.
"Someone in cardiac arrest, they might sense their heart is speeding up, and then they could be gone," Fiorentino said.
"Cardiac arrest is more urgent, people survive heart attacks all the time. Very seldom do people survive arrest if they don't get treatment really fast."
She said the chance of survival decreases seven to 10 per cent per minute with cardiac arrest.
"(Intervention) has got to happen real quick.
"Call 911 first and start pushing."
Fiorentino said the biggest problem is people not getting started fast enough. There should be no hesitation.
"We're saving people all over the place because we're training more people. It's community awareness."
In addition to courses like the one Saturday at the Grantham Optimist Club in St. Catharines, Heart Niagara, a non-profit organization now in its 40th year, teaches grades 7, 8, and 9 students in the region.
"We've set the process, the chain of survival," she said.
"Get moving, call 911, and get moving."
---
Story Credit: http://www.stcatharinesstandard.ca/2017/02/05/life-saving-starts-immediately-with-cardiac-arrest