Leon County School Board Approves Free Heart Screenings for 6th Graders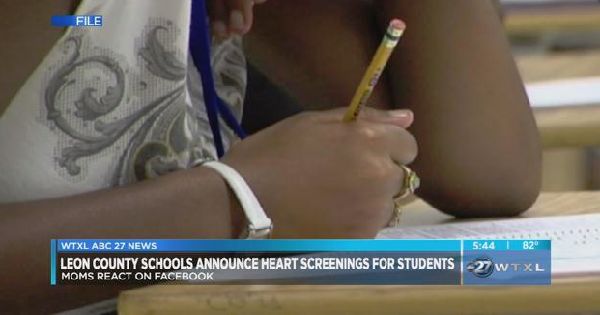 LEON COUNTY, Fla. (WTXL) - There's a lot of new things for parents, students, and teachers in Leon County to get used to this school year.
Leon County School Board approved allowing all 6th graders to get heart screenings at a meeting this week and the moms in town tell WTXL they are excited about that.
WTXL's Jada Williams posted in a Tallahassee Moms Facebook group Thursday, asking them how they feel about the change.
While she was expecting a couple of people to comment, within an hour of posting, 30 women had commented with their excitement.
Most of those women took to Facebook to tell their personal stories about the importance of early detection, some focusing on athletes, like Caroline Ross who remembered her countless teammates being rushed to the hospital due to undetected problems.
Some moms voiced concern, asking who foots the bill and why heart health?
Here's the answer: through a partnership between Leon County Schools and SafeBeat, a not for profit working with Wolfson's Children's Hospital, every 6th grader in Leon County will receive a free test thanks to parent donations and sponsorships.
The test includes a health questionnaire, blood pressure reading, BMI calculation, and an ECG test. And according to the group, about 20 kids between the ages of 6 to 18 die daily due to Sudden Cardiac Arrest.
The testing will happen sometime this school year. An exact date hasn't been determined yet.
---
Story Credit: http://www.wtxl.com/news/leon-county-school-board-approves-free-heart-screenings-for-th/article_3245038e-a193-11e8-9d54-5f0f1c27fe58.html
---
Since you're here, we have a small favor to ask. Requests from schools and districts for our screening services are growing, which means that the need for funds to cover the cost of those services is also growing. We want to make our services available to those who request it and beyond, so you can see why we need your help. Safebeat heart screenings take a lot of time, money, and hard work to produce but we do it because we understand the value of a child's life, PRICELESS!
If everyone who reads this likes it and helps fund it, our future would be more secure. For as little as $1, you can support Safebeat and it only takes a minute. Make a contribution. -The SafeBeat Team