KSAFA Bars Player After Discovering Heart Condition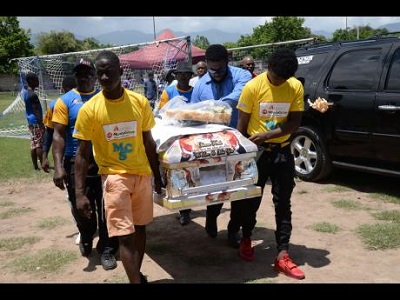 Since the death of Olympic Gardens player Okeem Forth from a reported heart failure, the Kingston and St Andrew Football (KSAFA) has now mandated that all youth players in its competitions be medically screened and at least one player has been barred after it was discovered that he has an underlying heart condition.
KSAFA president, Wayne Shaw, told STAR Sports yesterday that no player who missed the screening would be allowed to play in its competitions and that any player who had been found to have an underlying condition would not be allowed to play.
"We found abnormalities. We sent them to see the cardiologist and they came back clear and one came back and was advised not to play," said Shaw.
Delgado Health Services has been contracted to conduct the screenings on KSAFA's behalf.
"They can't play if they don't do it (screening) and if anything is wrong with them they can't play and all the kids now have passed the test. A few have problems so we have sent them to get clearance. Clearance is given by the KSAFA resident family practitioner and if she sees a problem she refers that player to the cardiologist and some instances the internists," Delgado Health Services general manager Rhyon Brooks, added.
SCREENING MANDATORY
Although free screening had been offered last season, KSAFA decided to make screening for youth players mandatory after Forth, who was a member of Olympic Gardens' Under 20 as well as senior team, died after he collapsed during a senior team semi-final game against Molynes United on April 28. An autopsy later revealed that Forth had died of heart failure.
General secretary of KSAFA, Dwayne Dillon, told STAR Sports afterwards that though the sporting body had offered free medical screening only one had accepted the offer, including his own team, Rockfort. After forth's death, no teams came forward to test. The Under 20 season comes to an end today.
Now, Shaw says all teams In the Under-20, Under 17, Under 15, and Under 13 categories will be required to do the screening and so far several teams had been coming in.
Livingston Scott, who coaches Duhaney Park's Under 13 and Under 15 teams, described the mandate as "a blessing in disguise".
"At least four of them were referred to specialists and only one has been cleared so far. The others are still pending," said Scott, adding that he had suspected some of them had issues.
"They complain about chest pain and tightness in their chest and so it was a blessing in disguise to find out for ourselves if anything is wrong with them. It is better when you know because it makes you more aware and puts you on guard," he added.
"KSAFA is being more proactive with the way they administrate football," Brooks said yesterday.
---
Story Credit: http://jamaica-star.com/article/sports/20170617/ksafa-bars-player-after-discovering-heart-condition