King's heart: Baylor freshman playing with defibrillator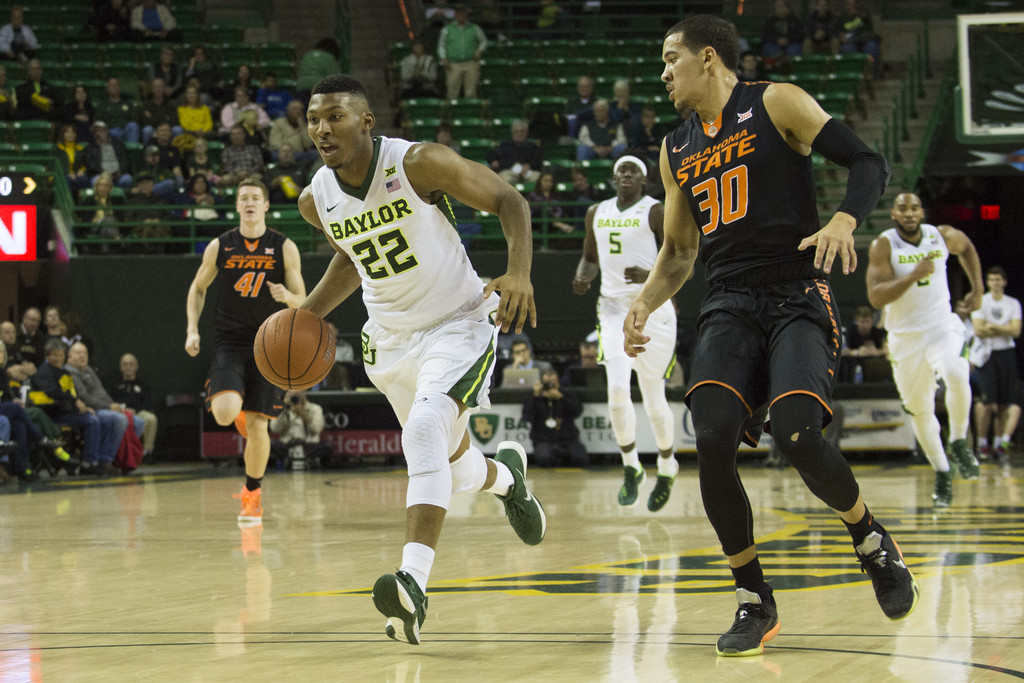 WACO, Texas (AP) — King McClure was told by doctors after being diagnosed with a heart condition last summer that he could never play basketball again.
McClure had just arrived on the Baylor campus and had already practiced for a week before a health screening for incoming players revealed that he had hypertrophic cardiomyopathy.
"I was devastated, I was crying," the freshman recalled. "All my dreams fell, they just dropped."
When he started to research the condition that affects heart muscle, one of the first stories that popped up was about Hank Gathers, the Loyola Marymount star who in 1990 collapsed on the court during a game and died. Still, McClure had never had any symptoms and there was no family history of heart disease. The sharp-shooting guard with a ball in his hands since age 2 just couldn't accept that his career could already be done.
Nine months after the life-altering diagnosis, with a defibrillator implanted into his chest, McClure has played in all 33 games this season for the Bears. He and his teammates are getting ready for their NCAA Tournament opener Thursday against Yale.
"Really, it's unbelievable," McClure said. "It's a blessing really I'm still able to play the game that I love."
There were four long months when he couldn't play — "the hardest times in my life," he said. There were tears and visits with multiple doctors who told him not to play. That for so long was the almost-automatic response to someone with HCM, even in milder forms since it can result in sudden cardiac arrest during strenuous activity.
McClure and his parents got an encouraging call from Oklahoma City assistant coach Monty Williams, who played in the NBA with a heart condition. Williams prayed with the young player on the phone and recommended his doctor in Maryland, who they met before going to the Mayo Clinic in Minnesota.
Dr. Michael Ackerman, a cardiologist at the Mayo Clinic, last year co-authored updated guidelines for the American Heart Association and the American College of Cardiology that still recommend athletes with HCM avoid participation in most sports. But he said the new guidelines also indicate a need for families who are fully informed of the risks to be able to make their own decisions.
"For some athletes, sports is totally optional and some of those individuals and their families may conclude it is not worth the residual risk," Ackerman said. "While for others, that sport is like oxygen, it's a must-have, must-do activity."
McClure had surgery in August to get the Implantable Cardioverter Defibrillator (ICD), which constantly tracks his heart rate and is designed to provide a shock only if he goes into cardiac arrest.
Dr. Gordon Tomaselli, chief of the Johns Hopkins Division of Cardiology, said other athletes have played with defibrillators and he certainly expects there to be more. But without enough data to make general recommendations, he said such decisions need to be made by individuals based on their specific cases.
"Risk prediction of sudden cardiac death in hypertrophic cardiomyopathy and many inherited heart diseases is far from perfect," he said.
On Oct. 1, his 19th birthday, McClure was cleared to resume basketball activity. Six weeks later, he made his college debut with three 3-pointers and 11 points in Baylor's season opener.
While it took some time for McClure to get back into playing shape after being sidelined — except for a couple of times he admits to sneaking into the gym to take a few shots — he said he has had no issues with the ICD this season.
"The biggest progression at first was he was so out of shape, and just trying to get back in the swing of things," coach Scott Drew said. "He was probably a little apprehensive, and we were probably a little apprehensive, and tried to take it easy on him and not push him too hard, and he probably did the same. Now you don't even think about it."
Baylor expanded heart screenings for incoming players after former Bears center Isaiah Austin was diagnosed with Marfan syndrome during a physical before the NBA draft two years ago. That condition affects the body's connective tissue, and can cause heart problems. It ended Austin's playing career.
McClure's father, Leroy McClure Jr., said the family has relied on its Christian faith throughout the process, and that Baylor was the only one of the final five schools the younger McClure considered in recruiting that does such extensive screening.
"I do look at it as something that the Lord orchestrated," he said. "So we feel that it wasn't King's choice. We believe it was God's choice."