Jogger given CPR by passers-by after suffering a cardiac arrest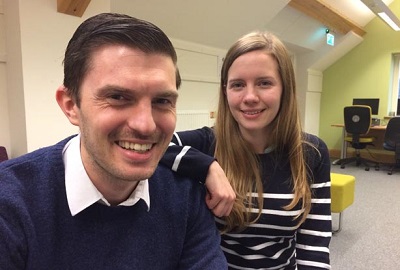 Runner James Bailey has thanked strangers who saved his life when he collapsed after a sudden cardiac arrest.
The 33-year-old's heart stopped beating when he was just a mile into his run, on Newcastle Road in Congleton.
Passing motorists carried out CPR until paramedics arrived at the scene, and James says he 'can't thank them enough'.
James, who has been a keen runner since he was 15, is now urging joggers and cyclists to always carry identification, in case something similar happens to them.
Police had to post a picture of James's trainers on social media in a bid to track down his relatives after his collapse on July 9.
Read more: Explosion 'shook whole street' & leaves couple with 'significant' burns
James, a data manager at Keele University's Primary Care Centre Research Institute, said: "I never took ID out with me, the only thing I had was my watch and a backdoor key.
"I have absolutely no memory of that day at all.
"All I have is the details on my watch which charted how long I had been out for."
Following James's collapse motorists Jonathan Slack, Steve Davies, Karen Espley and Matt Jones all stopped their cars and performed vital CPR while waiting for the ambulance.
James was then rushed to the Royal Stoke University Hospital – where officials had to work out who he was.
Cheshire Police uploaded an image of his trainers to social media with The Sentinel also running a story online.
Catherine, who had gone to Birmingham for a friend's birthday party, attempted to contact James the following day to let him know she was running late.
She said: "He didn't answer his phone and I checked Whatsapp which showed the last time he'd checked it was just before his run."
Catherine then contacted some of James' friends, including some in Manchester he had been due to visit after his run.
She added: "I had started to panic and I found out he'd never gone to Manchester."
One friend spotted the Cheshire Police appeal and sent it to Catherine, who contacted the force. She was told he was in the critical care unit at the Royal Stoke, where he awoke the next day.
Catherine said: "His memory had regressed back to 2013 and he gave an address for a house he didn't live in anymore. I took him in some photos of our home to help his memory along."
Surgeons fitted James with an implantable cardioverter defibrillator, which can detect abnormal heart rhythms and deliver a shock to restore them to normal.
While James has been told he will not be able to run competitively again, he is hoping to go out jogging for the first time since his collapse next month.
He hopes the incident will raise awareness over the need for people to know how to do CPR.
James said: "Without help, there is no coming back from a cardiac arrest – the heart won't just start again. They saved my life and I cannot thank them enough."
Catherine added: "It is so important that people know how to do CPR. Training is offered at lots of places and I would urge people to do it as it can increase victims' chances of survival. We would also urge people like joggers and cyclists to always have ID with them in case something happens."
Since the incident the group that helped James – Jonathan, of Smallwood, couple Steve and Karen, of Crewe, and Matt, of Stone – have received the Act of Courage accolade at the Cheshire Local Hero Awards.
James, who is undergoing tests to see what caused his cardiac arrest, added: "It was great to meet them and humbling that they stopped and saved my life."
Passers-by receive awards for saving James...
All four passers-by who helped save the life of runner James Bailey have received awards in recognition of their efforts.
Jonathan Slack, of Smallwood; Steve Davies and Karen Espley, of Crewe, and Matt Jones, of Stone carried out CPR on the 33-year-old until paramedics arrived.
They have now been handed the Act of Courage accolade at the Cheshire Local Hero Awards.
Jonathan was driving past when he realised something was wrong. He got out to help, with Steve and Karen already at James's side. Jonathan, aged 53, said: "They thought he may have had a seizure but when I saw him I could see he was out cold."
They started chest compressions while calling for an ambulance. Jonathan had recently completed a first aid course and was able to call on those skills. He added: "Matt explained he was a firefighter and did mouth-to-mouth."
---
Original Story credit: The Sentinel - by Dave Knapper
Read more at http://www.stokesentinel.co.uk/jogger-given-cpr-by-passers-by-after-suffering-a-cardiac-arrest/story-29992570-detail/story.html#ACLwMjzhE2BdyVXm.99